Jason Aldean has made monumental strides in raising money for breast cancer awareness and this year marks surpassing $3.6 million since 2004.
Country singer-songwriter Jason Aldean has been doing what he can to support the fight against breast cancer for over a decade. Each year, the Georgia native puts on his "Concert for the Cure" and this year he hit a big milestone— surpassing $3.6 million raised.
This year, the popular entertainer Jason Aldean brought his annual "Concert For The Cure" to his recent They Don't Know Tour stop at Louisville, Kentucky's KFC YUM Center with special guests Chris Young, Kane Brown and Dee Jay Silver in tow.
The speical night highlighted Aldean's longstanding partnership with Susan G. Komen, as he donated a portion from all ticket sales garnered throughout the year to Komen Kentucky. Since the inaugural event in 2004, Aldean's efforts have raised more than $3.6 million to benefit Susan G. Komen chapters across the country.
"These women and their families are fighters," shared Aldean in a statement. "We've been having them backstage every night for the last couple years now and I've heard their stories first-hand. We're going to keep fighting with them until there's no more breast cancer."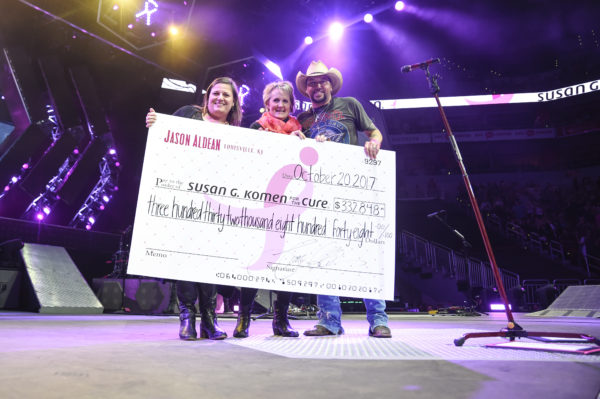 "We are so appreciative of Jason's gift, which will help us to continue providing resources for those affected by breast cancer in our community," said Lynda Weeks, Executive Director of Susan G. Komen Kentucky. "This funding will be invested in furthering research and patient services across the Commonwealth. In addition to the generous donation, the Concert for the Cure provided an impactful venue, which allowed us reach thousands with critical facts about breast cancer, including symptoms and screening. Our sincerest thanks go out to Jason Aldean for his support of our mission!"
Also of note, the star's cover of late rock icon Tom Petty's "I Won't Back Town" is now available across digital retailers and streaming services here. All proceeds raised will go towards the Direct Impact Fund to benefit victims of the Route 91 Harvest Festival Las Vegas shooting. The The non-profit organization focuses on providing fast, effective, and transparent help to those affected by natural and man-made disasters. All donations collected by the Direct Impact Fund reach the intended beneficiary.
Be sure to share Jason's charitable efforts with other fans of the talented artist with a big heart!