Just a week after tragedy struck the Route 91 Harvest Festival, Jason Aldean returned to comfort the mass shooting victims. More here.
Country music superstar Jason Aldean, along with his wife Brittany, made the emotional trip back to Las Vegas just one week after the harrowing Route 91 Harvest Festival mass shooting, which claimed over 50 lives and injured more than 500 concertgoers.
The University Medical Center of Southern Nevada shared the snapshot below of the singer outside of its trauma center via Facebook, "Our extreme gratitude to Country Music Star Jason Aldean for visiting UMC today," the post stated. "Jason spent time with our patients who were critically injured during the Las Vegas shooting. His visit helped heal hearts and cheer those who were wounded in this tragedy."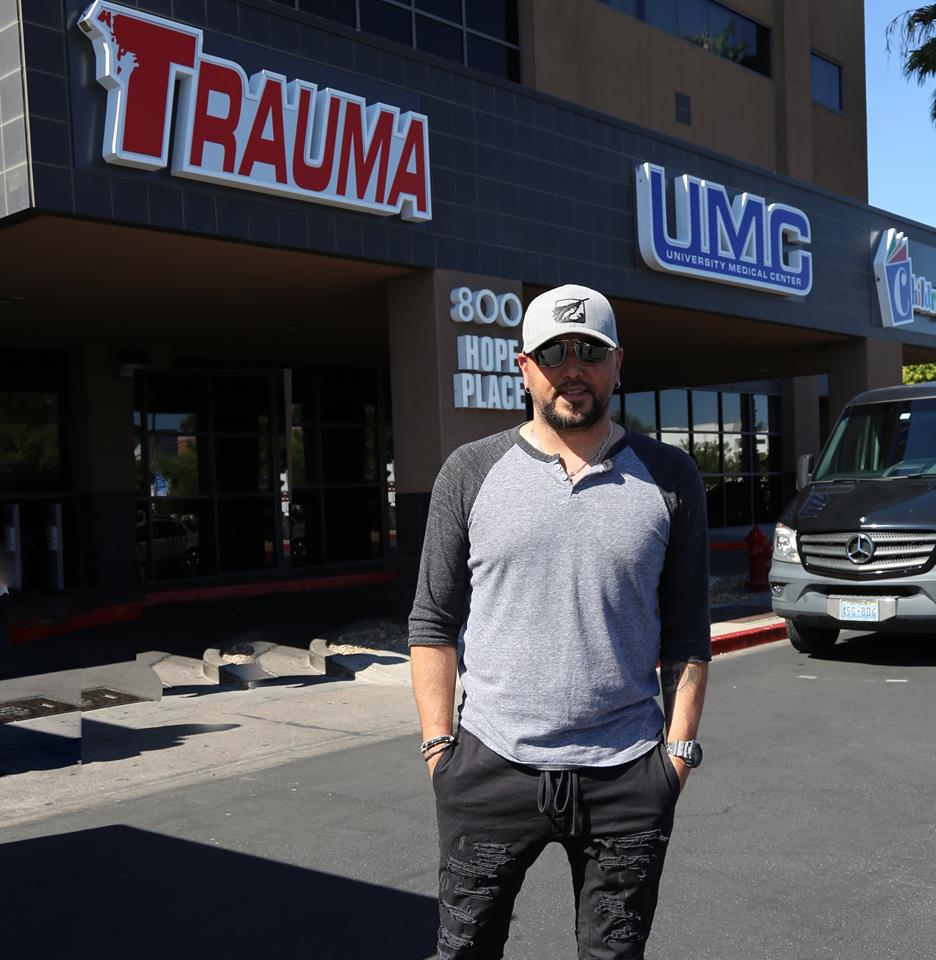 The Georgia native was performing his headlining set onstage when the shooting began. Aldean, his pregnant wife Brittany, and his crew where able to take cover while chaos broke out all around them.
Brittany posted about their return to the city via her Instagram account, "Feels surreal being back in Vegas today. Visiting some of the strongest people we have ever met… fighting the toughest battle of them all… for their lives. You have helped us try to begin the healing process by seeing the strength each one of you have. Thank you for today. We will never forget."
It's chilling to see Jason and Brittany standing together and facing Mandalay Bay, where the shooter was stationed.
The night before the couple made their way back to Las Vegas, Aldean paid tribute to the shooting victims and the late Tom Petty by performing a cover of the rocker's "I Won't Back Down" on Saturday Night Live in New York City. Watch the full speech and performance here.
"So many people are hurting. They're our children, parents, brothers, sisters, friends — they're all part of our family," the star candidly shared with the SNL audience before his performance. "So I want to say to them: We hurt for you and we hurt with you. But you can be sure that we're going to walk through these tough times together, every step of the way. Because when America is at its best, our bond and our spirit, it's unbreakable."
Kudos to Jason and Brittany for visiting those impacted by this heartbreaking act of violence.