Daughter of country music singing duo Rory and Joey Feek has suffered heart breaking news in hearing of the passing of her 9-year-old friend.
Rory Feek and his daughter Indy are no strangers to tragedy. They suffered the loss of wife and mother Joey Feek in 2016 from a battle against breast cancer, and now they are sadly having to deal with Indy Feek's best friend, Scout, passing away at such a young age.
Scout McCauley suffered from Loeys-Dietz syndrome and was Indy's very first best friend.
"Our family and community is broken hearted over the sudden loss this weekend of nine-year-old Scout McCauley who is Indiana's first best friend and a special part of our life and story. She taught Indy (and all of us) how to 'sign', how to live, and even more so… how to be brave in the face of adversity. We miss you already Scouty." said Rory Feek in a Facebook Post
Rory had written about Scout on his blog where he chronicles his and his family's life. There is one post in particular that describes a time that he and Joey were laying in bed and a picture of Scout riding a horse was sent to him by Scout's father:
A few minutes before, our neighbor Gabe McCauley had texted me a picture of his daughter Scout sitting on a horse, looking proud. Like our Indiana, Scout is very special. She was born with something called Loeys-Dietz syndrome, a connective-tissue disorder that affects her heart and a thousand other things. Unlike Indy, Scouty has been in and out of hospitals and surgeries since the day she was born. Until they moved to their farm a mile or so behind ours, their lives were filled with constant fear of having to rush her to Vanderbilt, or worse. Thankfully, for the last year or so, Scout has been doing really well. This weekend her parents took her to the Center for Courageous Kids, a camp in Kentucky that pours love and healing into children with special needs.
The picture they texted us of Scout on one of the camp's horses just said, "Scout can't wait until Indiana joins her at camp".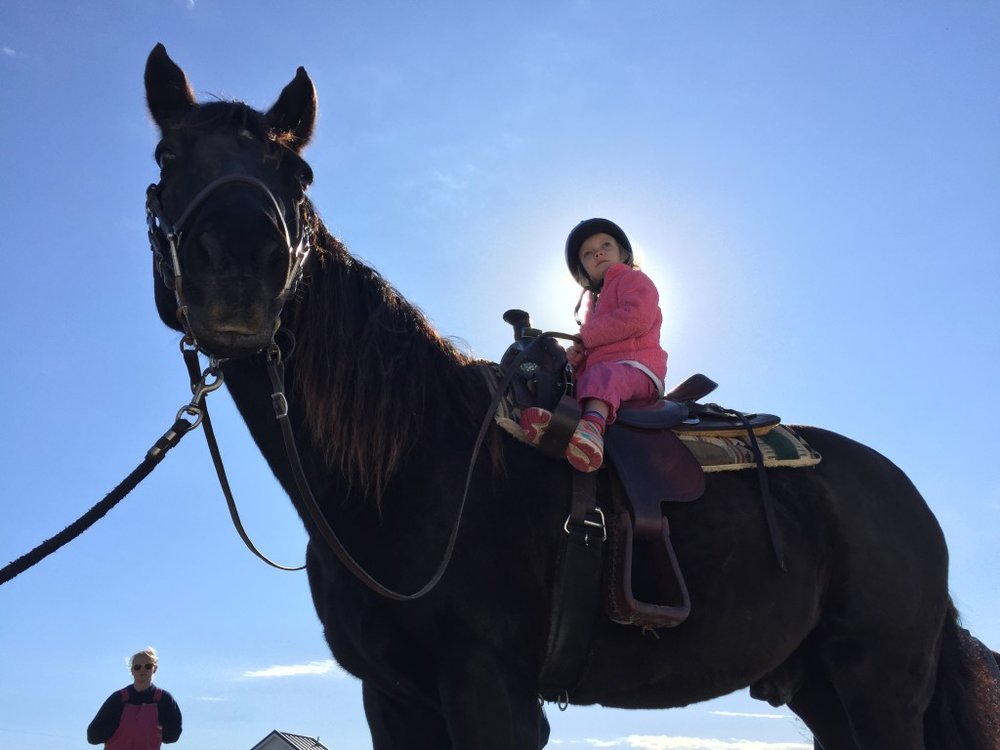 Our thoughts are with both the Feeks and the McCauley's during this very difficult time.
Friends of the McCauley family have set up a special page to help with hospital bills and funeral costs here: