Joey and Rory's daughter Indy Feek has scored herself legions of fans throughout the world. Enjoy some of her best moments here!
On February 17, 2014, country music artists Rory and Joey Feek welcomed their precious daughter Indy Feek into the world.
"When she was born, Joey and I said, 'this is the child God wants us to have', and we believed it. And we were right. I can not imagine Joey not having those two years to be a mama to Indiana and get to experience the love and happiness that Indy brought to her. God knew that. He made it so. It was His gift to her. Like Indy is my gift now," Rory shared via his This Life I Live blog.
Indy was born with Down syndrome, which is a set of physical and mental traits caused by an extra chromosome. According to WebMD, many children born with Down syndrome also often have heart, intestine, ear, or breathing problems. With continued care and support, those with Down syndrome can achieve healthy, happy, and fulfilling lives.
Despite the obstacles she faces, Indy is a thriving three-year-old who has captured the hearts of individuals all around the world with her sunny disposition and admirable determination.
"…hole-in-her-heart checkup this morning at Vanderbilt. Closing. Thank God." Rory captioned the touching photo below.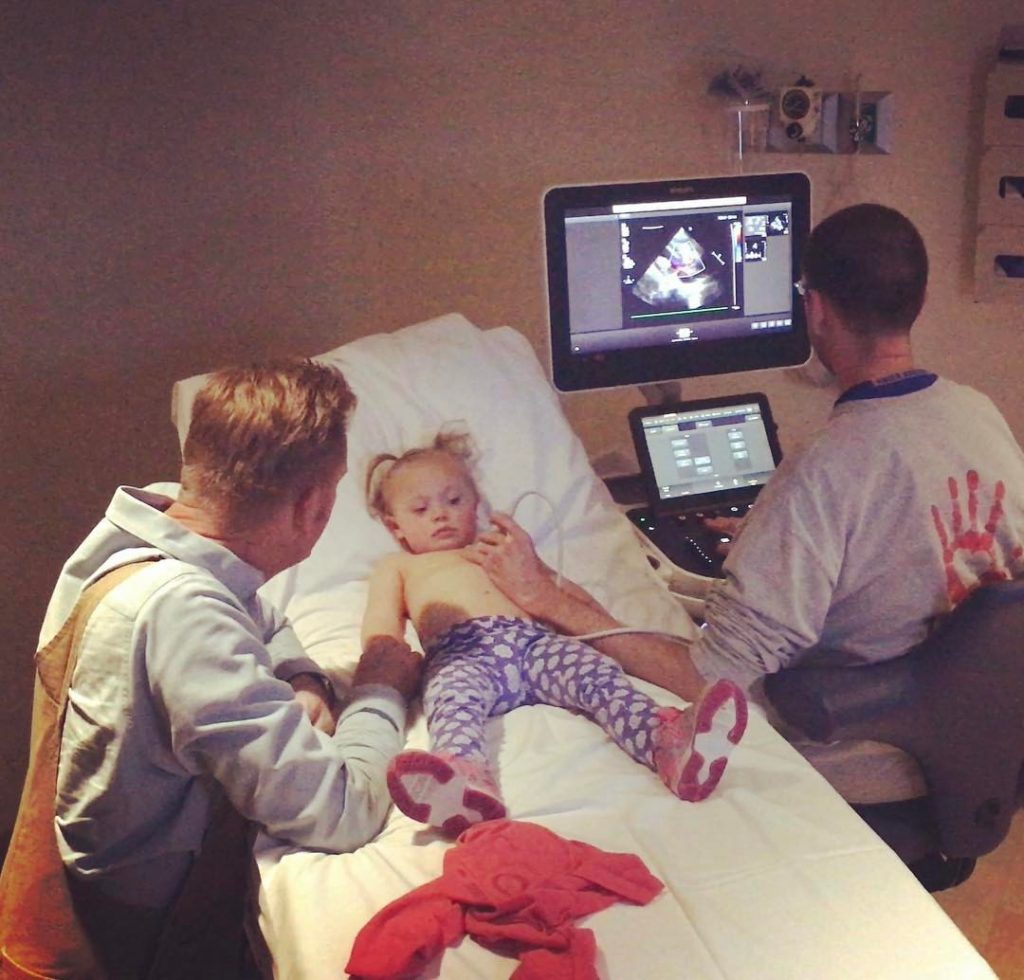 In this adorable footage, Joey celebrates Indy's birthday:
Before her death, Joey helped Rory select a school for Indy to attend. The couple selected a school called High Hopes, an amazing preschool and developmental center that specializes in working alongside children with special needs located close to the Feek family's Tennessee farm. Indy has grown and developed so much since her first day in the program, working so hard to improve her speech and mobility.  Here is Indy having plenty of fun at her school:
After a lot of effort, Indy took to crawling like a champ at two and a half years old in August 2016.

Indy learns to crawl from Hickory Films on Vimeo.
Earlier this year, Rory revealed the big news that Indy has mastered walking without assistance. Watch her journey unfold below!
Aside from working on her verbal skills, Indy is also actively utilizing sign language in order to communicate. Joey was instrumental in teaching Indy to sign in the beginning; she taught her morning, noon, and night— even from her hospital bed.
There's no doubt that Joey would be proud of the strides her daughter is making, it was always her dream to see Indy gain independence.
Share these special moments with others keeping up with the Feek family!