Enjoy watching Gwen Stefani's entire tour bus crew, dancers and band members have a blast exploring Blake Shelton's 1,300 acre ranch in Oklahoma.
Gwen Stefani took a break from her This Is What the Truth Feels Like tour in August of 2016 and managed an epic visit to Blake Shelton's ranch in Oklahoma.  The"No Doubt" lead singer brought along her sons and her entire tour crew to Blake 1,300 acre ranch in Oklahoma.  Gwen's tour was headed to perform in Austin, Texas and made a stop at Blake's ranch property along the way.  Gwen sported gumboots and camouflaged pants as she and her crew filmed and shared a variety of Snapchat videos of their various ranch activities.  Stefani appeared to be having a blast as she spent the day and evening with her man, her boys and her touring family.  Watch the highlight video of the tour bus visit to Blake's ranch and see more details below.
Gwen Stefani's Tour Buses and Crew Visit Blake Shelton's Ranch in Oklahoma
The tour bus members included Gwen's road crew, her dancers and members of the band that all seemed to enjoy the day off at Blake's ranch.  While some of Gwen's tour crew took the opportunity to do laundry, others played pool, road in ATVs and took a trip to explore the river.  At the time of this video footage, Zuma was 7-years-old and had fun playing some basketball.  Gwen's youngest (Apollo) was just two years old at the time.  Apollo had plenty of fun and appeared to love riding around in the amphibious watercraft.  Gwen's eldest son (Kingston) was 10 years old at the time and managed to pull a large bug out of a crew member's hair.
Gwen Stefani's Touring Crew and Family Visit Blake Shelton's Ranch in Oklahoma (August of 2016)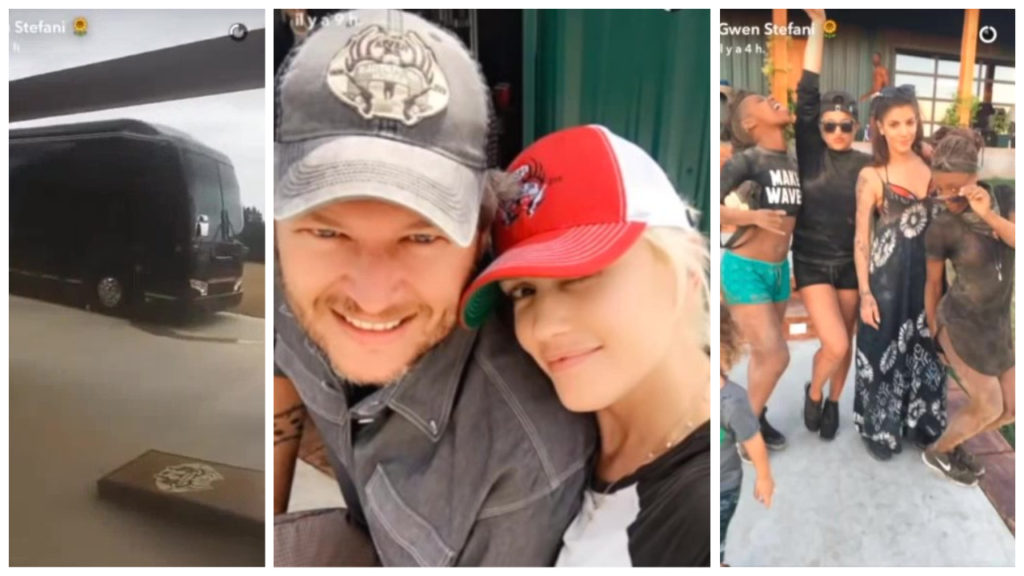 The video footage from this epic 2016 visit provides some of the best pictures of Blake Shelton's Ten Point ranch.
Remember to "share" this update with other Blake Shelton and Gwen Stefani fans.