Gwen Stefani celebrated Mother's Day at Blake Shelton's ranch and his lake house properties in Oklahoma . . .
Gwen Stefani celebrated Mother's Day with Blake Shelton and her 6 year old son Apollo.  Blake has been in quarantine at his ranch near Tishomingo, Oklahoma with Gwen and several of her family members.  See the images that Gwen shared for Mother's day and watch a video showing both of Blake Shelton's Oklahoma properties below.
Gwen shared this image of feeding some baby critters with Blake and Apollo.  It is hard to tell from the photo if these are puppies or some other critter that live on Blake's ranch property in Oklahoma.
Gwen Stefani Celebrated Mother's Day:  Feeding Baby Critters with Blake and Apollo
Even after blowing up the image, we could not tell if the critters in the photo are puppies or some other animal that lives on Blake's ranch in Oklahoma.
What is this baby critter?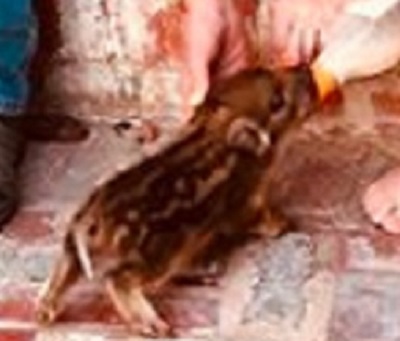 Based on fan comments, it would appear that the critters they are feeding are baby wild boar piglets that are prevalent in Oklahoma.  Here is an image of wild boar piglets from the San Diego zoo.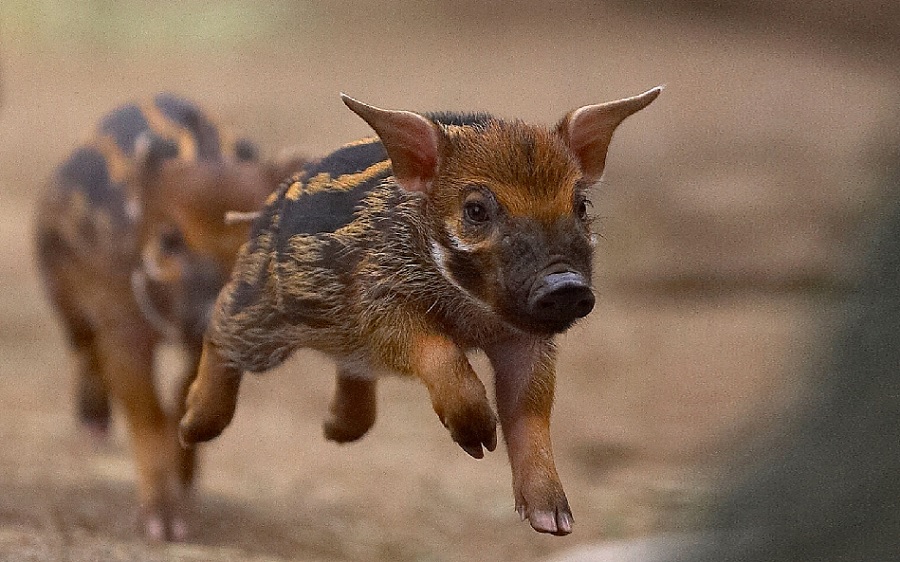 Gwen also shared an image of Blake in his official captain's hat as the couple took a cruise on Blake's boat around Lake Texoma.
Gwen Stefani Celebrated Mother's Day:  Captain on Lake Texoma
Blake and Gwen split time between his two properties in Oklahoma,  Blake has called Tishomingo his home for over a decade (after moving from Nashville), and his ranch is an impressive 1,382-acres acre property with a house, horse barn and shed to store his tractor.  Blake is an avid outdoors-man and enjoys hunting, fishing, planting crops, and riding horses.  The ranch provides plenty of space to be outdoors and do everything he loves.   Blake's 2nd Oklahoma property is a 1 hour drive from the ranch and is a Lake House on Lake Texoma.  Gwen and her family have grown to love the laid back lifestyle of Oklahoma and spend much of Summer and vacation time (when her 3 boys are out of school) with Blake in Oklahoma.  Watch the video below to see why Blake Shelton's two properties in Oklahoma are perfect for hosting Gwen Stefani's family.
Blake Shelton's Lake House and Ranch Video (Life in Oklahoma for Gwen's Family)
Blake and Gwen Stefani have now been dating for over 4 years.  The couple recently bought their first California home together and will continue to split time between Los Angeles and Oklahoma.  When quarantine is over, Blake spends time in Los Angeles filming "The Voice" TV show.
Related article:  See Blake Shelton and Gwen Stefani's California Home
Remember to "share" this with other fans of Blake and Gwen.