Mike Fisher has now been married to Carrie Underwood for over 13 years...learn more about Carrie Underwood's husband here.
Mike Fisher (full name:  Michael Andrew Fisher), 43, hails from Peterborough, Ontario and grew up playing ice hockey, fishing, hunting and loving the great outdoors.  Mike Fisher's family includes: parents Jim and Karen Fisher, two brothers Rob and Gregory, and sister Meredith.  Watch the video to discover more about Mike Fisher and see additional photos and details below.
Get to Know Carrie Underwood's Husband ( Mike Fisher)
Hockey Career
In 1998, the naturally talented athlete was drafted by the Ottawa Senators and was eventually acquired Fisher by the Nashville Predators in 2011. Fisher was honored with the 2012 NHL Foundation Player Award, which is given to the NHL player who applies the core values of hockey — commitment, perseverance, and teamwork — to enrich the lives of those in his community. Mike Fisher shared details about his trade from the Ottawa Senators to the Nashville Predators in an article he wrote titled:  "One-Way Ticket" for The Players Tribune.
"I could have been going to 28 other cities, but I was actually going to Nashville, where I could finally be with my wife full-time. Carrie and I had gotten married the previous July, and because she's a country music singer, she has to be doing her thing in Nashville for most of the year. So we had been going back and forth between Ottawa and Nashville. As a newlywed couple, it wasn't easy."
While preparing to depart from Ottawa for good, Fisher got a pleasant surprise. "I got a call from Eugene Melnyk, the owner of the Senators. He thanked me for my time in Ottawa, and then he said something I will never, never forget. He said, 'You know, Fish, I just wanted you to be with your wife.'"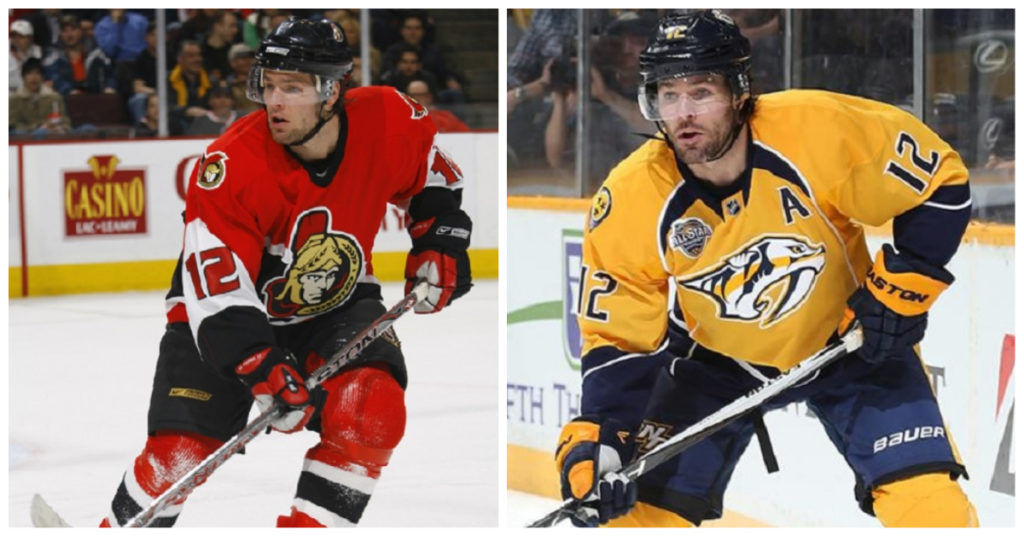 Mike Fisher announced his retirement from professional hockey in 2017 after seventeen seasons in the NHL. During his last season, the hockey star led his team to their first-ever appearance in the Stanley Cup Finals.  He then returned for one final season in 2018 with the Nashville Predators to pursue the Stanley Cup one last time.  The Canadian hockey star suffered an unspecified lower-body injury that kept him from taking the ice during the seventh and final game against the Winnipeg Jets for the 2018 season. Unfortunately, the Preds fell to the Jets and their dreams of advancement were dashed.  He retired for good after this final season.
Mike Fisher meeting an marrying Carrie Underwood
The handsome NHL star first met Carrie Underwood backstage after one of the Oklahoma songbird's concerts in 2008.   Their first meeting was orchestrated by the Oklahoma songbird's bassist, Mark Childer. The two had instant chemistry, but didn't get to meet back up until three months after their first encounter due to Carrie being based in Nashville and Mike playing for the Ottawa Senators at the time.   "I mean, can I make dating more difficult?" Underwood shared about the start of their romance on VH1's Behind the Music. "Let's get a hockey guy who lives in another country. Awesome."  After juggling a long-distance relationship over the phone, the pair finally shared their first kiss on New Year's Eve as the ball dropped in Times Square at midnight. What a way to kick off a new year!
The couple got engaged on December 20, 2009 and got hitched July 10, 2010 at The Ritz-Carlton Lodge- Reynolds Plantation in Greensboro, Georgia with over 250 guests witnessing the event.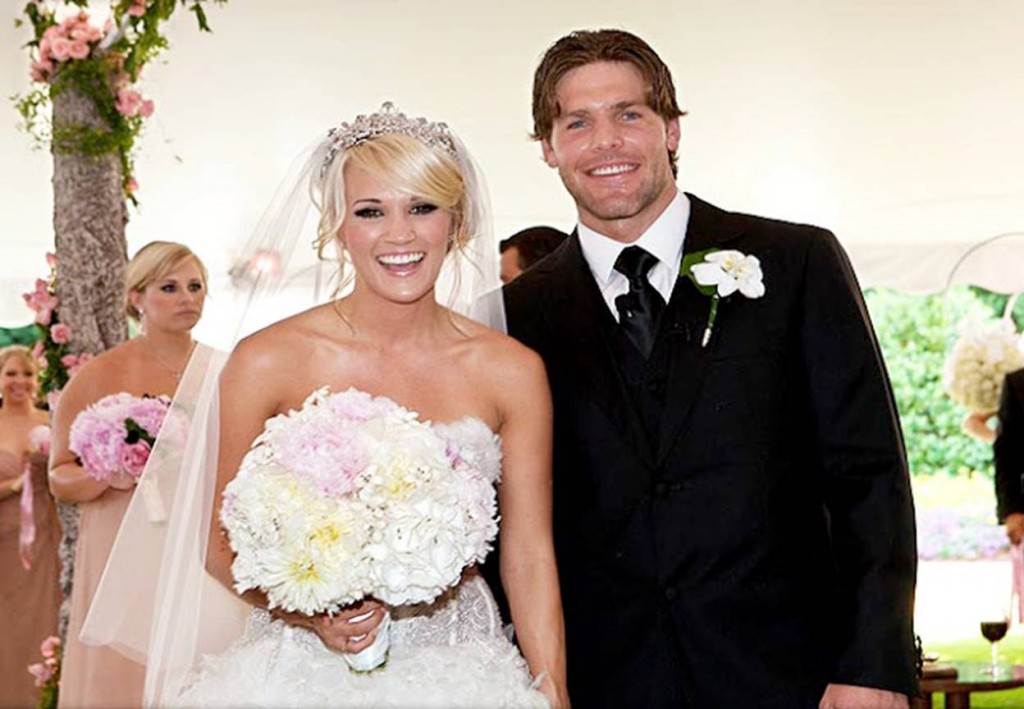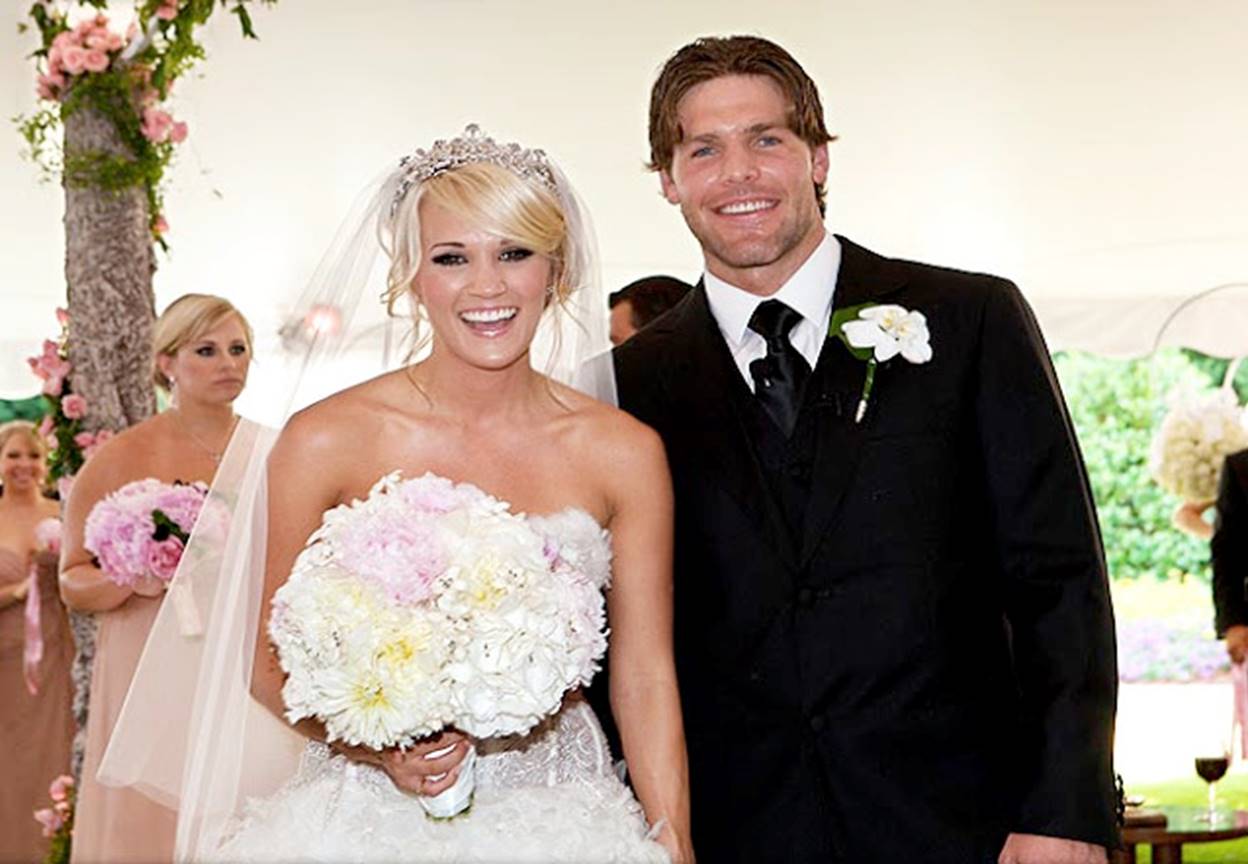 The couple just celebrated their 10th Wedding Anniversary on July 10, 2020 with a vacation trip to Wyoming to stay on a horse and cattle ranch.  The anniversary trip featured horse back riding, a cattle drive, fishing and zooming around on all terrain vehicles (ATVs).
Mike Fisher Fatherhood
On February 27, 2015 the happy couple welcomed Isaiah Michael Fisher into the world. This oldest son cutie is already eight years old!
The couple welcomed their second child, Jacob Bryan Fisher, into the world on Monday, January 21, 2019.  "Jacob Bryan Fisher entered the world in the wee hours of the morning on Monday," Underwood shared along with a series of photos on Instagram. "His mom, dad and big brother couldn't be happier for God to trust them with taking care of this little miracle! Our hearts are full, our eyes are tired and our lives are forever changed. Life is good."
"You are a gift from our Lord! The last few years has has had its challenges and it makes this moment even more sweet! We didn't know if Izzy would ever have another sibling but we learned through it all that God is in control and his timing is perfect! He is good all the time even in the difficult times that are hard to understand," Fisher shared via Instagram after Jacob's birth.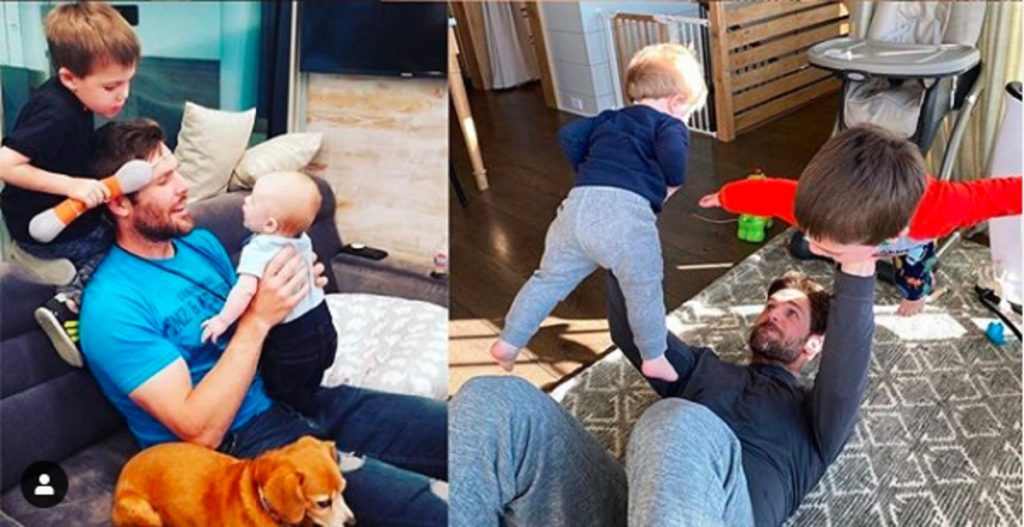 Carrie shared in an interview that Mike Fisher has been her right-hand man and the light in the numerous dark tunnels she's encountered in the last couple of years – specifically three miscarriages over the course of two years.  "He is so levelheaded about everything, and when I was dealing with everything, not just emotionally but hormonally, when you're going on that roller coaster of pregnant, not pregnant, pregnant, not pregnant, I was probably not very easy to love, to be honest. And to have somebody so even-keeled, he was my lifeline, keeping me grounded," she noted about her man. "I feel like he is the person I was meant to be with."
Mike Fisher Retirement Time
Since retiring from pro hockey, Mike has enjoyed spending quality time with his family, hunting, fishing, and visiting the island nation of Haiti to help vulnerable children in need.  Mike is a director on the board for Danita's Children, which provides "education, nutrition, medical and dental care, and Christ-like love to the children and families we serve. We believe through our teachers, mentors, and house parents we are raising children to discover their purpose and to become the future leaders of Haiti."  Fisher also launched a new brand and business venture with his brother.
Mike Fisher's Catchin' Deers Venture
Mike launched a hunting-themed clothing and accessory line (Catchin' Deers)  that was co-founded by Fisher alongside his brother Bud and friend Austin Casselman.  The line takes its name from a joke between hunting buddies. Austin once asked the Fisher brothers if they had "caught any deers" while on a hunting trip. When the next deer season rolled around, all three were sporting trucker hats with the phrase "catchin' deers" printed on them. The company was started in 2016 with Reid Faught and Ryan Hawkins added as co-owners.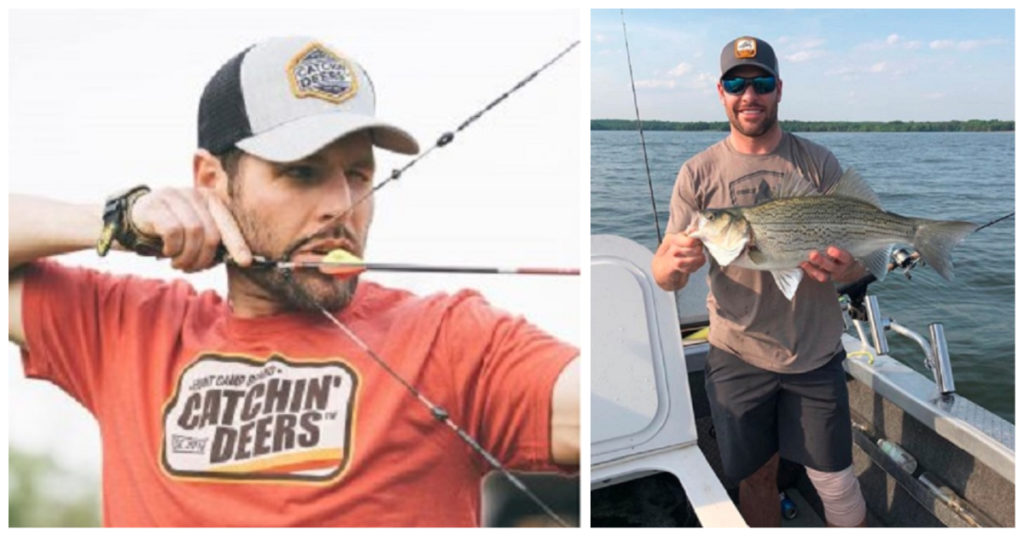 "We've definitely found a market that resonates with people and they seem to enjoy it and have a laugh and want to wear our stuff," Mike Fisher shared in a press release revealing the collaboration. "We knew that early because we'd all be wearing just the simplest trucker hat and it seemed like every hunter would stop you and just laugh."  Catchin' Deers has expanded to sell shirts, outerwear, bumper stickers, in addition to head-wear. Through Tractor Supply Co., the brand sells an exclusive line of hats, T-shirts, hoodies, and decals through the retailer in-store and online.  "I love the company and they've been really good to work with," Mike Fisher shared. "They're our perfect market with their customers. I think for what we offer and our brand, we couldn't be in a better place."
"For me leaving hockey, the transition was perfect timing," Mike added. "You don't get that camaraderie when you don't see the guys every day at the rink, but I do at the hunt camp. We laugh and we joke that was something we wanted to create — just to get guys laughing through our social media and videos — and that's how we grew the brand."
Mike Fisher Fast Facts
Birthdate: June 5, 1980
Height: 6′ 1″
Weight: 216 lbs
Religion: Christian
Starring Role: Football Coach #1, Transformers (2007)
Favorite Restaurant: Tao in New York City
Favorite Junk Food: A Dairy Queen Blizzard
Favorite Movie: Shawshank Redemption
Favorite TV Show: Seinfeld
Remember to "share" this Mike Fisher article with other Carrie Underwood fans!