Garth Brooks played a secret show for some very lucky fans in Nashville on Wednesday and it is clear that they had an epic time!
Garth Brooks secret show in Nashville was a hit with lucky fans that made the event.  Garth Brooks played a secret show on Wednesday Feb 25th to only a few hundred radio contest winners from WSIX, and judging by social media, they all left the show very satisfied. The Garth Brooks world tour is not due to come to Nashville for several more years so this was definitely a one of a kind event.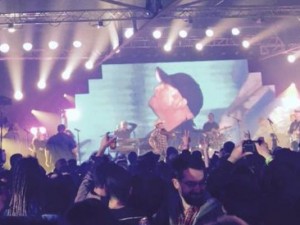 photo: Cindy Watts/The Tennessean
Garth played an amazing set of songs from new to old, and the crowd especially loved singing all of his classic hits. He tried to leave the stage but of course was called back out and ended up playing three more classics before he said goodbye; "Much Too Young," "Two of a Kind, Workin On a Full House," and "Standing Outside the Fire." You can see his full setlist below.
Cold Like That
Rodeo
Papa Loved Mama
Two Pina Coladas
The Thunder Rolls
Callin' Baton Rouge
All-American Comeback Kid
Friends in Low Places
The Dance
Much Too Young (To Feel This Damn Old)
Two of a Kind, Workin' on a Full House
Standing Outside the Fire
Among the avid Garth fans at the show was Steven Lee Olsen, a great up and coming artist signed to Sony Music Nashville. Olsen, who co-wrote the opening song of the night, "Cold Like That," had this to say…
"Watching Garth open the show with 'Cold Like That' here in Nashville…It was like watching Johnny Cash sing one of your songs. He is the legend of our time and working with him and that moment was an ultimate career highlight."
photo: Steven Lee Olsen/Twitter
In true Garth Brooks fashion, the show blew everyone's mind. Garth is a master entertainer and has some of the most memorable songs of all time in country music. He continues to sell hundreds of thousands of tickets and there's no end in sight. Let's all hope he plays another secret show in our town.
For more Garth Brooks news click HERE!