Garth Brooks takes a break from the stage to bring smiles to some deserving kids!
Garth Brooks youth charity work is always inspiring.  Garth Brooks is set to perform his last of nine shows at Denver's Pepsi Center tonight. While in Colorado, Brooks made sure to leave a lasting positive impact on youth in the region before heading off to continue his tour in Sacramento, California.
Last Wednesday, the country superstar made a very important stop to Children's Hospital Colorado outside of Denver. Brooks happily signed autographs, chatted with patients, took photos, and helped open a brand new Child Life Zone.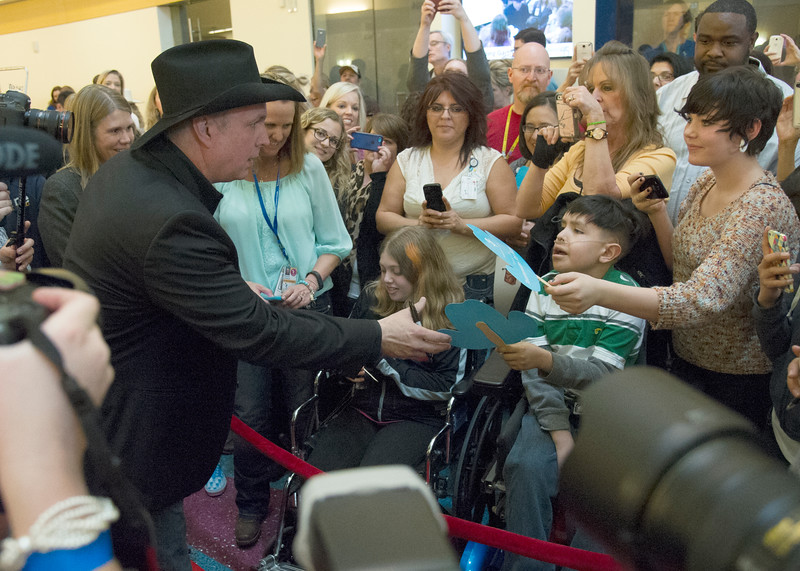 photo: John Leyba/The Denver Post
Since 2002, Brooks' Teammates for Kids foundation has helped fund Child Life Zones for pediatric hospital patients. The zones are playrooms for kids within children's hospitals where they can laugh, play, and just be kids. Child Life Zones are located across the United States from Atlanta, Georgia to Phoenix, Arizona and now Colorado.
On Saturday, Brooks turned up sans cowboy hat and boots alongside Colorado Avalanche star Matt Duchene and GM Joe Sakic to watch as 75 kids played floor hockey and soccer with the help of sponsored camps.
Teammates for Kids exists to do everything it can to aid kids in the areas of health, education, and inner-city outreach. In order for the organization to accomplish its goals, it relies on strong partnerships with professional athletes, corporations, celebrities, and now private donations.
It's great to see celebrities take a moment to give back to the community. Good going, Garth!
Keep up with additional Garth Brooks coverage here.