Garth Brooks and Trisha Yearwood duet (s) album is in the works.  Fans of Garth Brooks and Trisha Yearwood, who many consider the modern day June Carter and Johnny Cash, might FINALLY going to get their long-awaited duets album!
Garth Brooks recently hinted at a press conference that a record of duets is one of his goals for 2015.
"We are trying to get it out this year," Brooks reveals. "It'll be a duets album, but it will not be like what you've seen before. She's got a lot of strong ideas."
Brooks first mentioned the possibility of joining forces with his wife back in 2007, when he was still on a career break.
"In 10 years or so, we'll see if our children are on their own and doing great," he told The Boot at that time. "And then I'll see if Ms. Yearwood isn't burned out and would like to go back out. I won't go back out without her, for sure. If we get a chance to go out and light it up one more time, then I gotta tell you, that would be a fantastic opportunity."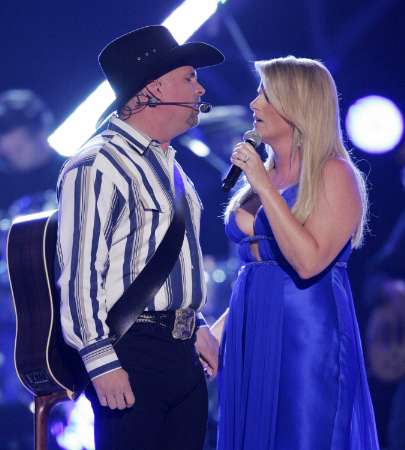 photo: REUTERS/STEVE MARCUS
For her part, Yearwood said that a Christmas album is a priority for herself and her husband now that the pair are on the same label, Sony Music Nashville.
"We wanted to be on the same label because we thought it would be easier and more fun because we want to do duet records," she said during a press conference, according to Music Universe. "We wanted to be able to do whatever we wanted and we've never been on the same record label, so it was kind of born out of looking to find a home that wanted to work with both of us."