Brian Kelley and Tyler Hubbard of Florida Georgia Line are both married to beautiful and talented women. Meet their wives right here...
In many instances, having a hot career like the one of Florida Georgia Line has now and keeping up successful marriages can be extremely difficult— that is unless you have found just the right woman.
Florida Georgia Line's Brian Kelley and Tyler Hubbard have seem to have found the perfect partners in their choice of wives.
"Married life is better than ever," Hubbard told PEOPLE.
"We're loving it and wouldn't have it any other way. We're just learning every day how to be better husbands and better men, but hopefully that will never stop for us, but it's great. We love it."
Wives Brittney Marie Cole Kelley and Hayley Stommel Hubbard don't let their husbands just have all the fun on the road without them, they have gone on tour in the past and it proved to be something positive for everyone involved.
"It's awesome for them to come out here and support us and get to watch us every night and sing to them," Brian Kelley said. "We're singing to our fans and that includes them. It's cool to have your best friend and your lover and your support group with you. It's awesome."
So just who are these amazing women? We have put together a quick profile of each "Mrs. Florida Georgia Line" below:
Hayley Stommel Hubbard
Hayley is originally from Idaho and has a heart of gold. She created a scholarship fund for her fellow high school students that were going to be the first generation in their family to attend college.
"I wanted to do something different — something positive to make an impact on people," Stommel told the Idaho Mountain Express in May 2006
After graduating from college herself, Hayley relocated to Nashville, Tennesse. where she met her famous husband. She now has her own blog called The Vogue Trip and revealed how she discovered what she really wanted to do with her life:
"When I quit my job at Merrill Lynch and was about to move back to California, a friend of mine told me to pray about the move and that he didn't think I should leave. So, I did. I asked God to make it clear. As I was signing my Cali lease the next day, my boss came up to me and said he would double my salary if I would stay. I looked up and almost laughed in his face. I had gotten my clarity. One month later that same friend, who is now my husband, gave me my last first kiss. Wow am I glad I stayed."
---
Brittney Marie Cole Kelley
Brittany and Brian Kelley married in Nashville back in 2013 in a secret wedding.
"The whole process has been non-traditional," Brian Kelley told PEOPLE.
"There was no official proposal or exchanging of rings. We had just fallen in love, and I knew I couldn't live without her. It sounds like a terrible cheesy movie, but when you know, you know!"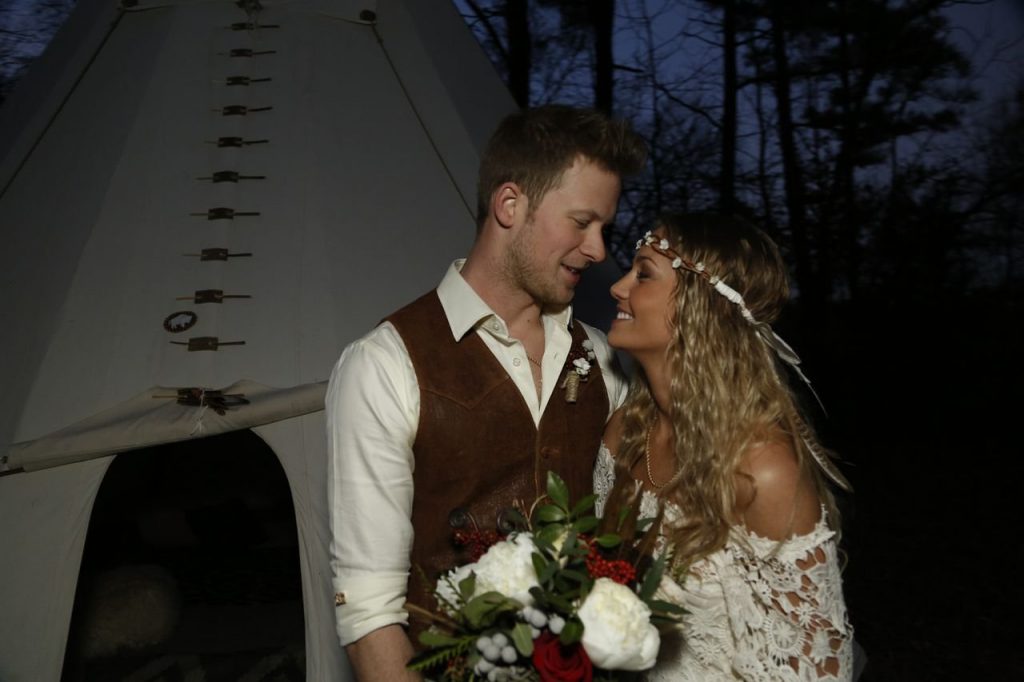 "Whimsical really comes to mind when I describe it. It was just fun and cozy and warm." Brittany said of the magical day.
Since then, Brittany has stayed true to her hippie spirit and kept life fun for her country music superstar husband. The couple even hangs out regularly in a teepee!
"Brian and I also have a real 23-foot teepee at our home in Nashville, Tennessee that was a wedding gift from Brian's duo partner, Tyler, and his wife and my good friend, Hayley. The teepee is a place Brian and I shared many special and creative moments, and what better image to symbolize our family, our pack, our Tribe, than a teepee" says Brittany.
Brittany spends her time now running the clothing line she and her husband started together called Tribe Kelley. The brand's name comes from Brittany's Native American heritage on her mother's side of the family.
It seems both women are good friends with similar careers, and most importantly with very happy marriages. Share this with other FGL fans!