Country music star Faith Hill is currently on mandatory vocal rest. More details on the Soul2Soul tour date cancellation right here!
Bad news Faith Hill and Tim McGraw fans in Arkansas, the country music power couple's Soul2Soul concert scheduled for Thursday, August 3rd in North Little Rock has been cancelled due to Hill being placed on a two-day vocal rest by her physician.
A message posted to the Verizon Arena's Facebook page reads, "Under doctor's advisement, Faith Hill has been put on two days of vocal rest and unfortunately, the Soul2Soul show in North Little Rock, AR at the Verizon Arena tomorrow night has been cancelled. Tim & Faith adore their fans and are so sorry to disappoint them."
You can view the full statement below.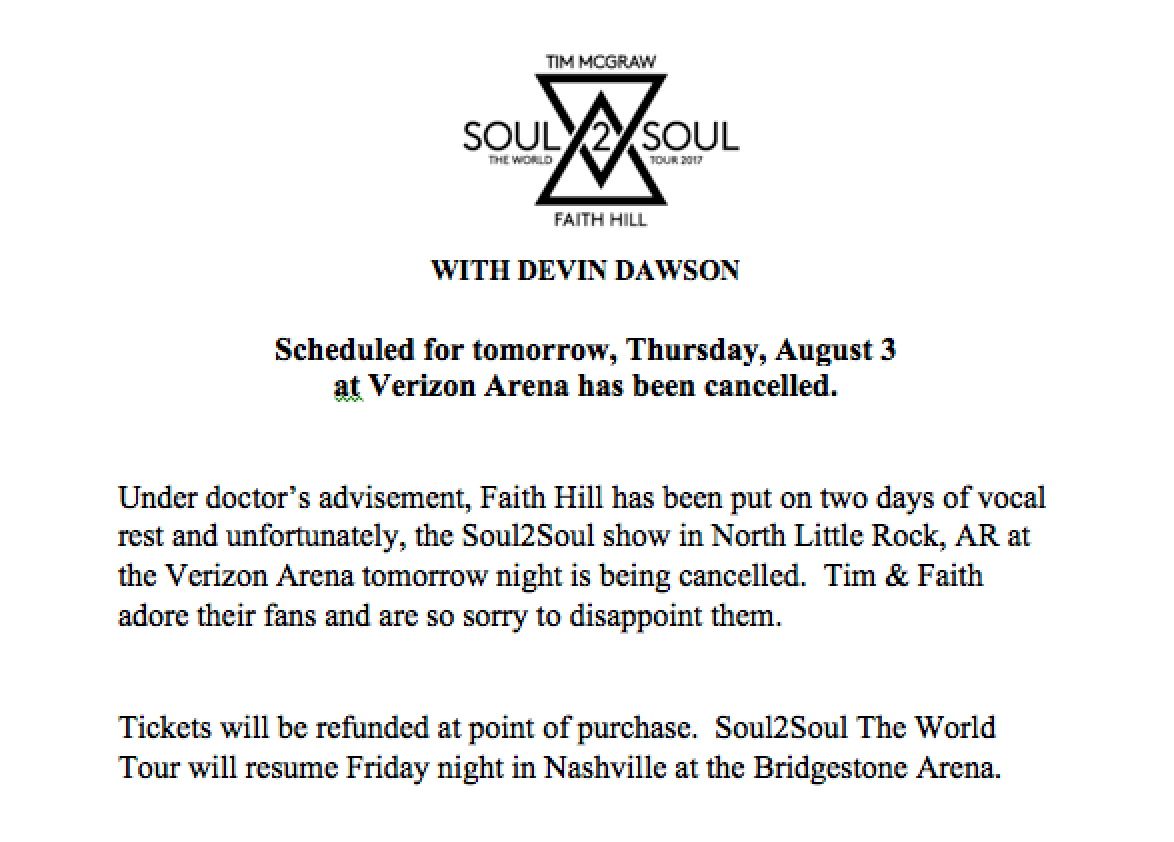 Thus far, neither McGraw or Hill have addressed the newly canceled show via their social media accounts or official websites.
While the news is certainly disappointing to eager fans, we hope Faith's famous pipes heal quickly and that the date is rescheduled promptly. The couple's next Soul2Soul Tour stop is scheduled to take place on Friday, August 4th with back to back shows at Nashville's Bridgestone Arena. The country stars are currently in the middle of a 65-date North American tour, which has sold more than 800,000 tickets so far, kicked off in April and wraps up in October.
The first 28 shows of the tour sold-out, proving that their fans were more than ready for them to get back out there after their Las Vegas residency at The Venetian. The show's format during the tour is a combination of Tim McGraw and Faith Hill singing their own solo hits and also the two singing their famous duets. The "It's Your Love" singers also decided to hand-pick their opening acts for the tour, giving up-and-coming artists like country trio Midland a chance to expose themselves to a whole new fan base. They also decided to have their opening acts rotate in order to keep things fresh.
Aside from being on the road, the pair is slated to release a collaborative album through their new label home Sony Music Nashville later this year. Additionally, Tim and Faith's Country Music Hall of Fame exhibit is set to open to the public this November.
Share this update with other fans of this dynamic duo!