Country music star Eddie Montgomery has been completely candid about his grief and how he plans to continue Montgomery Gentry without Troy Gentry.
Understandably, September 8, 2017 will always stick in the mind of surviving Montgomery Gentry member Eddie Montgomery. On that day, Eddie lost his best friend and longtime musical partner Troy Gentry in a tragic helicopter crash in New Jersey just hours before they were set to take the stage together.
After the accident, Eddie confessed in a new interview with Taste of Country that he had plenty of sleepless nights mulling over his next steps, but in the end he knew that Troy would want him to push on with Montgomery Gentry and their music.
On February 2nd, Eddie and Troy's last album together, Here's to You, is set to drop. The record was completed just two days before Gentry's death.
"September 8 changed my world and a lot of people's world," Eddie confessed.
"I tell you man, that still blows my mind that happened that day," he reflected later in the interview. "We were all there and it just … it wasn't good. Your whole world is just … it changes. Everything. And there's not a day that I don't see it or it goes through my heart."
Besides Eddie and their musical crew, Troy also left behind his wife Angie and 15-year-old daughter Kaylee.
"He loved his wife. I haven't talked a lot about it, but Angie and Kaylee, his daughter … she lost her best friend and Kaylee lost her daddy. That's something you don't ever get over. Ever!" Eddie stated.
"They're doing alright, you know," he added about Troy's wife and daughter. "Her mother and father moved down here, family. Kaylee's at that age where she's doing sports and doing everything — you know, keeping her pretty busy."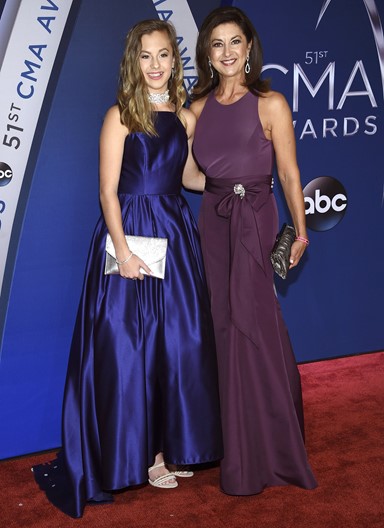 When it comes to Eddie performing without Troy on his current tour, it's truly a team effort with Montgomery Gentry's band members stepping up to help with vocals.
"At first I was going to sing it on my own, but then I thought, 'You know, the guys in the band—we've been through everything in the last 20-25 years,'" Montgomery told SiriusXM's The Highway. "So I said, 'You know, I might kick it off, but our guys are great singers.' So we'll do some of the parts here and there and let the band come up and showcase them, too."
HERE'S TO YOU TOUR Dates
2/9/18 – Columbia, MO – The Blue Note
2/10/18 – Springfield, IL – Boondocks
2/23/18 – Indianapolis, IN – 8 Seconds Saloon
3/2/18 – Clifton Park, NY – Upstate Concert Hall
3/3/18 – Lynchburg, VA – Phase 2
3/9/18 – Jordan, NY – Kegs Canalside
3/10/18 – Warrendale, PA – Jergel's
3/16/18 – Medina, OH – Thirsty Cowboy
3/17/18 – Columbus, OH – The Bluestone
3/22/18 – Augusta, GA – Country Club Dance Hall and Saloon
3/23/18 – Birmingham, AL – Iron City
6/2/18 – Marion, KS – Chingawassa Days Festival
7/6/18 – Ft. Loramie, OH – Country Concert at Hickory Hill Lakes
7/13/18 – New Salem, ND – ND Country Fest
7/14/18 – Pierz, MN – Pierz Freedom Fest
7/20/18 – Hillsboro, MO – Jefferson County Fair
7/21/18 – Springville, IN – The Boogie
7/27/18 – Ridgefield, CT – Ridgefield Playhouse
7/28/18 – Bar Harbor, ME – Criterion Theater
8/2/18 – West Allis, WI – Wisconsin State Fair
8/17/18 – Zanesville, OH – Muskingum County Fair
9/8/18 – Manistee, MI – Little River Casino
9/15/18 – Ventura, CA – Boots and Brews
+ Supporting act for Alabama
Be sure to share this update with other Montgomery Gentry fans!