The ratings for Dolly Parton's very first NBC TV movie, Coat of Many Colors are in! A whopping 13 million viewers tuned in during the film's debut last Thursday night. The two-hour special based on the iconic singer-songwriter's childhood was the most-watched movie on the major broadcast networks since May of 2012.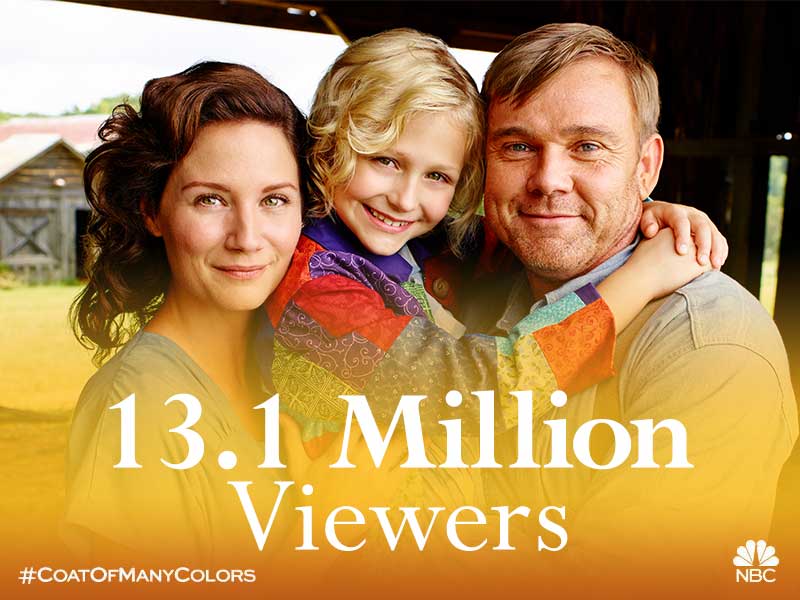 Set in 1955, the film revolves around the tight-knit Parton family as they struggle to overcome tragedy and discover the healing power of love, faith, and a meaningful patchwork coat that helped make Parton the success she is today. Interesting note, Sugarland's Jennifer Nettles portrayed Parton's mother, Avie Lee Parton, and former NYPD Blue actor Ricky Schroder played her father, Robert Lee Parton.
"I think my childhood made me everything I am today. I would trade nothing for being brought up in the Great Smoky Mountains. I've never been ashamed of my people, no matter how poor or dirty we might have been. I've always loved being from where I am and having the folks that I've had," shared Parton, 69, with Entertainment Tonight.
"It's made me what I am," Parton continued. "It's that spiritual base; it's that family; love of family; it's just that simple life, feeling like part of nature."
Check out Dolly circa 1979 belting out her classic hit by the same name in the video below.
Though the movie premiered last week, fans can still enter to win a "Coat of Many Colors" merchandise prize pack, a tour of Dolly's Tennessee Mountain Home, and much more in Dolly Parton's "Coat of Many Colors" Sweepstakes. Enter here. 
The entire Coat of Many Colors film is now streaming via NBC.com. Obviously, America is hungry for more high quality and family-friendly fare on television!