Dierks Bentley's What the Hell World Tour will be kicking off 2017 right!
Dierks Bentley's What the Hell World Tour is set to begin on January 19th in Dayton, Ohio and will included fellow country studs "Middle of a Memory" singer-songwriter Cole Swindell and "Dirt On My Boots" crooner Jon Pardi! Of course, Dierks selected these two entertainers for reasons beyond their musical skills…
"I'm out there away from my family – it's a great sacrifice for them and for the guys in my band, they have family, too. We're out here, life's short, I want to be around good people, good energy, good vibes," Bentley explains to People. "And these two are definitely two younger guys that both crack me up and have such great energy.
"They're both a little crazy, to be honest," continues Bentley. "They're just in that time in their lives when they're young and they're single and they're going after it. That's why they're calling the tour the What the Hell Tour because I have no idea what the hell's going to happen out there!"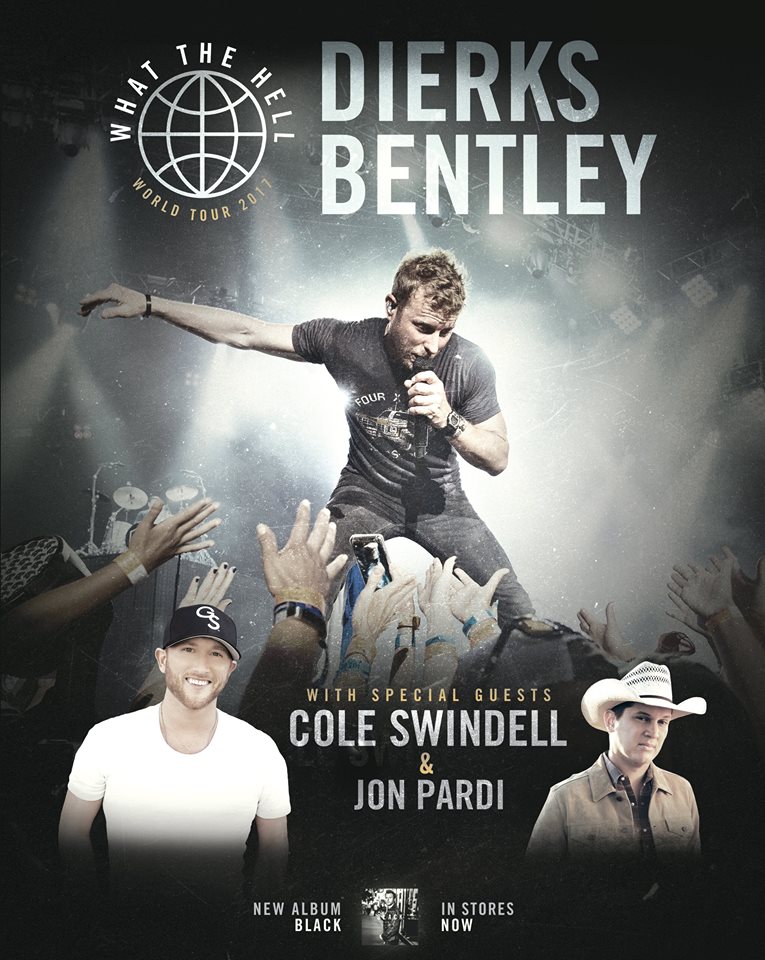 Planned 'What the Hell World Tour' Stops…
Dayton, OH
Louisville, KY
Nashville, TN
Hamilton, ON
Oshawa, ON
Ottawa, ON
London, ON
Winnipeg, MB
Saskatoon, SK
Calgary, AB
Dawson Creek, BC
Edmonton, AB
Penticton, BC
Vancouver, BC
Cedar Rapids, IA
Sioux Falls, SD
Columbus, GA
Tupelo, MS
Knoxville, TN
Billings, MT
Rapid City, SD
Fresno, CA
Reno, NV
This is going to be insane. We can't wait to see this energetic trio hit the stage together in 2017! Share this big news with other country music fans.