On October 20th, Dan + Shay's band member Shay Mooney tied the knot with his beautiful partner, Hannah Billingsley. Check out how they spent their honeymoon...
Sorry ladies, Shay Mooney is officially off the market. If you still don't believe that Dan + Shay's Shay Mooney got married last week, take a peek at his personal twitter account.
Last night was perfect. Thanks for all the well wishes! Now off to our #honeymooney 😍 @HLB15

— Shay Mooney (@ShayMooney) October 21, 2017
Also, his newly wed wife is absolutely gorgeous. Hannah Billingsley is former Miss Arkansas, and she is every bit as beautiful as you might imagine. Shay's family played host to the wedding on their private property located in Arkansas. After the ceremony, guests gathered at the reception, which featured the picturesque Ozarks as the background. Of course Dan + Shay's other half, Dan Smyers, was in attendance. In fact, Dan was one of the special groomsmen.
So, did the couple spend their honeymoon? Social media has the answers! Let's take a look at some of the pictures Shay and Hannah have shared on Instagram, but first we should take a minute to appreciate their adorable son, Asher James. The 9-month-old boy was even carried down the aisle during the wedding. How cute!
Okay, now to the honeymoon pics. Up first, a picture of a dolphin jumping out of the water behind Shay and Hannah. Shay loved this photo so much he asked his fans to help him caption it, "Been laughing at this for several hours straight now. 😂😂 We wanna see yalls captions for this…"
Now, we head over to Hannah's Instagram page to see more pictures. In her first photo, Hannah appears to have temporarily replaced Shay. A kiss on the cheek from a dolphin never hurt anybody. She's so pretty!
In her next picture, Hannah let Shay join back in the fun. A kiss from her new husband on one cheek, and a kiss from a dolphin on the other. What a fun and romantic way to spend their honeymoon!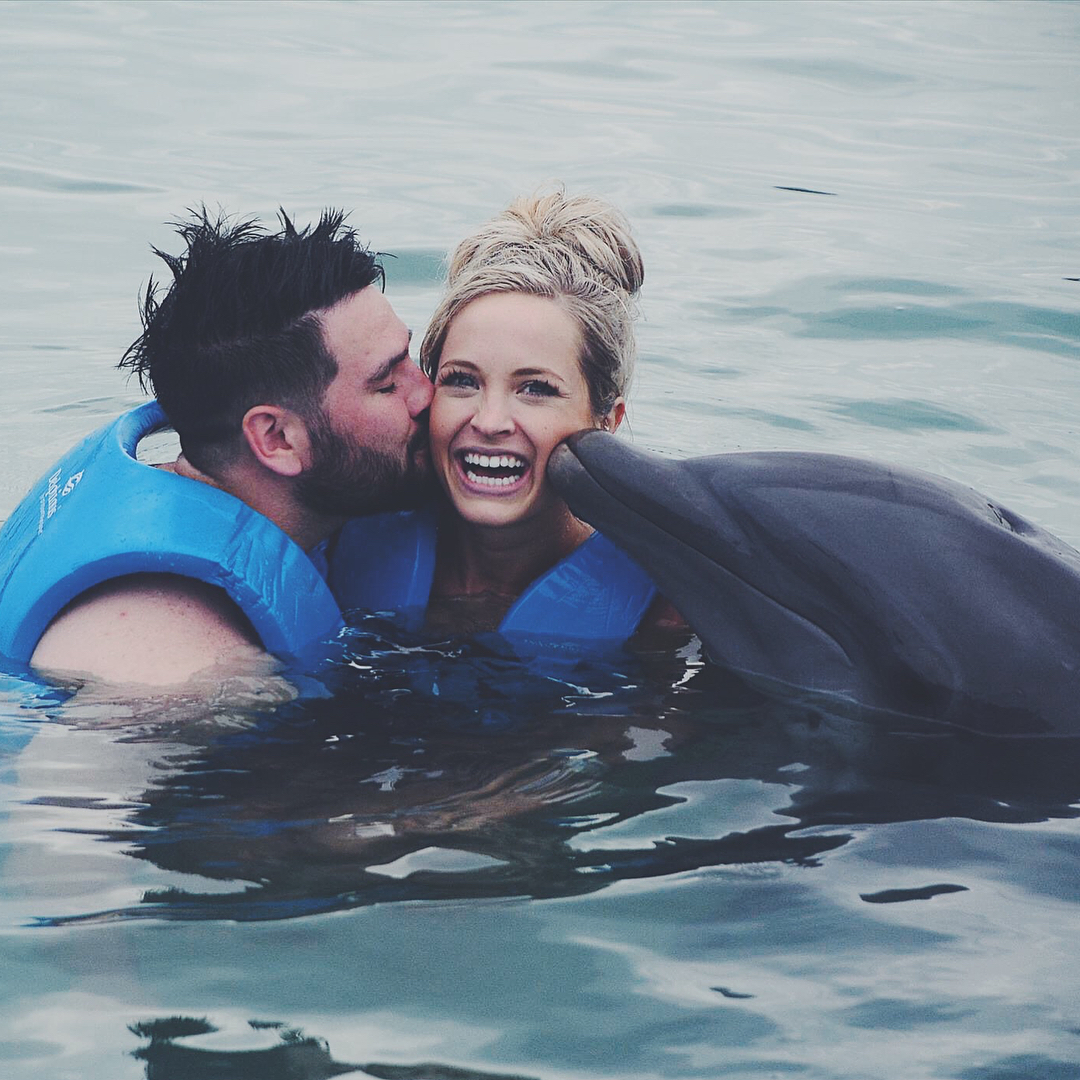 Finally, Shay got his kiss from the dolphin. Hopefully the pair continue to share more photographs from their wedding and honeymoon, but until then, enjoy this picture of Shay getting kissed by a dolphin. That's one photogenic dolphin!
All of us at Country Fancast wish the newlyweds many years of marital bliss!
Be sure to share this update with other Dan + Shay fans!