Alan Jackson's boat interest dates back to his childhood and carries into his ownership of a collection of boats that he has owned through the years. . . . .
Alan Jackson's boats are an obsession and collection that goes way back to childhood.  One of Alan Jackson's most touching songs is "Drive (for Daddy Gene)," in which he reminisces about the joy of driving an "old plywood boat — a '75 Johnson with electric choke.".  His Instagram post shows the early inspiration for the "Drive" music video.
Watch Alan's top boating music videos and see some of his boats below.
Alan Jackson's Boats:  Music Video "Drive"
Alan Jackson's official music video for 'Drive (For Daddy Gene)'.  Released in 2009, Jackson's music video for "Drive" shows his childhood memories and love of boating.
A collector of old boats, Jackson currently owns and has owned and sold plenty of boats.  One of his real gems is named Hoochie Coochie named for his popular lyric from his song "Chattahoochee".  The song was inspired by the river that runs the border between Georgia and Alabama. The 26-foot wood boat was put on display by Travis Hickman of Hickman Wooden Boat Works (which built the beauty in 1996).  Watch Jackson smile at the camera and then crank up the speed on a beautiful lake day.  This video provides a rare and intimate look at Alan Jackson's love of boats.
Alan Jackson's Boats:  Gentleman's Racer (Hoochie Coochie)
Alan Jackson's Boats:  A Long History
According to Jackson, "wooden boats have always been my first love. I've really appreciated the Antique Boat Museum efforts at preserving the history of antique wood boats".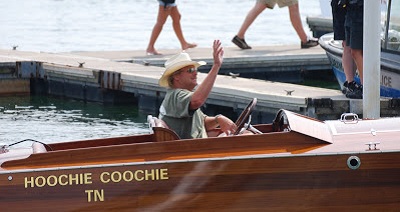 In 2013, Alan Jackson contributed a gorgeous 1955 29-foot Chris-Craft Semi-Enclosed to be added to the Antique Boat Museum's already impressive collection of historic and classic boats.  Located in the 1000 Islands on the St. Lawrence River, the Antique Boat Museum is the premier freshwater boating museum in North America. The ABM's collections hold over 300 unique boats and thousands of related artifacts and archives.
Flat Top was named in reference to the flat top steel-string acoustic guitars commonly used by Jackson.  This boat was one of just 36 of these boats ever built by Chris-Craft. The boat was used and stored on Lake Chautauqua, located in western New York, by its original owner. In 2002, Jackson purchased the boat in poor condition and transported it to Tennessee to undergo extensive restoration work at 
Hickman Boat Works
. Under the craftsmanship of Travis Hickman, Flat Top was revived through a nearly 3-year restoration project, leaving no details untouched.  Flat Top now features pristine woodwork and artistry, both interior and exterior, while retaining its original look and is considered to be show boat quality.
His AQUAPALOOZA concert event in 2009 drew plenty of boats and Alan attended with one of his classic wooden boats (pictured below).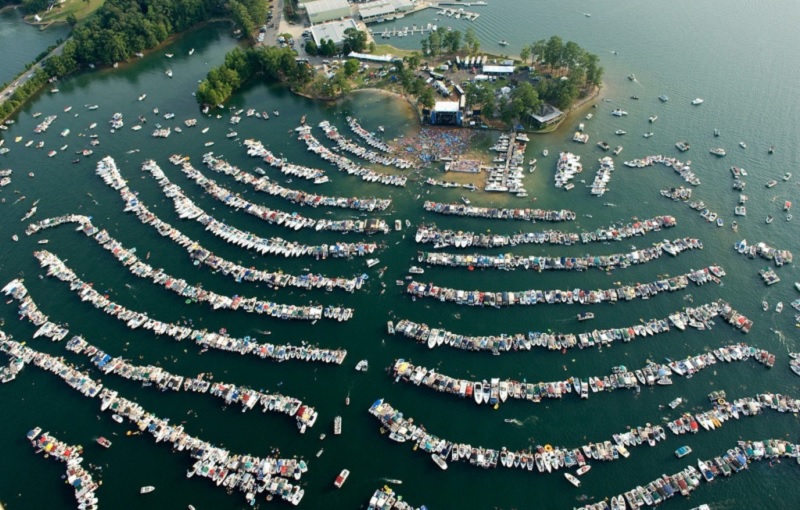 Alan at  AQUAPALOOZA in 2009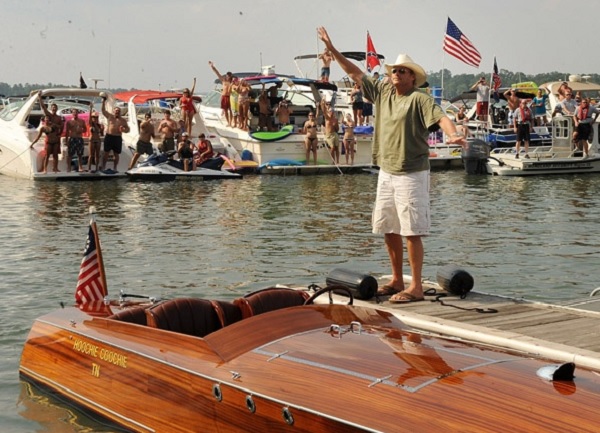 Alan Jackson used to own the 75′ Merritt yacht that was featured in his "Five O'Clock Somewhere" music video.  The Yacht is currently owned by a Palm Beach charter company that describes the boat on their website with, "This yacht is a real star. It was formerly owned by country music superstar Alan Jackson and appeared in the music video "Five O'Clock Somewhere" (see video below). The yacht has hosted countless other celebrities and musicians".
Alan Jackson's Boats:  Hullbilly sold to a charter company
 It's Five O'Clock Somewhere Music Video
Alan Jackson's official music video for 'It's Five O'Clock Somewhere' featuring Jimmy Buffett showcases the 75′ Merritt that Alan Jackson previously owned..  Jackson has reportedly owned 3 Merritt boats (the 75-footer, a 46 footer, and a 60′ Merritt).  His Merritt Yacht Hullbilly was the 75 footer featured in his music video "It's Five O'Clock Somewhere."
Alan Jackson Chattahoochee Shows Plenty of Boating Fun
Alan Jackson's official music video for 'Chattahoochee' delivers plenty of boating inspiration and also demonstrates Alan's love of Lake living..
Alan posted some of his lake living wishes to Instagram……always sad when summer is over……
Remember to "share" this with other Country Music fans.