Every family has something that makes them cute and unique, but these country music stars go above and beyond. Look for your favorite country family below!
Enjoy a peek at these adorable country music families…
1. Thomas Rhett and Lauren Akins
If you have not heard the Thomas Rhett and Lauren Akins love story, here is a brief review. Thomas Rhett Akins and Lauren Gregory instantly became best friends when they met in first grade. The pair dated for a short period in high school, but Lauren quickly broke things off. Even though they each dated other people throughout college, Thomas knew he still loved his best friend. In 2011, Lauren's father invited Thomas to a graduation party where Thomas told Mr. Gregory how he still loved his daughter, and the rest is history. The following year, the cute couple were married outside of Nashville, Tennessee. Recently, their family began to multiply. Within the last two weeks, Thomas and Lauren welcomed home their first daughter. After a long adoption process, Willa is finally where she belongs! However, Lauren is also pregnant! Country fans poured out their support for Willa, and now they can't wait to meet the next child due this August.
2. Carrie Underwood and Mike Fisher
On July 10, 2010, NHL hockey star Mike Fisher married Carrie Underwood. After seven years of marriage, the couple continue loving each other no matter what. In fact, Fisher requested a trade to the Nashville Predators in order to live closer to his wife. Together, they raise one son, Isaiah. However, they have talked about adding to the family. Look at the adorable family on the ice celebrating Mike Fisher's 1,000 NHL game.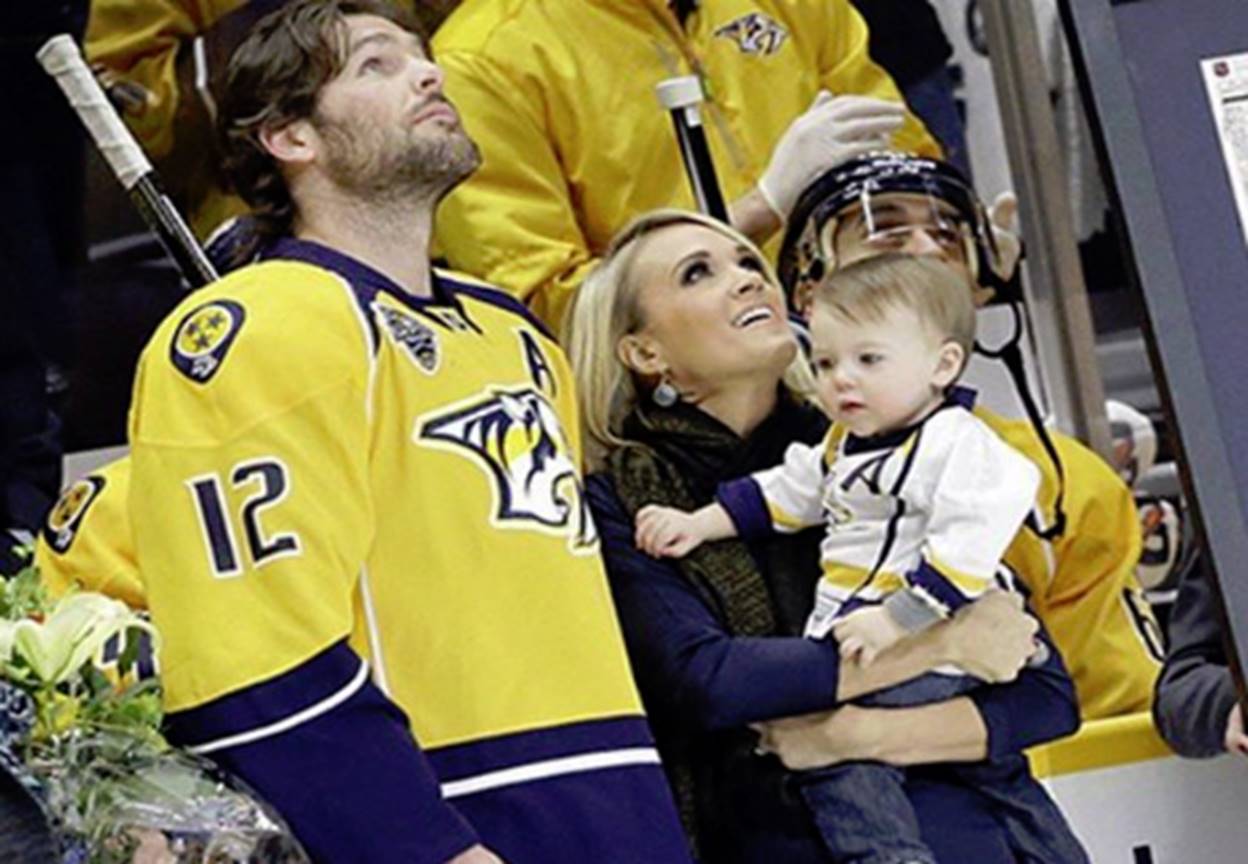 3. Tim McGraw and Faith Hill
Together, Tim McGraw and Faith Hill raise three beautiful daughters, but that does not hold them back. The duo still tour and write new songs as a couple. Check out their current tour schedule here!
4. Dierks Bentley and Cassidy Black
Dierks Bentley married childhood friend Cassidy Black in 2005. Now, they have three adorable children— Evie, Jordan, and Knox. Below is a picture of the country music star and his children supporting Cassidy Black as she participated in the Boston Marathon.
5. Luke Bryan and Caroline Boyer
Luke Bryan and Caroline Boyer live in a Tennessee farmhouse. They have two sons, Tatum and Thomas, who enjoy numerous outdoor activities such as sports and fishing. Although Bryan's beautiful wife in not in the picture, the country star wouldn't be able to raise his sons without her help.
Be sure to share this piece with other country music fans!