Country singer-songwriter Cole Swindell's 2016 has been full or growth, success, and recognition. See what the 33-year-old artist had to say about his year here!
Platinum-selling country star Cole Swindell is set to close out his third annual sold-out headlining Down Home Tour this weekend. Besides that accomplishment, the Georgia native has seen a lot of success this year— notching his record-breaking sixth consecutive No. 1 single with "Middle of a Memory," being named the NSAI Songwriter/Artist of the Year, and celebrating the biggest song of his career thus far with "You Should Be Here."
The emotional tune "You Should Be Here" is considered a career-defining song for Swindell and has been a Top 5 selling country song since it impacted radio in January. Swindell performed his hit at the Grand Ole Opry on his late father's birthday. Additionally, he performed the song on the 51st Annual ACM Awards, Good Morning America, Fox's American Country Countdown Awards, and during a Fox & Friends 9/11 tribute.
Other major Cole Swindell 2016 career highlights include:
– His 2014 self-titled debut album was certified Platinum by the RIAA
– "You Should Be Here" reached the "1 Billion, 1 Million" milestone for surpassing over 1 billion audience impressions and selling more than 1 million track equivalent sales just eight months after it's debut.
– Hit the road with Florida Georgia Line's Dig Your Roots Tour
– "Middle of A Memory" became his 6th consecutive #1 single and his 5th No. 1 video and 9th No. 1 song as a songwriter
– Nominated for CMA New Artist of the Year
– Was honorary starter at the NASCAR Sprint Cup's Hollywood Casino 400
– Celebrity judge at Miss America pageant
– Announced he will be touring with Dierks Bentley's What In The Hell World Tour in 2017
"I look back on this year and am just overwhelmed with emotion," said Swindell it a statement. "I knew that music was powerful but I never ever could have imagined what impact my music could truly have on other people and more importantly in turn what it has done for me. I wrote a song as a way to help myself through the grief of losing my Dad. But it quickly became bigger than me as people began writing to me with the most incredible stories about how the song helped them through extraordinary life events. I knew then it wasn't about me anymore. I hope my fans know they have helped ME with every story, every ticket they have bought this year, every call to radio, and just showing up at my shows. 'You Should Be Here' has truly changed my life. I am truly truly blessed with a great team around me, great friends, great songwriting buddies, encouraging support from my friends at radio and media and most importantly blessed with the greatest fans in the world. 2016 was pretty amazing and it's going to be really hard to top … but I'm up for the challenge!"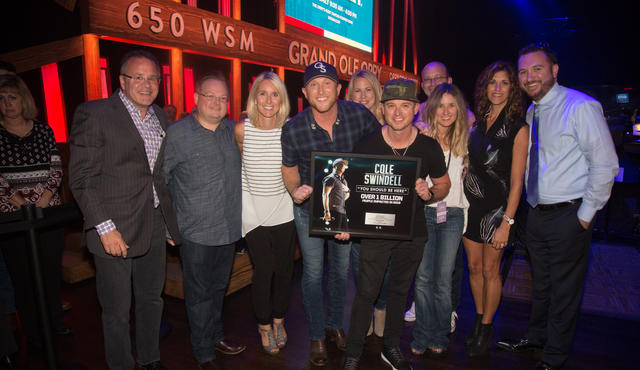 Cole will be performing a pre-game Fan Fest concert at the NCAA's Orange Bowl on December 30th and will also be performing the halftime show at the NCAA's Citrus Bowl on New Year's Eve.
Share this update with other fans of the singer-songwriter!