Chris Young traveled to Miami over the weekend to receive an honor from a very special group of young people.
Many fans do not know that Chris Young's journey into the country music world began in Miami where, as a high-school senior 12 years ago, he attended National YoungArts Week. At the annual event, he discussed road maps to success with other students trying to find their way, most of who didn't have much of a thing for twang.
"It expanded my world," recalls Young, 29, a singer-songwriter known for "The Man I Want To Be," "Voices" and "Gettin' You Home (the Black Dress Song)."
"I knew I wanted to be a country artist, but I have such a love for arts as a whole that that week was something I really treasured."
The National YoungArts Foundation (formerly known as the National Foundation for Advancement in the Arts) was established in 1981 by Lin and Ted Arison to identify and support the next generation of artists and to contribute to the cultural vitality of the nation by investing in the artistic development of talented young artists.
Young's career took off in 2006, after he won the reality competition Nashville Star. Before then, he fretted about how he would have a career in music.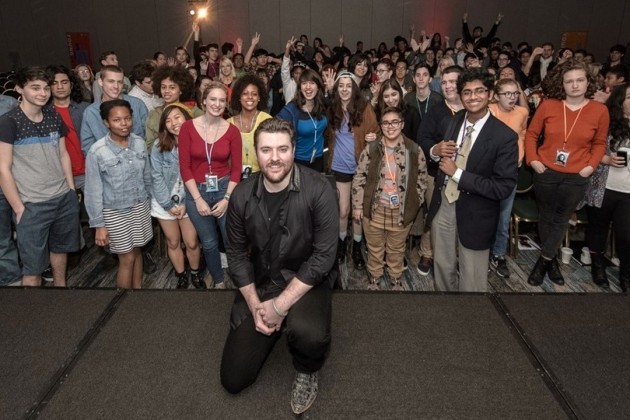 photo: YoungArts Foundation
Recently Chris Young came full circle as he was on hand to take part in the 2015 National YoungArts Week, where he spoke to young artists from across the country about his own experiences as an artist.
Young was presented with the YoungArts Arison Alumni Award for his outstanding career achievements, which include six No. 1 singles, seven Gold and Platinum certified singles, worldwide touring, ACM, CMA and Grammy nominations and more.
The singer's latest album, A.M., has scored him more hits with 'Aw Naw,' 'Who I Am With You' and 'Lonely Eyes.' He is set to embark on a tour in support of the record in March with Lee Brice.