Watch Carrie Underwood's Swimsuit style video showing her beach fashion over the past 4 years since she launched the CALIA swimsuit line. . .
Carrie Underwood's Swimsuit style has evolved each year since she first launched her CALIA by Carrie clothing line back in 2015.  She typically posts an annual selfie of her favorite CALIA swimsuit before each summer season.  Watch the video to see her swimsuit fashion looks over the past 4 years for each year and see more details about her clothing line below.
Carrie Underwood's Swimsuit Style Video
Carrie Underwood added a clothing-line to her brand in 2015 when she partnered with Dick's Sporting Goods to create CALIA by Carrie. The line is aimed towards fit-minded women who want to sweat or swim in style. In 2016, Carrie announced that there will be a swimwear element to the CALIA line.  The swimwear is available at Dick's Sporting Goods and is also available on the CALIA website.  You can look at Carrie's clothing line at the CALIA Studio Website.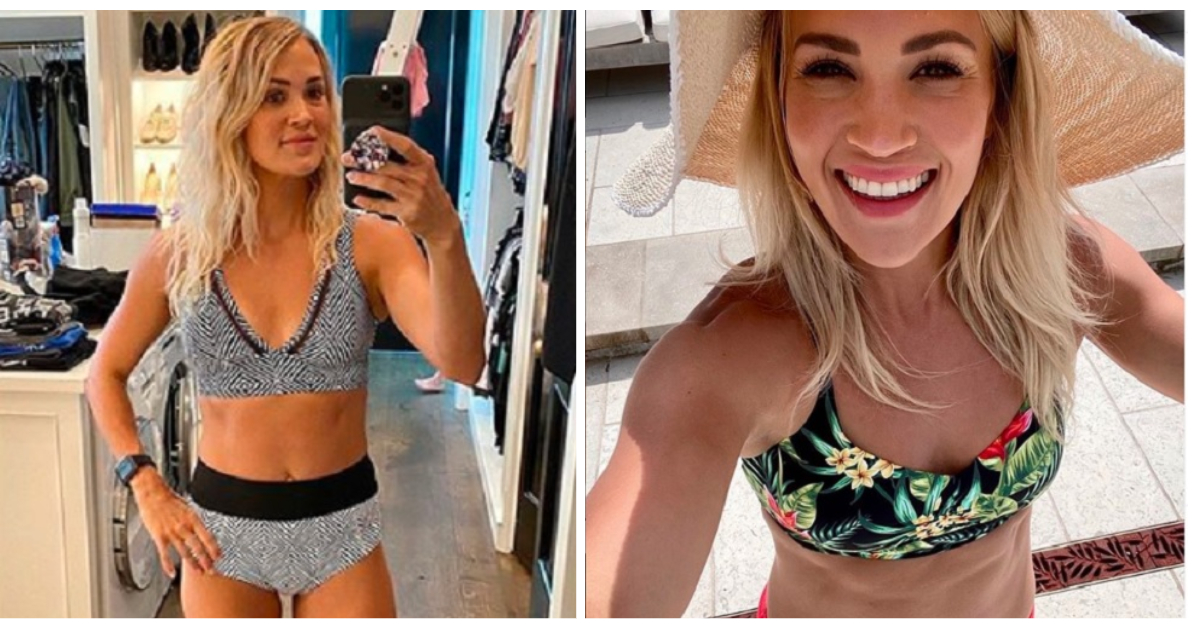 Here are the swimwear photos that Carrie shared for 2019 (left) and 2018 (right).
 Carrie shared these photos for 2017 (left) and 2016 (middle and right).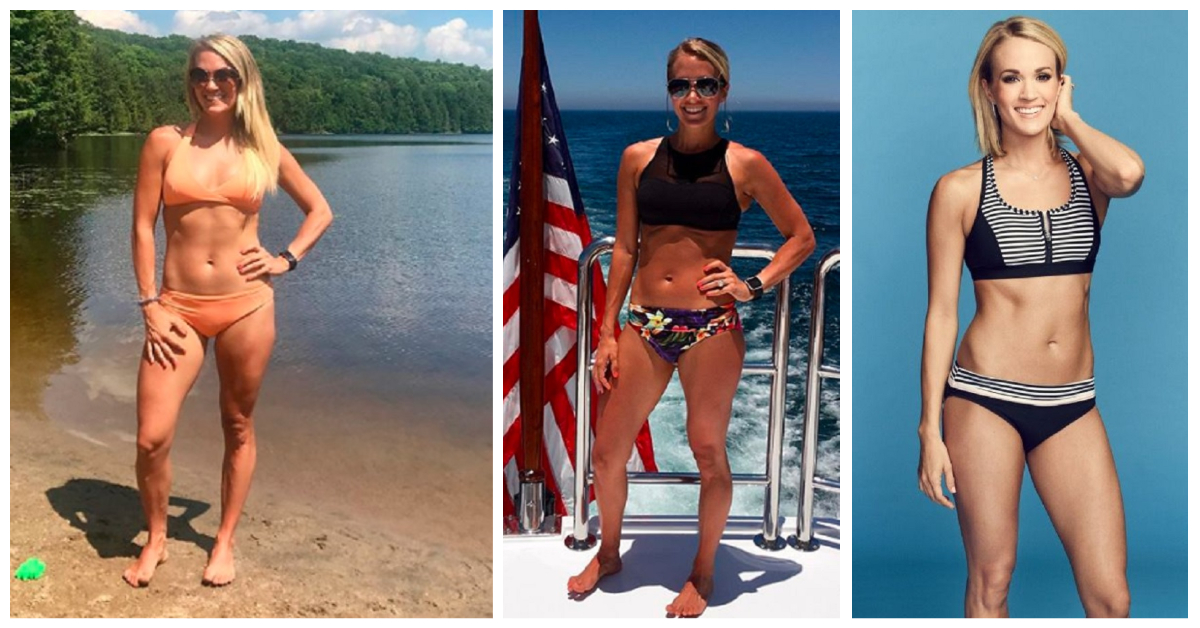 Carrie has managed to stay very fit over the years and looks great every year!  Her personal trainer Erin Oprea helps the country superstar stay fit, despite her busy schedule.  During quarantine, Carrie has been working out with her hubby Mike Fisher and she appears to be in the best shape of her life for 2020.  Carrie prioritizes health and fitness and squeezes in a workout whenever she can. Even if her schedule only allows 20 minutes, she makes it work.  "It just happens if and when it happens," Underwood stated in a prior interview. "I've gotten a lot better at doing what I can when I can, but also cutting myself a little slack. You have to!"
Trainer Opera says that Underwood is capable of tackling very intense workouts with heavy weights. She aims for variability in the star's routines, so she gets the most out of her gym time.  "Carrie's workouts change quite a bit, sometimes she goes heavier. But not always, some days we do no weights, and we do plyometric-based stuff like jumping and tabatas," Oprea tells PEOPLE.  "It's really fun to see her change over the years — I've known Carrie for nine years now. She's a rockstar, and really, it takes hard works and discipline to reach your goals. Put those two together and you'll hit it!"  On days when Underwood can't make it to the gym, she tries to be as active as possible. Having two young boys provides another form of workout.
Which year of Carrie Underwood's Swimsuit line was your favorite (2016, 2017, 2018, 2019 or 2020)?
Remember to "share" Carrie Underwood's Swimsuit style with other fans of the country singer.