Carrie Underwood's husband Mike Fisher revealed a lot about his career, family, and more in a feature he wrote for 'The Players Tribune.' Check it out here!
Carrie Underwood's husband played 18 seasons in the National Hockey League for the Ottawa Senators and the Nashville Predators.  He was fortunate enough to have team management in Canada that orchestrated his trade to Nashville where he could be closer to his country music star wife.  Watch the video to discover more about Mike Fisher and see his thoughts on career and family from his article below.
Get to Know Carrie Underwood's Husband (Mike Fisher Video)
In 2016, NHL star Mike Fisher authored a moving piece called "One-Way Ticket" for The Players Tribune. Of course, the proud country music songbird shared Mike's venture into writing via Twitter and expressed her admiration.
Carrie Underwood's Husband pens article for The Players' Tribune
This is amazing. Made me cry… https://t.co/4vpkJQh3D4

— Carrie Underwood (@carrieunderwood) December 12, 2016
In the feature, Fisher touched upon the realities of a professional hockey career and his time playing for the Nashville Predators.
"We're so fortunate to play a game for a living, and you always know you can be moved, but it's pretty jarring to have your entire life and your entire family change in a split second. I was pretty crushed," Mike confessed about receiving word that he was being traded by the Ottawa Senators in 2011.
His former General Manager did have some good news though, Mike was being traded to Nashville.
"I could have been going to 28 other cities, but I was actually going to Nashville, where I could finally be with my wife full-time. Carrie and I had gotten married the previous July, and because she's a country music singer, she has to be doing her thing in Nashville for most of the year. So we had been going back and forth between Ottawa and Nashville. As a newlywed couple, it wasn't easy."
While preparing to depart from Ottawa for good, Fisher got a pleasant surprise. "I got a call from Eugene Melnyk, the owner of the Senators. He thanked me for my time in Ottawa, and then he said something I will never, never forget. He said, 'You know, Fish, I just wanted you to be with your wife.'"
Yes, the Ottawa Senators organization made sure that Fisher's destination would be Nashville. "They could have traded me anywhere, but they were genuinely looking out for me and my family. That's what makes hockey such a special sport, even at the NHL level. Yes, it's a business, but the amount of good human beings I've run across in this sport is just incredible," reflected a grateful Fisher.
The trade not only resulted in Carrie and Mike being reunited in one city, but it also eventually led to little Isaiah.
"And being in a stable situation in Nashville allowed Carrie and I to start our own family. Our son, Isaiah, was born last February. He doesn't really understand what Daddy does yet…"
Mike also laid out his wishes for his young son, "Hopefully I can keep playing long enough for my son to watch me and really understand the game, and what it means for me to wear the C in Nashville."
Carrie Underwood's Husband with his Nashville Family Fan Club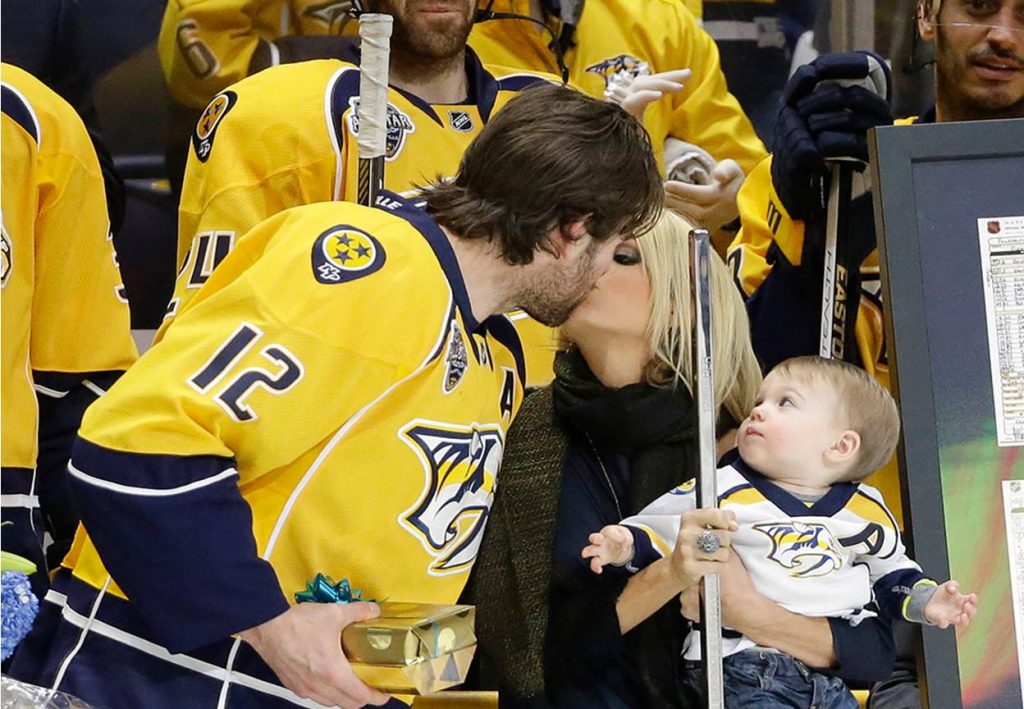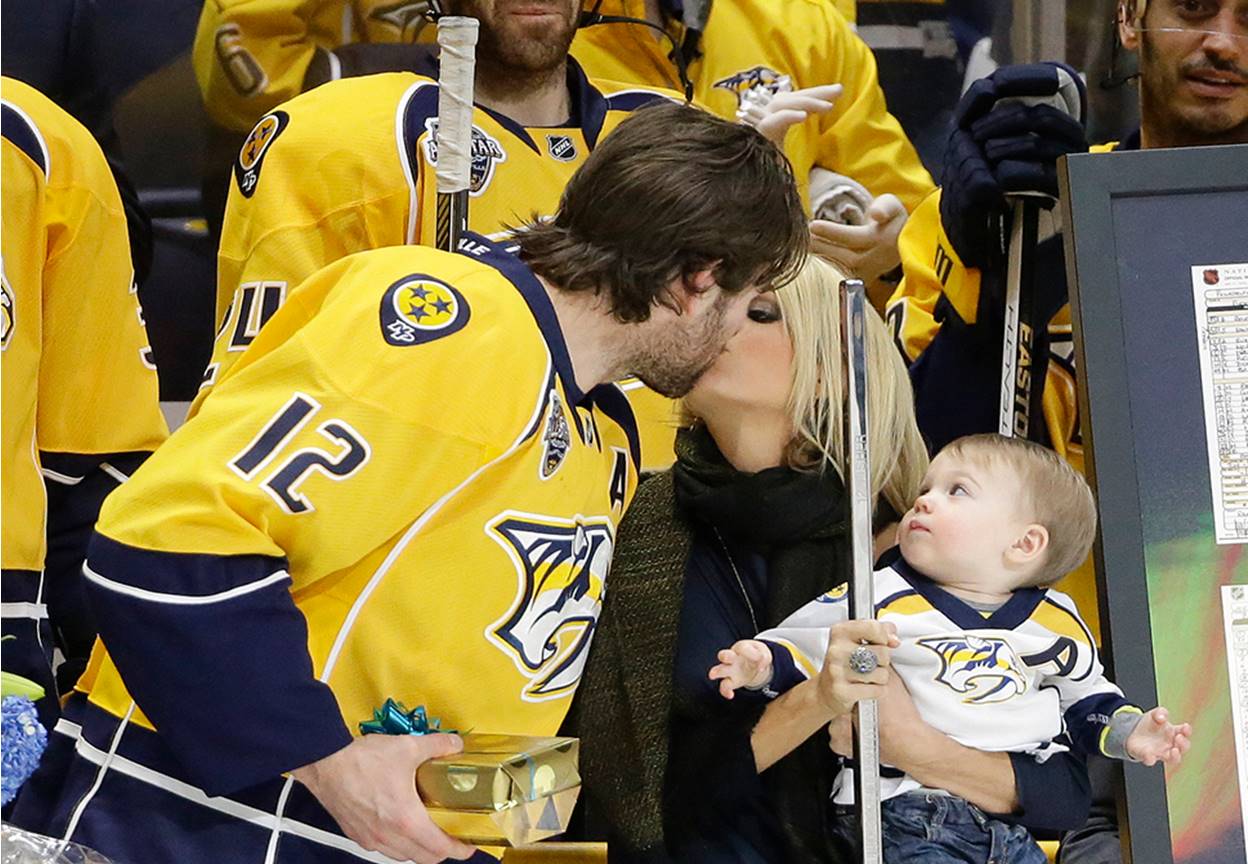 With 18 years in the league, we certainly wish the talented Canadian continued health and success so he gets to fully realize his dream. It is interesting to hear this story from Mike's perspective and gain additional insight into the complexity of juggling two red hot careers.
Share this with other fans of this incredible couple!