Country music star Carrie Underwood's American Idol win helped make her a superstar! Check out how Underwood marked the anniversary here...
Believe it or not, country music superstar Carrie Underwood's American Idol win occurred 18 years ago in 2005!   This young girl from a small town in Oklahoma captured the hearts of millions with her powerful voice, unwavering determination, and undeniable talent. Carrie Underwood's rise to stardom began with her memorable victory on the fourth season of American Idol, catapulting her into the music industry and setting the stage for a remarkable career that continues to shine today.  In honor of her anniversary win, watch her audition video, footage of her win and see a throwback posts from Carrie.
Carrie Underwood's journey on American Idol started with her audition in St. Louis, Missouri, where she wowed the judges and left an indelible mark with her stunning rendition of Bonnie Raitt's "I Can't Make You Love Me." From that moment on, it was clear that Carrie possessed a unique gift that would take her far in the competition.
Carrie Underwood's American Idol Audition
To celebrate this anniversary, the star has historically shared some funny throwback photo on Instagram.  "14 years ago today… my world changed," she shared via Instagram Story on Saturday (5/25), along with a snapshot of her reaction to winning.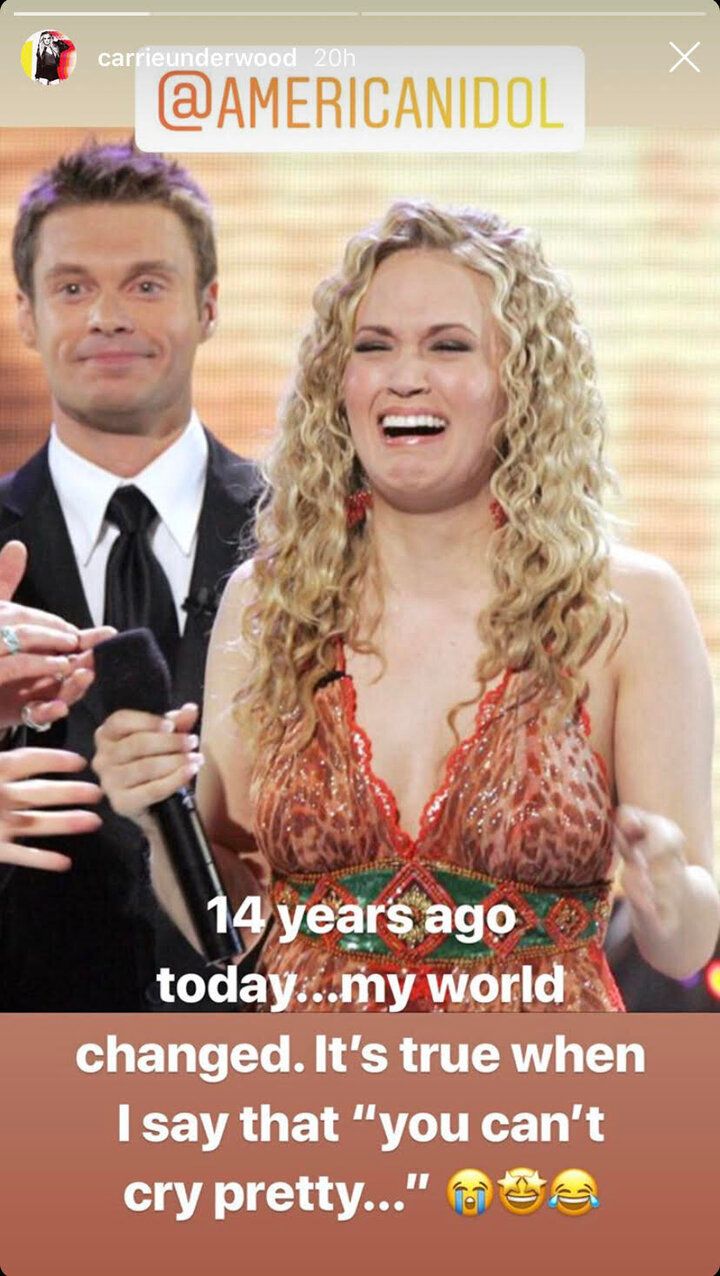 "It's true when I say that 'you can't cry pretty,'" the
"Southbound"
singer added making a reference to her recent hit single "Cry Pretty."
On May 25, 2005, Carrie Underwood was crowned the winner of American Idol's fourth season, defeating Bo Bice in the finale. This win marked a significant turning point in her life and launched her career into the stratosphere. With a record-breaking number of votes, Carrie became the embodiment of the American dream, transforming from a small-town girl to a global superstar.
Let's go back to 2005 and watch Carrie Underwood's American Idol win during Season 4 below…
Carrie's emotional reaction will never get old!
Carrie Underwood's win on American Idol marked the beginning of an extraordinary career that continues to flourish today. Her journey from a small-town singer to a global superstar serves as an inspiration to aspiring artists around the world. With her immense talent, unwavering work ethic, and down-to-earth demeanor, Carrie Underwood has solidified her place in the music industry and left an indelible mark on the hearts of millions. Her American Idol win was just the beginning of a legendary legacy that continues to evolve and captivate audiences worldwide
Share Carrie Underwood's American Idol win anniversary throwback with other fans!