Don't miss Country music star Carrie Underwood gracing the 74th Annual Golden Globe Awards stage on Sunday! More details here.
Country music superstar Carrie Underwood will be taking her mega-watt smile to the 74th Annual Golden Globe Awards where she will be a presenter during the ceremony. The event, hosted by Jimmy Fallon, will broadcast live from the Beverly Hilton Hotel in Beverly Hills, California and is set to air this Sunday, January 8th 6PM EST/3PM PST via NBC.
Besides Underwood, the star-studded list of presenters includes Ben Affleck, Casey Affleck, Kristen Bell, Annette Benning, Pierce Brosnan, Naomi Campbell, Jessica Chastain, Leonardo DiCaprio, Gal Gadot, Hugh Grant, John Hamm, Chris Hemsworth, Felicity Jones, John Legend, Ryan Reynolds, Sting, Emma Stone, Vince Vaughn, Carl Weathers, and Kristen Wiig.
The "Dirty Laundry" singer last attended the Golden Globe Awards in 2011 as a nominee in the 'Best Original Song-Motion Picture' category for the song "There's A Place For Us," which was featured in the feature film Chronicles of Narnia: The Voyage of the Dawn Treader.
Take a look at Carrie rocking the red carpet nearly six years ago below!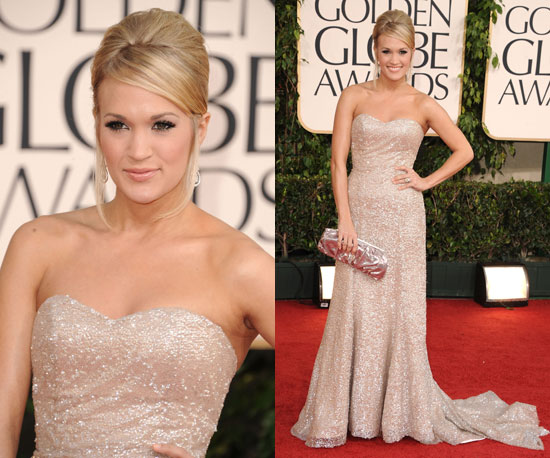 Also noteworthy for Country music fans, actress
Nicole Kidman
— and
Keith Urban
's wife— is also nominated for her supporting actress role in her new film, 
Lion
. Keep your eyes peeled for Urban on the red carpet and in the glamorous audience.
Share this update with other fans of the Oklahoma-born talent!