Between her crazy successful music career, launching an athletic clothing line, and prepping for the arrival of her first child, country songbird Carrie Underwood hasn't forgotten to help others in her native state!
The Muskogee Phoenix reports Underwood generously donated a signed guitar to McIntosh County Oklahoma narcotics investigation officer Kevin Branscum so he can cover the medical expenses for Gino the German shepherd, who has worked as his K-9 partner since 2012. Privately owned Gino became infected with heartworms late last year and needs treatment until May. So far, treatment has cost Branscum over $4,000.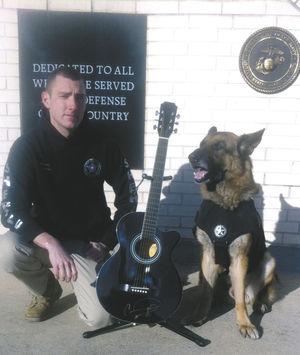 photo: c/o Kevin Branscum
As many fans know, Carrie Underwood grew up on a farm in Checotah, Oklahoma and has a huge soft spot for animals of all kinds. The singer has been a vegetarian since she was 13-years-old and has been vocal regarding animal rights causes. It's no wonder word of Gino's plight prompted the country star to spring into action!
Branscum was surprised by Underwood's gracious gift and plans to auction off the guitar to raise funds. "I'm grateful. There's really no words for it. It's awesome. Being that she's from around here makes it even that much more special. I was definitely surprised," stated Branscum.
No venue or date for the guitar auction has been set yet.
We wish Gino a speedy recovery!