Carrie Underwood took her son to a very special show, and no it wasn't her own! Check out the Fisher-Underwood family's photos here!
Any kid with a country superstar as a parent has been to a concert or two… or even a dozen! Carrie Underwood and Mike Fisher's son, Isaiah, is no exception. The lucky 2-year-old attended  a live show in Nashville, Tennessee where he sat with his parents in the famous Ryman Auditorium's seventh row. Yes that's right, former 'American Idol' winner was in the audience for this show!
Check out the whole crew!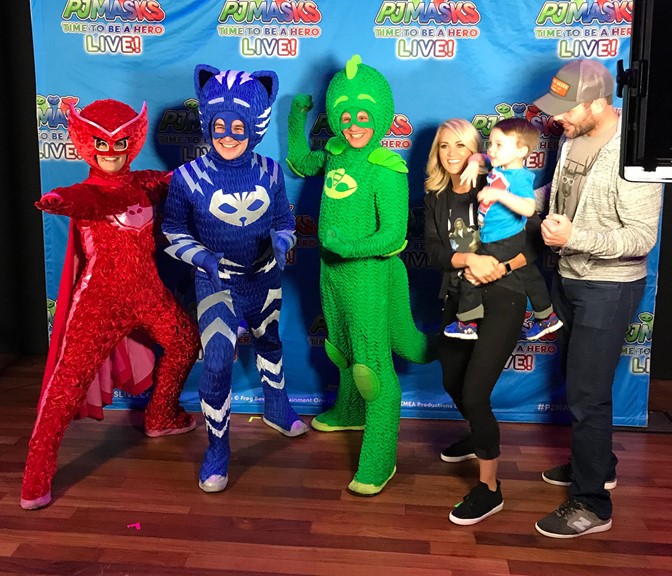 The pair attended a 
PJ Masks Live 
show together and not only did they have some of the best seats in the house, they also had a meet and greet with the cast and crew! Carrie took to Instagram to share some pictures of the fun filled evening from their view of the show to sweet Isaiah meeting his heroes. Way to go supermom for snagging the VIP package!
Enjoy the family's personal snapshots below!
Carrie will be giving all fans the VIP package this November when she releases live footage from her The Storyteller Tour: Stories in the Round. Footage that will be released will be from her show at Madison Square Garden and will be available across digital platforms so all fans will get the experience of a lifetime!
The Storyteller Tour was centered around her fifth and most recent album and was received well by fans. It included 92 shows starting in 2016 and shows in the United States donated $1 of all tickets sold to Carrie's C.A.T.S. Foundation. It also included a stage that Carrie wanted so all fans could feel like they had the best seats in the house!
"No matter where they were – standing, sitting, down low, up high – we are very careful to make sure that everybody would have a unique show," Carrie told Rolling Stone Country in an interview.
The set list fans will get to see Carrie perform are:
"Renegade Runaway"
"Last Name"/"Somethin' Bad"
"Undo It"
"Good Girl"
"Church Bells"
"Cowboy Casanova"
"Heartbeat"
"Jesus, Take the Wheel"
"Wasted"
"Blown Away"
"Two Black Cadillacs"
"Dirty Laundry"
"Choctaw Country Affair"
"I Will Always Love You"
"What I Never Knew I Always Wanted"
"Mountain Music"
"Clock Don't Stop"
"All-American Girl"
"Little Toy Guns"
"Before He Cheats"
"Smoke Break"
"Something in the Water"
Share this article with all your friends who love Carrie Underwood so they can stay updated!