Carrie Underwood recently told CMT that her son Isaiah already loves music, particularity hers.
Children of musicians typically follow in their parent's footsteps and become musicians themselves, and it looks like Carrie Underwood's little boy is no different. Eight-month-old baby Isaiah is already showing signs that he will gravitate towards the fine arts.
"He loves music. He's automatically drawn to it," Underwood tells CMT.
"I came home the other night and he was asleep and Mike was actually trying to keep him awake for a little longer so he wouldn't just take a nap and then go to bed an hour later — because that just wouldn't happen — he wouldn't go down for the night!" she shares.
"So I came in and I was just kind of humming around in the kitchen making dinner, and he immediately popped up and was like, 'Mom's home! That's her voice! I know it! She's singing!' So yeah, he loves music."
Isaiah has had plenty of opportunities to build an appreciate for his mother's talent. Underwood went back to work shortly after the birth of her first son, and like any mother who could would do, she took him along with her.
Underwood recently posted an adorable picture of her baby boy playing a "baby" piano (below).
So will we hear Isaiah on her new Storyteller album?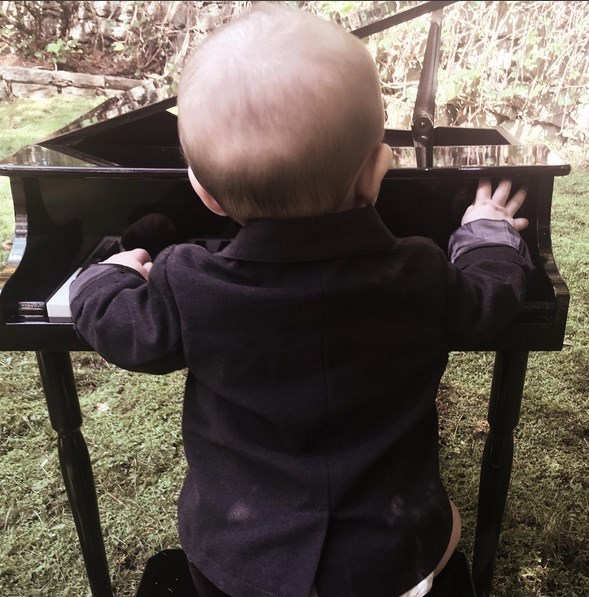 "Not quite like that … but he's there," she joked.
"He's on the other side of the glass."
Underwood's new album, Storyteller is set for release on Oct. 23rd, and its first single, "Smoke Break," is already at country radio.
Listen to "Smoke Break" below!
For more Carrie Underwood coverage CLICK HERE