Carrie Underwood (@CarrieUnderwood) will premiere the video of her smash single, "Something in the Water," exclusively on Twitter, Wednesday evening, November 5!
Following Carrie Underwood's performance on the CMA Awards in Eastern and Central Zones, @CarrieUnderwood will use her official account to personally debut the video for "Something in the Water" directly on Twitter.
Written by Underwood, Chris DeStefano, and Brett James, "Something in the Water" is #12 this week on both the Billboard and Country Aircheck country airplay charts.
The starlet will show off her adorable baby bump in the video while wearing a gorgeous gown. The video is far from simple – featuring 12 dancers, 16 choir members, multiple costume changes and water … lots of water!
Carrie had previously mentioned that she was worried about her outfit changes for the CMA Awards, but the video proves she can do just about anything!
See a sneak peek of her music video and baby bump below:
Brad Paisley and Carrie Underwood are hosting the CMA Awards together for a seventh time Wednesday night, so they're feeling pretty confident as the clock ticks down to show time.
Brad says, "Our roles are established where as she holds down the fort as extremely eloquent and funny and brilliant up there, and I'm an idiot. And it really does work that way. It really kind of feels like that's the role that we've fallen into in a good way."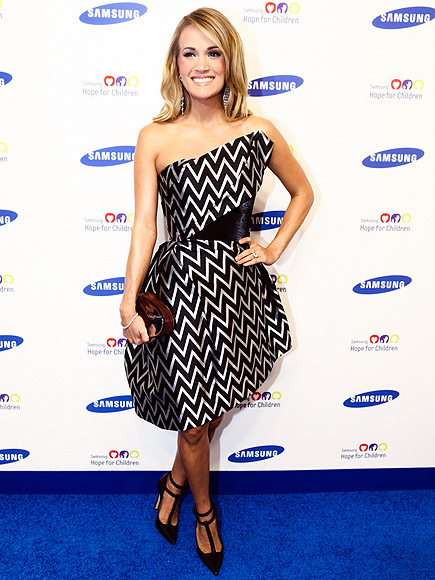 photo: Ben Rosser/Sipa USA
Millions of country music fans around the world can tune in on Twitter and follow @CarrieUnderwood to watch Carrie's exclusive premiere.
Twitter will be your front row ticket to the biggest night in country music. Follow #CMAawards to keep up with the action!