Country music entertainer Carrie Underwood and her family look to have enjoyed the star's Hollywood Walk of Fame ceremony! More here.
Country music superstar Carrie Underwood got to enjoy a major career milestone with her family by her side! The singer-songwriter's Hollywood Walk of Fame ceremony took place on September 20, 2018 in front of the Capitol Records building with her husband Mike Fisher and their 3-year-old son Isaiah in attendance.
During the ceremony former American Idol judge and early Carrie supporter, Simon Cowell, and longtime collaborator, Brad Paisley, gave speeches in honor of the occasion.
"After you sang 'Alone' I made the prediction that you would become the best-selling Idol winner, which you are. But I could have never anticipated how successful you've become. You're a role model, a very sweet person, like me we both love animals and it could not be more appropriate that a star is getting a star today," Cowell shared.
Although most of Paisley's speech was serious, he did take a moment to crack a joke during his time at the podium.
"This is the best of country music in concrete," Paisley stated about Carrie's star on the famous walk. "I can't wait to see everything you do from here. I think of the artists that'll be in here at Capitol Records that are going to walk out here one night drunk and throw up on the star of one of the most important artists we will ever have in our format."
As can be expected, this ceremony was very emotional for the "Love Wins" artist and she made sure to thank everyone who has helped her reach this point.
"How is this my life? How does a girl from Checotah, Oklahoma, get a star on the Walk of Fame? I will tell you: belief. So many people who have believed in me," she said while giving acknowledgement to her parents, Carole and Steve.
Carrie also showed her appreciation for her husband, Mike, and their little boy, Isaiah.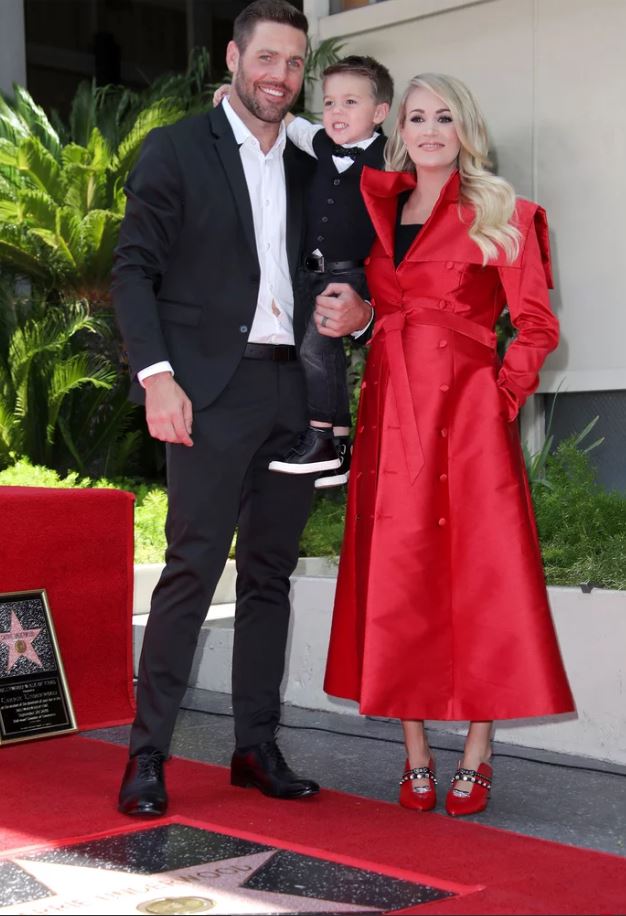 "I met an incredible man, Mike, who thinks I'm so much better than I actually am. Thank you for believing in me as a human, as a wife, as a mom, and supporting me through all of this. He believes in me and we had another little man who believes in me too. Isaiah Michael, I love you so much. You're the best thing we ever did. I love you and I believe you," Underwood said while looking at the two most important men in her life.
Congrats to Carrie on earning the 2,646th star on the Hollywood Walk of Fame! Share this update with other fans of this star!