Country music superstars Carrie Underwood and Brad Paisley are teaming up for their 10th straight CMA Awards hosting gig!
They're back! Carrie Underwood and Brad Paisley have been tapped to host the 2017 CMA Awards for a 10th consecutive year. This year's event will take place November 8th, broadcasting live from Nashville's Bridgestone Arena via the ABC Television Network.
"Every year we have figured something else out that would make it better for the next year, so I think we've been able to improve on our performance each year. But simply, just the fact that the CMA asked us again, I am very flattered and honored," Paisley shared with Billboard about the honor.
Along with the announcement, the Country Music Association posted a photo of the twosome with the caption, "So excited they're back! @BradPaisley & @CarrieUnderwood are returning to host their 10th consecutive #CMAawards on Nov 8!"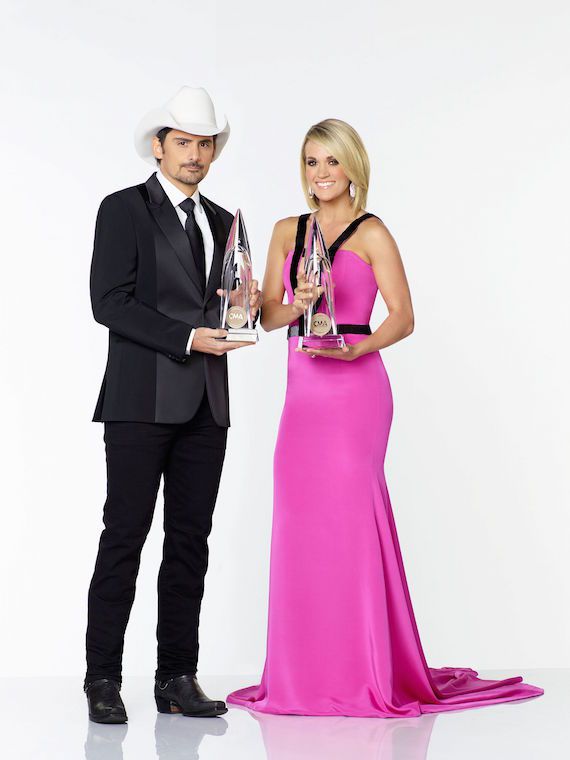 The 2017 CMA Awards nominees and winners are determined by more than 7,600 professional members of CMA, which is the first trade organization formed to promote an individual genre of music in 1958.
Though Carrie and Brad have had a long presence as emcees, Vince Gill holds the record as host with a 12-year run from 1992-2003. Given their track record together, the two entertaining talents have fallen into a groove when it comes to preparing for the big show.
"Well, the first time we hosted, we didn't have a lot of time, but now, with this being our 10th time hosting, we've actually been able to slip into a routine in how we work together, and we both start thinking about it now, making suggestions for potential bits we may want to expand on, etc. We text each other all the time, and we'll meet in person to work on it for the first time in August," Paisley detailed.
We look forward to finding out this year's grouping of nominees and enjoying the 51st edition of the CMA Awards this fall!
Be sure to share this news with other country music fans!