Watch this selection of the Top 6 Carrie Underwood and Mike Fisher Cutest Moments.
Carrie Underwood and Mike Fisher cutest moments are difficult to select from as this adorable power couple has plenty of special moments to share.   Carrie Underwood and husband Mike Fisher are both superstars in their fields, but they are also very real and grounded people.  Watch this selection of cutest moments from this amazing couple.
What I Never Knew I Always Wanted
Carrie dedicates her "What I Never Knew I Always Wanted" song to her husband and baby and shares personal photos of her family while on tour.  Watch the full video montage of Carrie Underwood's personal photos and video as seen on screen during The Storyteller Tour.
Carrie and Mike Fisher Share Dream Home Plans
On a stunning 400-acre stretch near Nashville, Carrie Underwood and her husband, Mike Fisher, plan to build their dream home. Watch as they take Oprah on a tour of their peaceful property.  Watch the couple plant an Oak tree in honor of Oprah.
Mike Fisher Interviews Carrie Underwood
Access Hollywood reporter has Mike Fisher interview Carrie Underwood.  He is unlikely to have a future career as a Celebrity news reporter after this audition.   Watch Mike surprise Carrie with his impromptu interview.
Carrie Underwood and Mike Fisher Skate Together
When they got engaged, NHL star Mike Fisher gave country star Carrie Underwood a pair of skates. Watch as they hit the ice—and see if Carrie's slap shot makes it past her hockey pro husband.
Carrie and Mike take the ALS Ice Bucket Challenge
Carrie and Mike don't mess around with the Ice bucket challenge taking a full load of ice cold water from a bulldozer.
Carrie Cheering on Mike Fisher at Nashville Predator Games
Carrie served as a frequent fan and supporter of Mike at his Nashville Predator games.   She supported Mike in his short-lived retirement, his return to hockey, and his latest retirement after suffering an injury in the last season.
Carrie and Isaiah definitely served as Mike Fisher's biggest fans!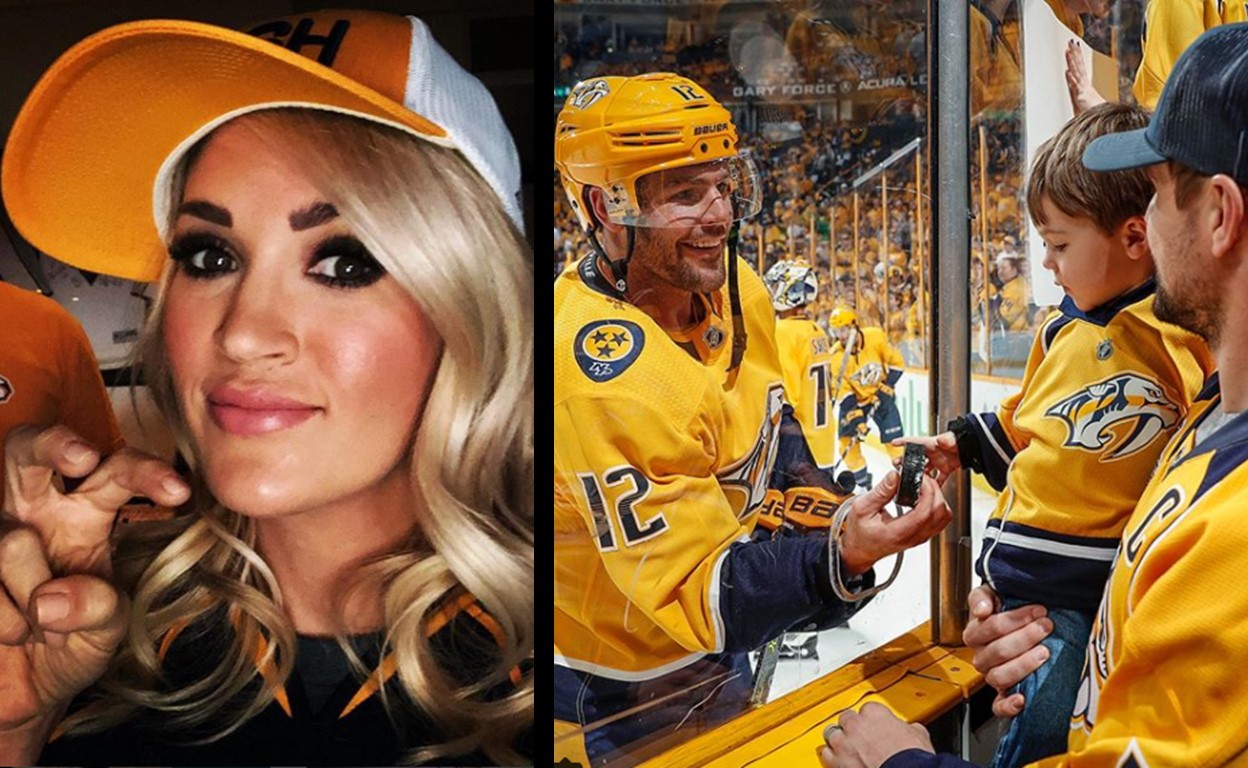 Remember to "share" this with other Country Music fans.