Country music superstar Carrie Underwood's sculpted abs are something to behold! Check out her summer ready physique here...
It's no secret that Carrie Underwood has a rockin' bod. Her rock hard abs and long, lean legs are impressive, especially for a 37-year-old mother of two boys. Her personal trainer Erin Oprea helps the country superstar stay fit, despite her busy schedule.  During quarantine, Carrie has been working out with her hubby Mike Fisher and she appears to be in the best shape of her life.  Her is the recent post Carrie shared that she is ready for summer.  See her journey to abs of steel below.
Carrie Underwood May of 2020
Wondering how Carrie gets such amazing abs?  Carrie shared this hyper speed workout video with hubby Mike Fisher in March of 2020.
It appears that her 2020 workouts and Vegan diet are paying off.
Carrie Underwood Abs (May of 2020)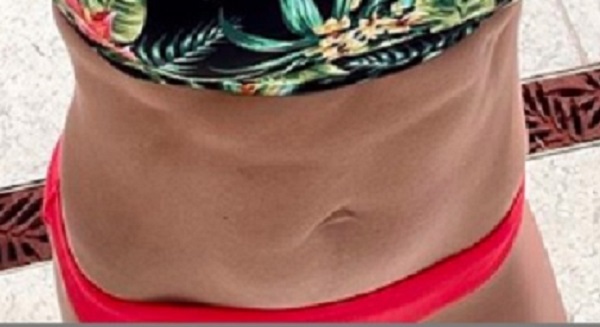 Carrie's 2nd son (Jacob Fisher) was born January 21, 2019.   As the mother of two boys, Carrie stays in remarkable shape.  In this image, we include the year that each photo was shared.  It appears that Carrie is in better shape in 2020 than ever via this image showing 3 different years of Carrie's fitness evolution.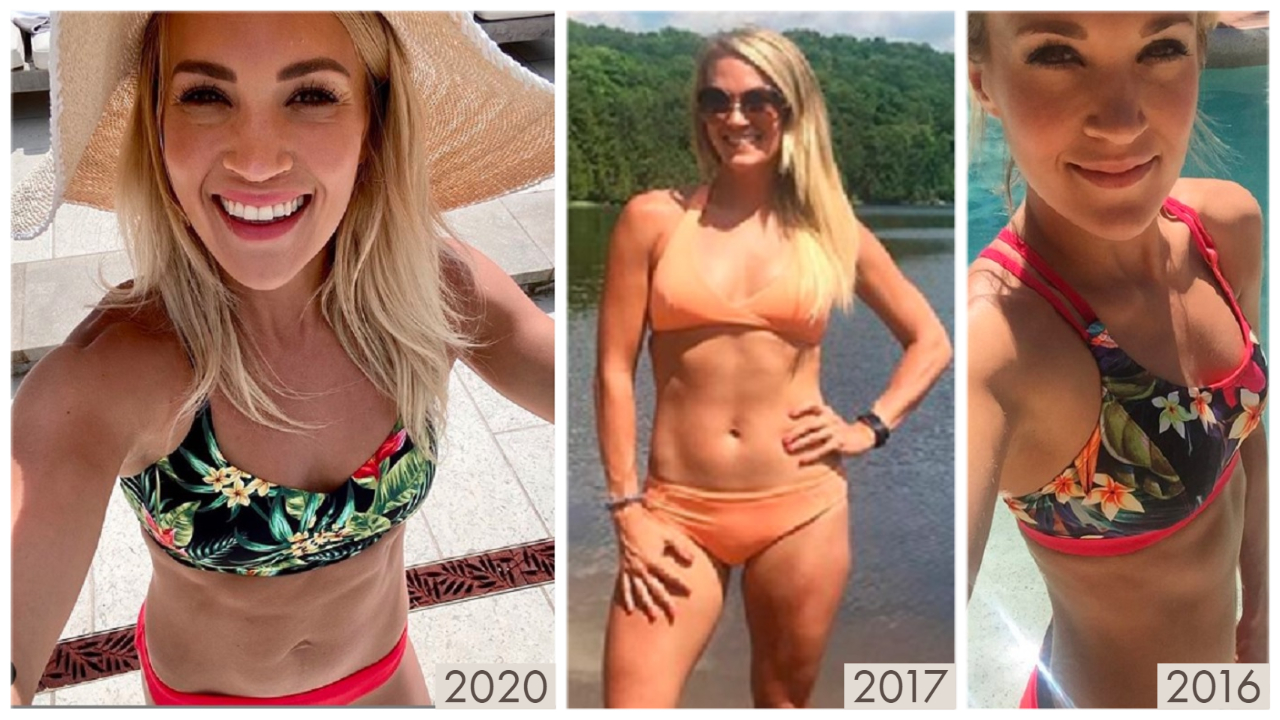 Carrie has been working out for several years and below are some some of her fitness updates from 2017.
Carrie Underwood 2017
Check out the snapshot below of Underwood enjoying some lake time in an apricot colored bikini from her Calia clothing line. She's like a walking advertisement for swimwear…
This might actually be her husband Mike Fisher's reaction to her hot beach bod…
Underwood's secret to staying in shape is simple. She prioritizes health and fitness and squeezes in a workout whenever she can. Even if her schedule only allows 20 minutes, she makes it work.
"It just happens if and when it happens," Underwood told PEOPLE in May. "I've gotten a lot better at doing what I can when I can, but also cutting myself a little slack. You have to!"
Opera says that Underwood is capable of tackling very intense workouts with heavy weights. She aims for variability in the star's routines, so she gets the most out of her gym time.
"Carrie's workouts change quite a bit, sometimes she goes heavier. But not always, some days we do no weights, and we do plyometric-based stuff like jumping and tabatas," Oprea tells PEOPLE.
"It's really fun to see her change over the years — I've known Carrie for nine years now. She's a rockstar, and really, it takes hard works and discipline to reach your goals. Put those two together and you'll hit it!"
On days when Underwood can't make it to the gym, she tries to be as active as possible. Having a two-year-old son who's full of energy makes this easy.
"Sometimes I'm like, my workout today is going be running around after my kid," says Underwood. "If we're going to go to the park, why not run there and push him in the stroller? Then I get a good cardio session to and from, and then he gets to play, so everybody wins."
Obviously Isaiah makes a great workout buddy…
Underwood's fitness apparel line targets all women, from runners to yogis to everything in between. "I created Calia to make it easier for me and all other women to work in working out," says Carrie. The clothes feature stylish trends like breathable mesh, multiple straps, concealed pockets, and laser-cut details.
Keep up with the star and her latest workout and fitness tips here.