Country music singer-songwriter Carrie Underwood lit up Los Angeles with her red carpet look and powerful vocals at the 2018 American Music Awards!
Country music superstar Carrie Underwood totally rocked some high heels and her baby bump at the 2018 American Music Awards on Tuesday night! The Oklahoman's black embellished gown with draped open sleeves is from designer Steven Khalil.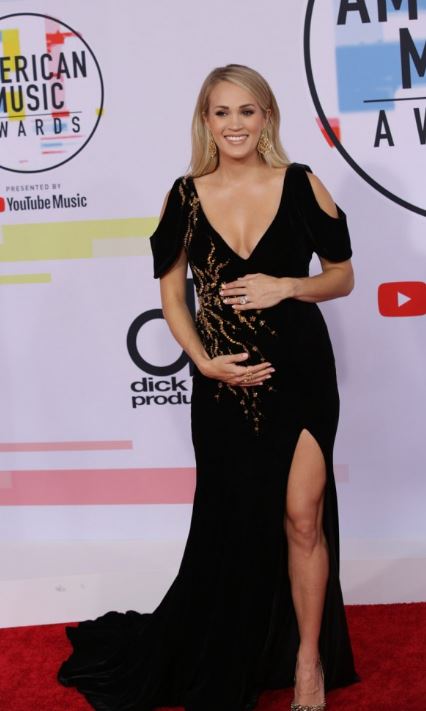 Zach Sang and
Jessie James Decker
got the chance to interview Carrie Underwood on the red carpet before the AMAs.
"I feel like when we wrote this song 'Spinning Bottles' we kind of each had people in our heads go through this," she said of the track she chose to sing for the event. "It's hard to write, it's hard to get it out, it's hard to say it's gonna go on the album … It's difficult to sing it to the world, but its life; that's a part of life. It's hard to just put yourself out there like that."
The 35-year-old star took home the Favorite Female Country Artist Award and performed "Spinning Bottles" live. Watch actress Sarah Gilbert and fellow country music artist Thomas Rhett present Carrie with her trophy below!
"Such a wonderful night! I am honored and humbled by the love I received from you all tonight. I made absolutely no sense in my speech and didn't say half of what I should've, but I want you all to know that your support means everything to me! Also, I am beyond honored to be in the company of such talented ladies like @marenmorris and @kelseaballerini to represent the women of Country Music tonight. That said, I'm off to peel this dress off and cuddle up to my little man! I shall go to bed with a full and happy heart! ❤️💖❤️💖❤️ And, of course, thank you #AMAs for having me and for letting the fans call the shots!" Underwood shared on Instagram after the awards show.
Congrats to Carrie on her history-making win! Share this look back at Carrie's big night with other fans!