History will repeat itself…for the 9th time! That's right, your favorite co-hosts will return to the 2015 CMA Awards to make us laugh and smile again. Carrie Underwood and Brad Paisley have proven that they make a great pair in entertainment and if it isn't broke, why fix it?
The announcement was made Tuesday during ABC's "CMA Music Festival: Country's Night to Rock" special. The network aired a "Best Of" video of Underwood and Paisley's past hosting antics and you can watch it below!
Both Underwood and Paisley are not only favorites in the CMA Awards hosting world, they also do pretty well in the awards section. According to Rolling Stone, Underwood has won Female Vocalist of the Year three times, Single of the Year once and the Horizon Award. Paisley has 14 CMA's under his belt with wins in categories such as Vocal Event of the Year, Music Video of the Year, Album of the Year.
The pair pretty much have the CMA Awards on lock down.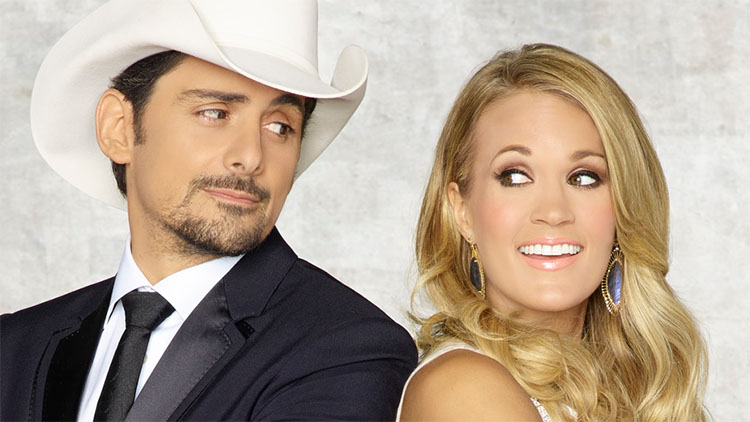 This year they are going to have to really ramp up their efforts to beat the bomb that dropped in 2014. Shortly after kicking off their monologue, Underwood was seen whispering something in Paisley's ear on stage. Paisley then "let it slip" that he finally knew something before the rest of the world adding, "suck it, TMZ."
Moments later, while talking about country music legend Garth Brooks, Paisley casually stated that maybe she could name her baby "Garth", letting the cat out of the bag that she was having a boy.
Later, Underwood admitted that she had loosely planned the slip as a fun way to announce the news.
The CMA Awards are scheduled to air live from Nashville, Tennessee, on Nov. 4 at 8 p.m. The nominees and performers be will likely be made available as the show's air date gets closer.
Check out ABC's highlight reel from Underwood and Paisley's previous hosting gigs below: