Country artist Brantley Gilbert has teamed up with Disabled American Veterans and Pedigree to provide some veterans with companion dogs!
Country music star Brantley Gilbert's commitment to America's service members has always been central in his music career. Whether hitting No. 1 with the powerful "One Hell of an Amen" to honor a fallen soldier, or taking a string of motorcycles from his home in Georgia to Arlington National Cemetery to honor the men and women who've served our nation, the artist has been quick to give back and say thank you.
After multiple conversations on how to help service members returning home, coping with the challenges of the transition back to civilian life, he reached out to DAV (Disabled American Veterans) with the idea of pairing veterans in need with companion dogs to help normalize their re-acclimation. Gilbert's notion has become a reality. Jason Hassinger, 29, of Philadelphia, traveled to Albany, New York, last Saturday to meet his new best friend— Charlie, a 3-to-4 year old hound mix.
"There is nothing like the loyalty, love and companionship of a dog," says Gilbert. "For some people, a dog can connect unlike even a best friend and for those who gave beyond the call of duty to our nation, I love the idea of matching them up with a trained companion dog to help them get their lives to a better place."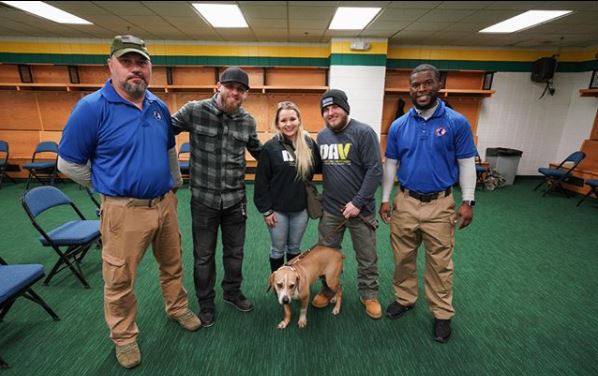 Hassinger, who served from November 2006 until September 2011, saw three tours of combat as a Marine Infantryman overseas. He has received multiple awards, including the Silver Star Medal, Purple Heart, Combat Action Ribbon, Afghanistan Campaign Medal with three Bronze Service Stars, Iraq Campaign Service Medal with a Bronze Service Star, Presidential Citation-Navy Global War on Terrorism Medal and the, NATO Medal-International Security Assistance Force Afghanistan among many awards. Now a professional veterans benefits advocate for DAV, he helps other veterans access the benefits they have earned.
"'One Hell of an Amen' makes me think very much of my times in the Marines," Hassinger says. "More importantly than my service to this great nation, this song reminds me of all of our other brothers we lost over the course of my three deployments overseas. In one of his many interviews, Gilbert mentions he has late night phone calls where he talks with military vets who are battling demons. I, like Gilbert, have had late night phone calls with friends to lend a listening ear when they need it most. Both of us like providing service to others."
Hassinger was the first of eight Veterans who will receive a companion dog from Gilbert during his The Ones That Like Me Tour. The companion dogs are being recruited by the American Society for the Prevention of Cruelty to Animals. Pedigree will cover the cost for all dog training and will provide a one-year supply of food to each of the eight dogs.
"In many ways, we're taking a rescue animal and rescuing a returning hero," Gilbert says.
"These dogs and people are all heroes, I am blessed the Pedigree Brand is willing to help us get the dogs trained, certified and fed for that first year. The positive impact a companion dog can make is immeasurable, and I am humbled to be able to do this."
Gilbert will be presenting a veteran with a companion dog every weekend of his The Ones That Like Me Tour. For him, giving healing to the Army, Navy, Marines and Air Force members who represented our nation is the greatest gift his music has provided.
The Ones That Like Me 2018 Tour Schedule
Feb. 8 — Greenville, S.C. @ Bon Secours Wellness Arena
Feb. 9 — Knoxville, Tenn. @ Thompson Boling Arena
Feb. 10 — Tupelo, Miss. @ BancorpSouth Arena
Feb. 15 — Fairfax, Va. @ EagleBank Arena
Feb. 16 — Augusta, Ga. @ James Brown Arena
Feb. 17 — Charleston, S.C. @ North Charleston Coliseum
March 24 — Tuscaloosa, Ala. @ Tuscaloosa Amphitheater
April 19 — Lexington, Ky. @ Lexington Center — Rupp Arena
April 20 — Salem, Va. @ Salem Civic Center
April 21 — Pikeville, Ky. @ Eastern Kentucky Expo Center
April 26 — Dayton, Ohio @ Wright State University Nutter Center
April 27 — Terre Haute, Ind. @ ISU Hulman Center
April 28 — Rogers, Ark. @ Walmart Amp-Arkansas Music Pavillion
May 10 — Cedar Rapids, Iowa @ US Cellular Center
May 11 — Grand Rapids, Mich. @ Van Andel Arena
May 12 — Erie, Pa. @ Erie Insurance Arena
Share this update with other fans of the star!