The Grand Ole Opry is commemorating nine decades of exceptional country music with a nine-month celebration which starts Tuesday, March 24.
The iconic Grand Ole Opry is turing 90 years old, and that calls for a 9-month long birthday bash!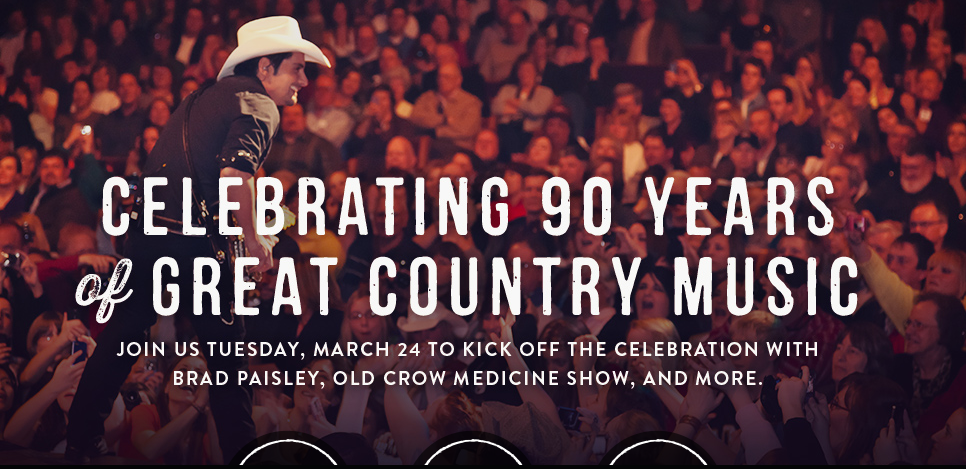 photo: c/o The Grand Ole Opry
The celebrating kicks off on Tuesday March 24th with Brad Paisley, Old Crow Medicine Show, the Del McCoury Band, Asleep at the Wheel and more.
The artists will be telling the stories behind some of the most important pieces of the Opry's 90-year history, including the fiddle that Uncle Jimmy Thompson played for the inaugural Opry broadcast, the steamboat whistle used by Opry founder George D. Hay to introduce Opry broadcasts and a guitar used by Opry great Little Jimmy Dickens, who passed away earlier this year on Jan. 2.
Items from contemporary Opry members like Paisley, Darius Rucker and Josh Turner will also be on display.
The Opry will soon announce other plans for the nine-month birthday celebration, including Opry guest appearances by Florida Georgia Line, Charlie Daniels Band, Oak Ridge Boys, Rascal Flatts, Reba McEntire and more.
This event is an ode to the power of country music and the way it has transformed and grown during the last nine decades. For more information about the celebration, visit the Grand Ole Opry's website.