He's known for his pranks on tour, so it was a cinch that Brad Paisley would get an invite to host this Wild West Comedy Festival event at the Tennessee Performing Arts Center in Nashville.
Brad Paisley "crushed it" (pun intended) at the Wild West Comedy Festival as host as he has done in the past in similar comedic situations, proving yet again that he is as funny as he is musically talented.
Throughout the evening, he poked fun at the six comedians he introduced. As much as he professed being a "big fan" of each performer, he ceremoniously mangled their names in introductions. The comics, in turn, had their own way with Paisley's name in chats between sets. Keith Alberstadt called him "Kenny," and Jon Reep declared the "Paisley" name just plain "weird," though added it was better than being "Brad Plaid."
No doubt Paisley provided the musical highlight of the evening, but then – full disclosure – he also was the only one who sang. Accompanying himself on acoustic guitar, he opened the show by telling the 1,000-plus comedy fans that he would be performing tunes that "I would never put on a record." It soon became apparent why.
"First car, first date, first taste of lovin'," he sang with all the country goodness he could muster, before adding: "You'll always be my first … cousin." (Special props to Paisley for this inspired rhyming: "In the back seat of that Regal what we did was illegal.")
For his next self-penned song, Paisley announced, "Tonight I'm going to do whatever the bleep I want." No censorship here. He actually had a foot-controlled pedal that made the "bleep" sound. Stay Classy Brad!!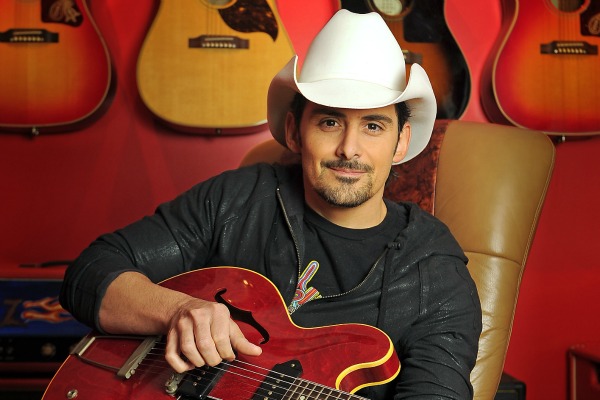 Paisley told Rolling Stone that "My interest (in comedy) comes about because I sort of inadvertently have done comedy my whole performing career, even before it was technically a career,"
"Back when I was a kid and started playing songs in my hometown, first in church and then in Lion's Club meetings and church picnics and Fireman's Balls — which is a funny word — I was very much cracking jokes between songs."
Paisley emphasized that he's inspired as a writer by listening to comedians. Which is no surprise when you listen to clever singles like "Ticks" or "Online." He also hopes to write with his funny new friends someday.
"There's nothing like a comedian's perspective to say, 'Ah, I've never looked at it that way' about life. And I think it's what we need," he says.
"There are so many things wrong in society that comedy and a little sense of humor would fix. One of them being Twitter."
For more Brad Paisley coverage CLICK HERE