The Packers didn't play in the Super Bowl, but country superstar Brad Paisley showed his support at Thursday night's (Jan. 29) show in Green Bay, Wisconsin.
Brad Paisley turned his concert at the Resch Center into an early 2015 pep rally for the Green Bay Packers – right down to a Jordy Nelson catch in the final minutes.
The "pass" was a bottle of Bud Light that Paisley used to play guitar on a potent version of "Alcohol" to close his performance, with Nelson among the group of people on stage with Brad.
Brad Paisley and Jordy Nelson both got laughs from the crowd of 6,049, when the Packers wide receiver made a surprise appearance earlier in the show, walking out unceremoniously to hand Paisley a guitar during "I'm Still a Guy" and then taking a selfie together.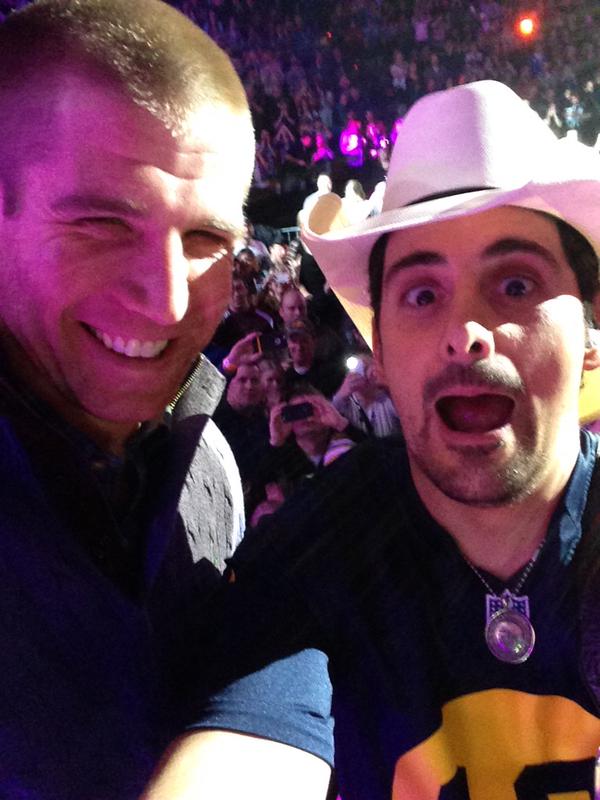 photo: B. Paisley/Twitter
"I don't know who that was," Paisley joked after Nelson left the stage. "In the off season, he's my guitar tech."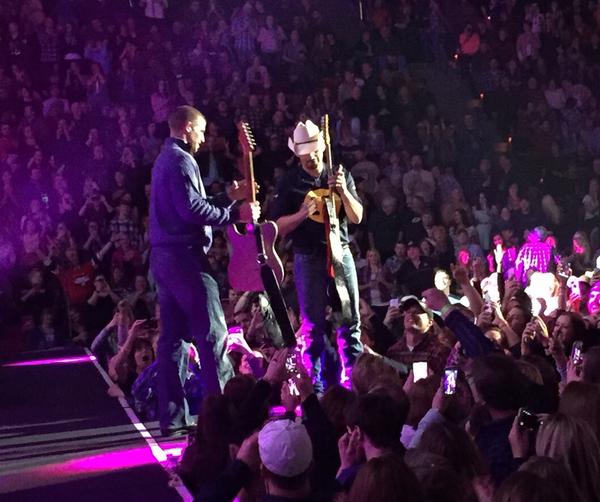 photo: B. Paisley/Twitter
The country music star talked often about his love for the "greatest NFL city in the world."
"I was here when you beat the Lions … I was here when you beat the Cowboys this year. I like to think I'm good luck. I just need to make every game next year," he said.
When he went on record declaring next season to be "the season of vengeance" for the Packers, fans roared and broke into "Go Pack Go!"
"We'll do that on and off through the night," he told them.
Brad, however, wasn't satisfied with being the only musician caught up in the sports mania.
The Swon Brothers have been out on the road as a support act for Paisley. That same night, they were in the middle of performing a cover of the Eagles' 'Life in the Fast Lane' when the video screen behind them suddenly departed from its normal programming, projecting the words, 'Zach Colton is a Detroit Lions Fan.' That drew good-natured boos from the hometown crowd of die-hard Packers fans.
Then, after showing a few key scenes from some games, the screen lit up the phrase, "Zach, WTF?" as Swon and his brother Colton reacted with good humor, struggling to continue the song despite their laughter.
That's when Paisley — whose current tour is being sponsored by Kraft cheese — brought the song to a halt when he entered the stage bearing a Green Bay Packers Cheesehead hat, which he settled on top of Zach's head, saying, "Wear this for the rest of this song," as the crowd roared.
Paisley also screened some footage of him sticking a slice of Kraft cheese to Swon's forehead as he slept.
"I don't even think I can finish that song," a bewildered and cheese-headed Zach remarked as Paisley exited the stage.
See the hilarious stunt here: