Brad Paisley joins many artists in paying tribute to the musical legend B.B. King who recently passed away at the age of 89.
Riley B. King, the legendary guitarist known as B.B. King, whose voice and talent brought blues from the margins to the mainstream, died Thursday night at the age of 89.  You did not have to be a blues fan to appreciate King's musical contributions. Even the biggest of country music stars admit to having been hugely impacted by King's work, Brad Paisley being one of them.
Paisley tweeted is condolences over the death of the legend, along with many country and non-country music stars.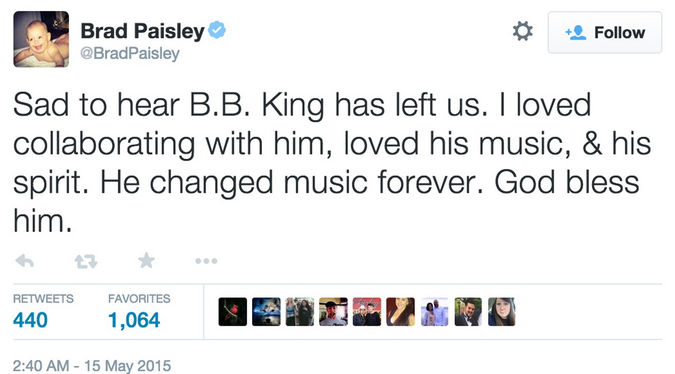 Paisley mentioned the time he did a duet with King during a live performance. The blues legend and guitar aficionado joined Brad Paisley on Paisley's 2008 Play album, to perform "Let the Good Times Roll" with the country star. The song was a staple at King's live shows.
"It will surprise people," Paisley says of Play. "It's not all country. We do everything from jazz guitar to one that's very heavy metal."
King was a Mississippi native who's reign as "king of the blues" lasted more than six decades and straddled two centuries. He will be very missed throughout the entire music community.
For more Brad Paisley coverage CLICK HERE.