Country music singer-songwriter Brad Paisley was recently given the 'Angels Among Us Award' by St. Jude Children's Research Hospital. More here!
In the country music industry, a big heart is a must-have. These naturally sweet singers usually show their love through their music, but sometimes they make it personal. St. Jude Children's Research Hospital holds a special place in many country artists' hearts.
Alabama's Randy Owen founded Country Cares for St. Jude back in 1989. The yearly event took place ealry this month in Memphis, Tennessee at the Peabody Hotel. Country stars, radio stations and other media gathered to spend time with the children and raise money for the hospital to raise awareness for its exceptional work. Since the startup of the event, it has raised more than $750 million in pledges for the children of St. Jude Children's Research Hospital. They make sure families of children in the hospital do not have to pay medical expenses.
Some of the artists involved in the event include Jerrod Niemann, Cam, Danielle Bradbery, Drake White and emerging artists Devin Dawson, Delta Rae, Trent Harmon, and more.
"The cool thing about what Country Cares does, even before you realize what you're learning, you're learning that this community has taken it on to remind all of us that from the very beginning, til the end, that it is your responsibility as a human being, as a citizen of the country world to give back," Cam shared with One Country after her visit to the hospital.
The children greatly impacted the artists and made them smile.
"There was a kid named John that came out to a show that we were doing for St. Jude," said Jerrod Niemann, "And he had actually been here a decade ago when I first came and to see him being cancer free after all these years and St. Jude still paying attention…Every little thing we do really matters and it's so exciting to see people survive, especially kids — angels who are stronger than most people."
Brad Paisley was a surprise guest for the banquet on Saturday night to close out the weekend. To his surprise, St. Jude presented him with the Randy Owen Angels Among Us Award. This award is giving to people who "have made exceptional and lasting contributions to St. Jude Children's Research Hospital through unique commitment and humanitarian spirit." Other past recipients include John Rich and Darius Rucker.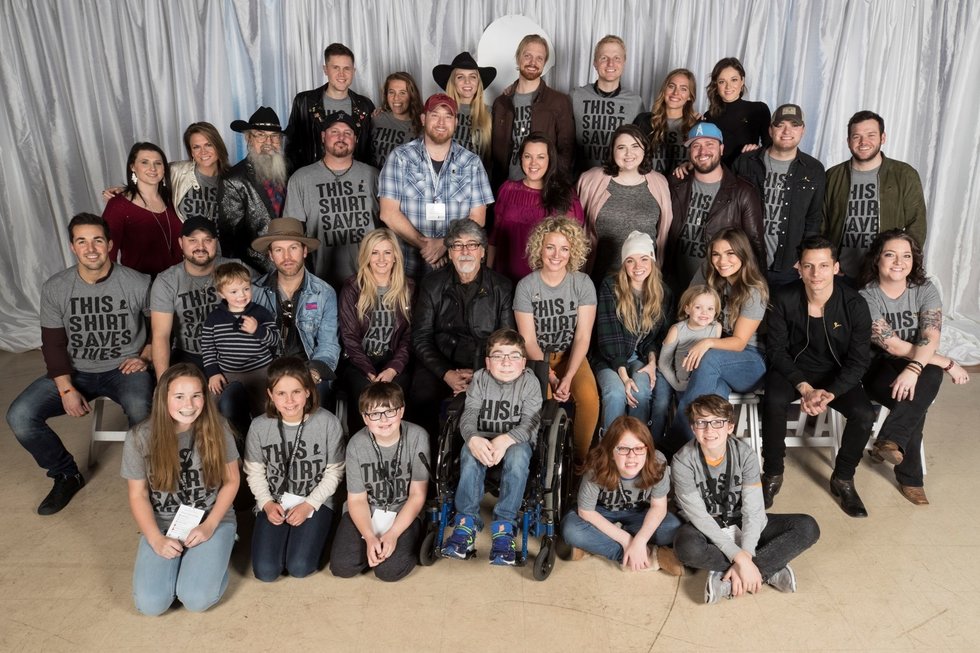 "This is the kind of place that changes you," Paisley said when he accepted the award. "It re-focuses what's important in life immediately, the moment you walk through these doors."
Afterwards, Owen and Paisley took turns performing their hits including "Mud On the Tires," "Feels So Right," "Waiting on a Woman," "Mountain Music" and finally, "Angels Among Us."
Additionally, St. Jude put together a T-shirt campaign and 80 country stars have already joined in to kick off the campaign.
The shirt will be available to those that become Partners In Hope, which are donors who give at least $20 per month to St. Jude. Some of the stars/influencers sporting the This Shirt Saves Lives shirts include Brett Eldredge, Brothers Osborne, Cassadee Pope, Chris Janson, Chris Young, Cole Swindell, Darius Rucker, Dustin Lynch, Hunter Hayes, Jake Owen, Jon Pardi, Josh Turner, Kelsea Ballerini, Kip Moore, Lee Brice, Luke Bryan, Maren Morris, Rascal Flatts, Scotty McCreery and Thomas Rhett. Many others also support the mission of the children's hospital.
To join the campaign with these artists, visit http://www.thisshirtsaveslives.org and contribute to ending childhood cancer.
Congrats to Brad! Share this with other fans of the star!