Brad Paisley took the stage at the ACM awards and wowed the record-breaking audience of over 70,000 with his high energy performance of his latest single, "Crushin' It." The 'Male Vocalist of the Year' nominee delivered multiple electric guitar solos during his performance and even joined the crowd as he left the main stage to finish his set on the second elevated stage.
Crushin' It | Listen for free at bop.fm
Paisley dramatically removed his signature cowboy hat out of reverence as he sang the lyrics, "But like the great George freakin' Strait / I'm the king of gettin' unwound." We're sure George appreciated that gesture.
The peppy third single from Paisley's latest album, Moonshine in the Trunk, "Crushin' It" has climbed to the Top 20 on the Billboard Country Airplay chart. The popular crooner has accumulated fourteen ACM Awards during his career, including an impressive five 'Male Vocalist of the Year' wins. The country superstar also closed out the broadcast by joining Darius Rucker for "Let the Good Times Roll." In all, Paisley crushed it big time.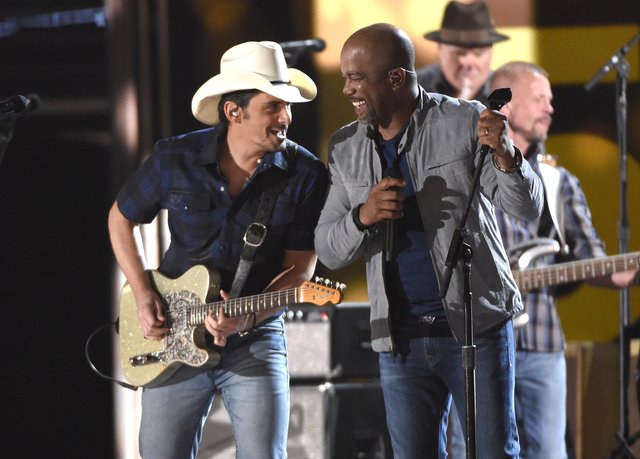 What an amazing night for country music at the 50th Annual Academy of Country Music Awards in Arlington, Texas on Sunday. Not only were Brad Paisley's performances excellent, but he was also surrounded by other country music legends and an outstanding crowd!
Explore more Brad Paisley coverage here.
[bandsintown_events artist="Brad Paisley" display_limit="5″]