Enjoy watching Blake Shelton's Oklahoma houses video for a peak inside Blake's Oklahoma lifestyle across both his Lake Texoma House and his 1,300 acre ranch property.
Watch Blake Shelton's houses video to see why Oklahoma living is the perfect escape from city life for Gwen Stefani and her three sons.  Blake and Gwen, have been dating over 4 years as the couple started dating in 2015 after splitting from their former spouses (Gavin Rossdale and Miranda Lambert).  Blake and Gwen's relationship appears to just get stronger every year and Gwen's entire family has made frequent trips to visit Blake's two Oklahoma properties.   Watch the video to discover why Gwen's family loves visiting Blake in Oklahoma and see additional details about each Oklahoma property below.
Blake Shelton's Lake House and Ranch Video (Life in Oklahoma for Gwen's Family)
Blake and Gwen's Oklahoma Lifestyle
Blake Shelton and Gwen Stefani will continue to split their time between Oklahoma and Los Angeles, which seems to be working out just fine.  Gwen's entire family has visited Oklahoma including her parents, brother and kids. The Lake House is where Blake wrote and recorded his album "Lake Texohma Shore" and the house has a built in recording studio.  This is also where Blake recently recorded his "Hell Right" song that features Trace Adkins.  Gwen Stefani and her kids enjoy plenty of adventures at Blake's two Oklahoma properties including:    shooting hoops on the outdoor basketball court, riding ATVs, riding around on Blake's big tractor, fishing, making bon fires, and swimming.  If you don't want to cook, the family can always take a trip to Blake's Ole Red restaurant venue in nearby Tishomingo.  In a prior interview with Marie Claire, Gwen stated, "It's very tribal," she said. "Blake has a sister, she comes with her kids. We cook and get muddy and dirty. There are ATVs. Being a mother of three boys, it's kind of the perfect place…"
In Oklahoma, the family eats down home cooking and there is not a Starbucks in sight.  The entire family can relax not be chased around by the Paparazzi.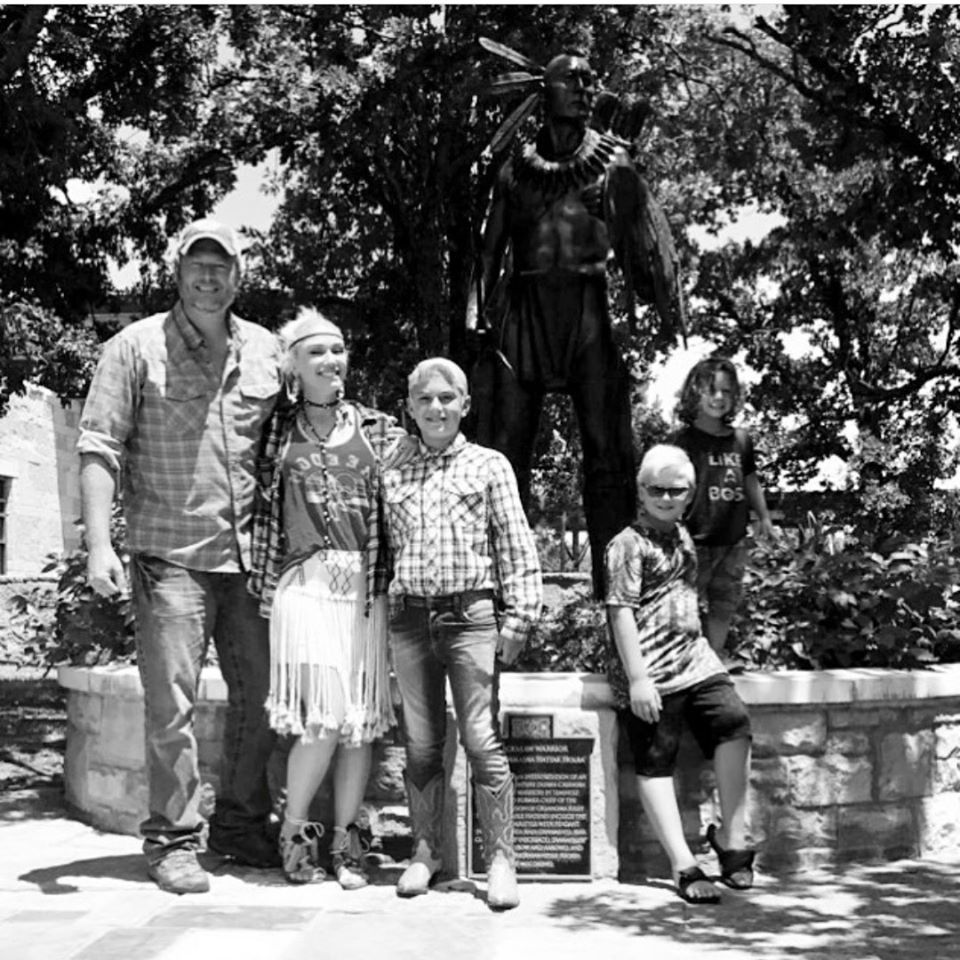 Blake Shelton's Lake House (Texoma Shores)
The backyard of the Lake House is the center point of the property with a giant swimming pool and an attached swim-up tiki bar. There are also three hut-style guest quarters complete with grass roofs. The master bedroom features a balcony that overlooks the pool and lake.  The tropical-themed home has it's own private beach shoreline of  Lake Texoma as the largest lake in the state of Oklahoma.   Blake was born in Ada, Oklahoma that is not far from Lake Texoma and this is the lake that Blake's family visited in his childhood.  Blake enjoys the tropical feel of vacationing and he decided to bring a bit of that to the heartland and added several palm trees on the property.  The all-white tropical home features aqua blue doors and shutters and a great view of the pool and lake.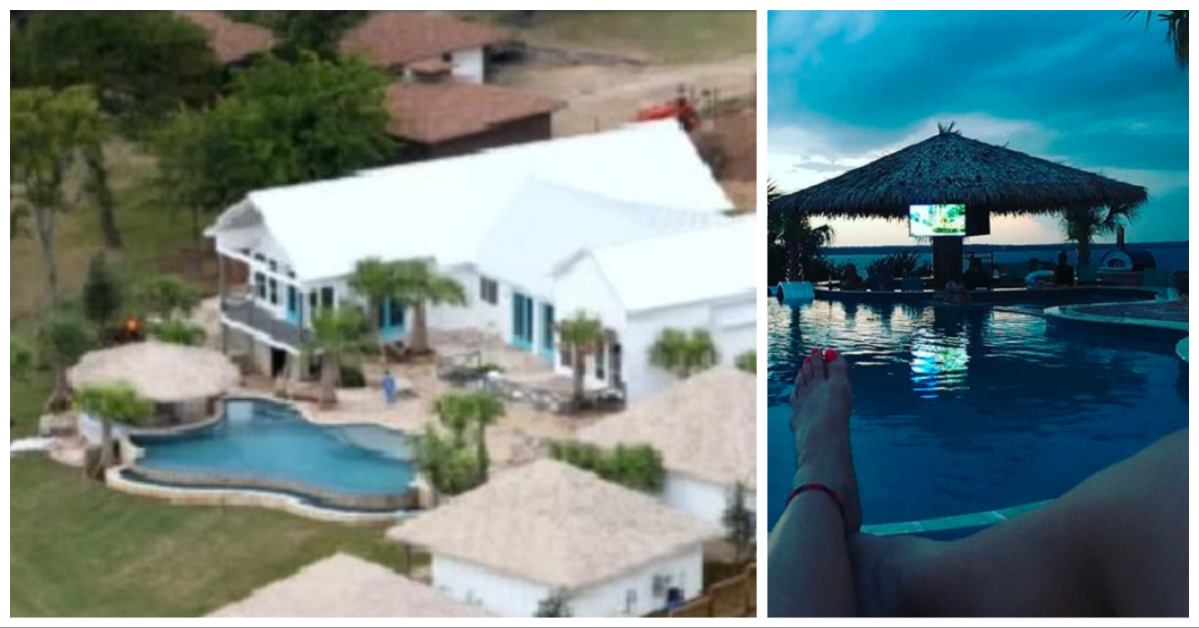 Next, we take a look at Blake's Oklahoma ranch property that is just a 1 hour drive from the Lake House and 5 minutes from Tishomingo, Oklahoma.
Blake Shelton's Oklahoma Ranch Property (Ten Point Ranch)
The ranch is just outside of the small town of Tishomingo, Oklahoma with a reported population of less than 4,000 residents.  Blake has called Tishomingo his home for over a decade (after moving from Nashville), and his ranch is an impressive 1,382-acres acre property with a house, horse barn and shed to store his tractor.  Blake is an avid outdoors-man and enjoys hunting, fishing, planting crops, and riding horses.  The ranch provides plenty of space to be outdoors and do everything he loves.  Gwen Stefani has grown to love the area and enjoys riding horses and escaping the Los Angeles Paparazzi.  Blake even planted Gwen her very own wildflower patch, which Shelton prepared for her with his tractor.  Blake's ranch home was recently shown in a video where Gwen cuts Blake's hair (shown below).
Blake's Haircut at his Ranch Home
Blake Shelton gets his hair shaved into a mullet by Gwen Stefani on the porch of his ranch house while he video chats with Jimmy about quarantine life in Oklahoma with "a bunch of Stefanis",
Blake's restaurant and attached "Dog House" music/dance venue is located  214 W. Main in Tishomingo, OK.  The small town is close to both the Lake House and the Ten Point Ranch.  The Ten Point ranch is currently listed for sale since around 2017, for $4.7M.  This appears to be a sign that Blake plans on spending more time at the Texoma shore Lake House.  The house on the ranch has 4 bedrooms and 2 baths and is more of a hunting property versus Blake's Texoma Shore lake property that has plenty of housing for over 20 guests.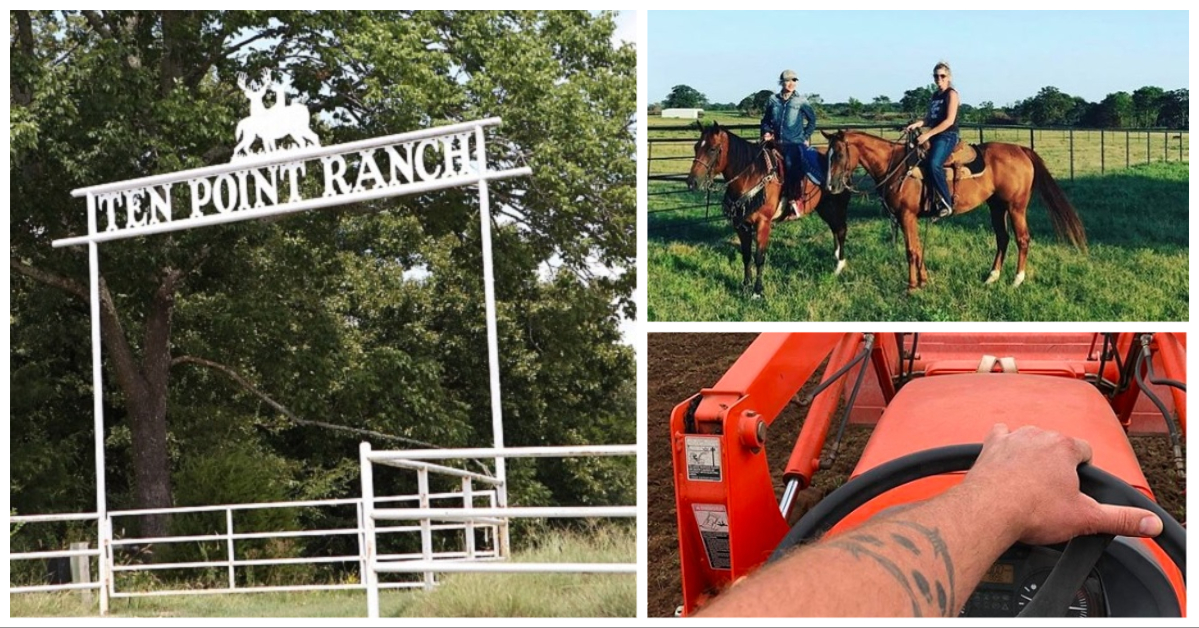 Here is a description of the Ten Point ranch from the Property Real Estate listing:
Description of Ten Point Ranch Listed for $4.7M
"This spectacular 1382 +/- acre sporting ranch is one of the best in Oklahoma, only 2.5 hrs. from Dallas, Texas and Oklahoma City, Okla. This ranch is outfitted for the serious hunters and has been managed for years for hunting.  This world class ranch offers a spacious 2,150 +/- sq. ft. four bedroom, 2 bath barndominium home, a two-stall horse barn, and a 1,440 sq. ft metal implement shed. The Ranch has over 30/- acres of established plots for waterfowl hunting. There is an additional 100 acres of high fence, all strategically placed on the Ranch.
The ranch provides great hunting for deer, hogs and turkey. Additional regional recreational opportunities include excellent trout fishing on scenic Blue River and striper fishing on Lake Texoma. Lake Texoma is less than a mile from the ranch and has tremendous crappie, bass and striper fishing. The Tishomingo National Wildlife Refuge is across Highway 22 from the Ranch. The Refuge has fabulous birding and hiking opportunities. For the boating enthusiast Lake Texoma is a spectacular lake for water skiing and boating".
Blake an Gwen's Kids
Blake Shelton's music video for "I'll Name the Dogs" has cameo appearances from Gwen's kids including Kingston, Zuma, and their cousin, Stella all dancing around.  In the music video, Blake plays a wedding singer at the marriage ceremony of an elderly couple. Zuma and Kingston are the cousin are briefly shown all dressed up, and dancing at the wedding celebration.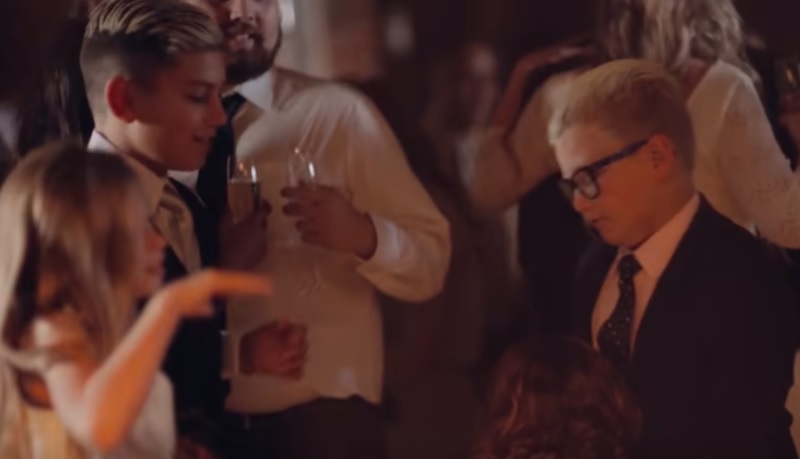 Family Life in Los Angeles
Gwen finally sold her prior Los Angeles home she once shared with ex-husband, Gavin Rossdale. Gwen purchased the home in 2006; with 15,000 square feet, seven beds, and seven and a half baths. Her prior house featured a pool, fitness center, guest house, and tennis court. Gwen Stefani house had been on the market for quite some time, initially listed for $45 million. In early October 2019, Variety reported that comedian Sebastian Maniscalco had purchased the home for $21.65 million.
Gwen's Former House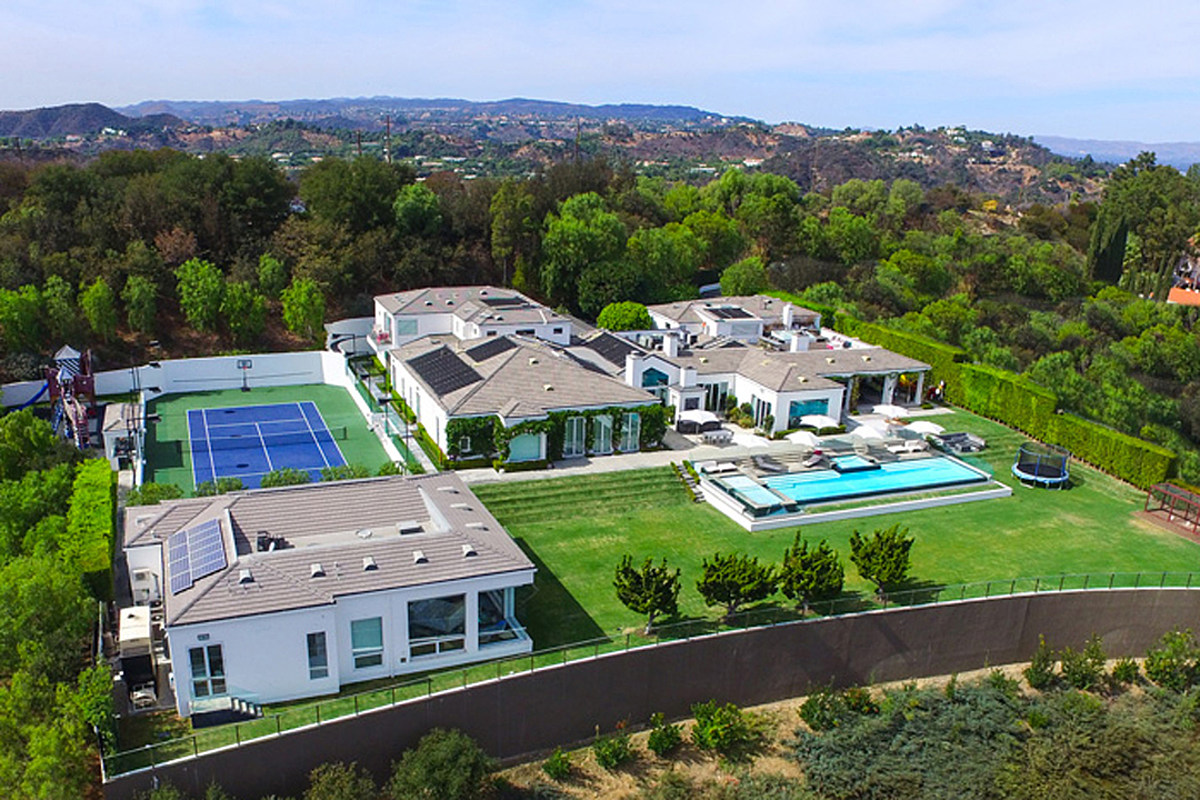 Blake Shelton spends plenty of time in Los Angeles every year. When he is in the city, Shelton and Stefani spend time with the three boys: Kingston, Zuma, and Apollo. They often attend Stefani's church in Los Angeles as well as taking trips to visit her parents. With no children of his own, Blake seems to enjoy playing the role of step-dad
Blake and Gwen recently purchased their first home together near Encino, California.
Blake and Gwen's California Home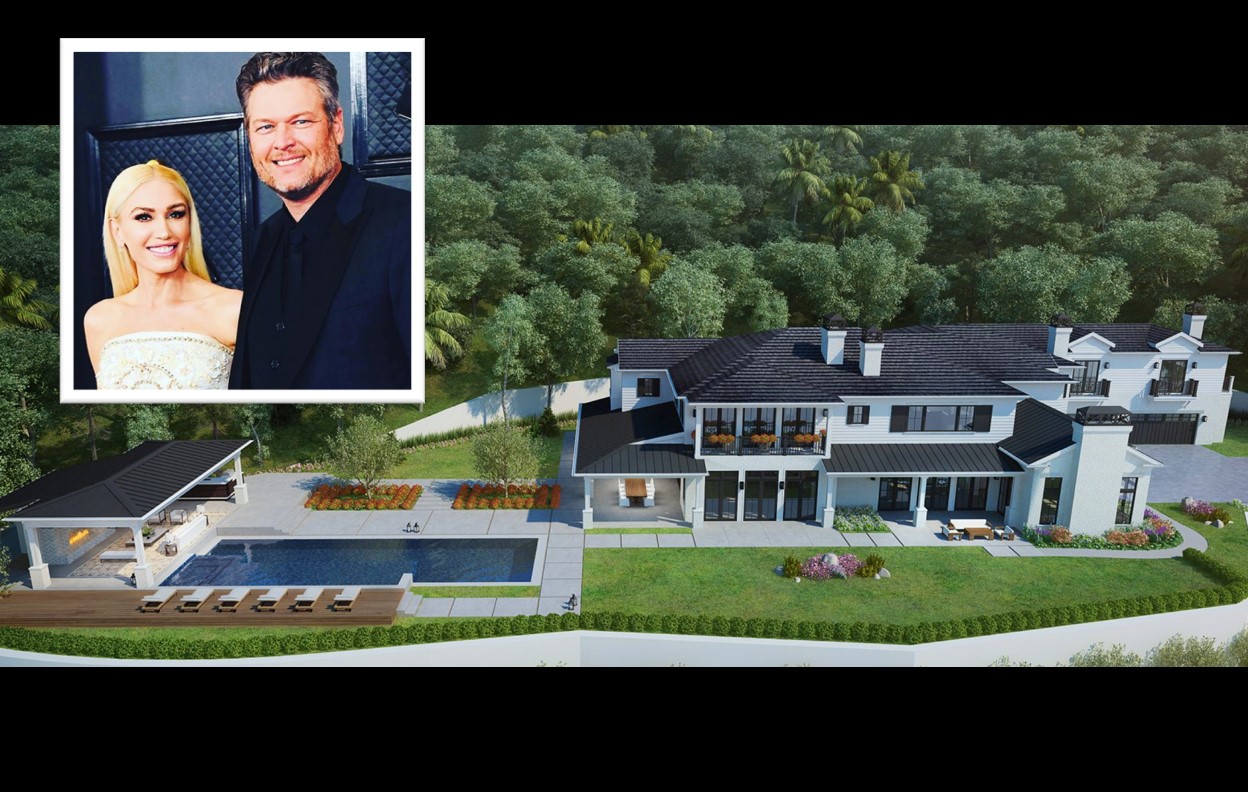 Their new California home sits on a 1.6 acre private lot. The couple plopped down $13.2 million for the newly built mansion!  The property was built by developer Evan Gaskin and its amenities include a four-car garage, home theater, backyard pool with a spa, and a large cabana with a wet bar plus outdoor kitchen.  The estate boasts 11,500 square feet of livable area, 1,000 square feet of garage, 1,750 square feet of outdoor covered patios and balconies, and a 900 square foot pool cabana.  This custom home was designed by P2 Design for Evan Gaskin, a premiere developer in Southern California who can be seen on Seasons 9 and 10 of Bravo's hit show Million Dollar Listing Los Angeles.
Which home and property are your favorite (Lake House, Ranch property, or the new California Mansion) ?
Remember to share this video update with other Blake Shelton and Gwen Stefani fans.