Blake Shelton admits to dreaming of the song "Savior's Shadow" before writing it.
When an artist writes a song, it carries a little piece of them. Nothing could be a better example of this than the gospel song Blake Shelton wrote after a dream he had presumably sent by a higher power.
Shelton had the dream last August, not long after his divorce from Miranda Lambert. He enlisted songwriters Jessi Alexander and Jon Randall to help him write the song he knew had to be written, which would be titled "Savior's Shadow".
"He started an incredible song, a gospel song, and asked me and JR to help him finish and we actually worked on the strings today," Alexander said.
"It's beautiful and moving and I can't wait for him to tell the story. It's almost his 'Why Me Lord' — it's very deep to him and to us…it came deep from Blake's soul and we were just glad we got to kind of help him birth it," she added.
Shelton's girlfriend Gwen Stefani supported the religious song on Twitter: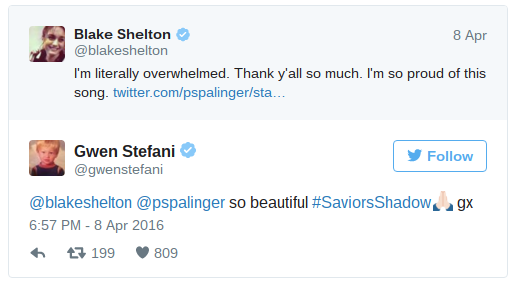 "Savior's Shadow" will be included on his upcoming album If I'm Honest which will be released on May 20th.
Listen to the song below!