Despite the "theft" Tyler Farr and Blake Shelton are buddies.
Newly engaged Tyler Farr recently earned a No. 1 hit with his heartfelt single "A Guy Walks Into a Bar," off of his sophomore Suffer in Peace album. The song, penned by Jonathan Singleton, Melissa Pierce and Brad Tursi, was a smash hit for the rising country star, but it almost got recorded by another country artist instead.
"We were on [Jason Aldean's] Burn It Down Tour last year, and Blake [Shelton]'s wife Miranda Lambert joined us for a few shows," Farr relayed to Country Countdown USA. "So one day, Blake was hanging around backstage, and I hear him say, 'Where's that song stealer?' Turns out he also had the song on hold. He comes over to me and says, 'Let's hear it, song stealer.'"
Yep, Blake Shelton had his sights set on the tune. Despite the "theft," there's no friction between the two male singers. "I played him my recording of the song, and he says, 'Well done, brother, it got to the right person,'" Farr recalls. "So it was cool to get his approval. Then, last fall, he invited me to his hunting camp in Oklahoma. So we've become pretty good friends because of this song."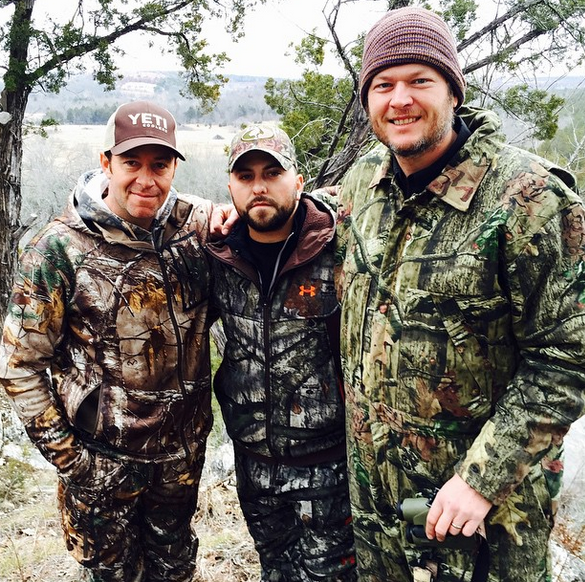 The Missouri native took a chance in selecting the moody and reflective "A Guy Walks Into a Bar" as his lead single from Suffer in Peace and pitting it against a slew of happy-go-lucky and uptempo tracks currently making waves on country radio. Farr's instincts were dead-on and the single has definitely connected well with the audience.
Farr's follow-up radio single "Withdrawals" hit country radio on Tuesday. It's a song that the New York Times says is a "highlight of the new album" describing it as an "anguished breakup song."
"'Withdrawals' is my favorite track that I've been part of the production on," says Farr.
"It's a rocker, it's sad, it's a heartbreaking song, but still, it doesn't make you want to cry, it makes you want to scream. You can feel the passion and tension coming from the song."
Enjoy more Tyler Farr updates here.
[bandsintown_events artist="Tyler Farr" display_limit="5″]