Country music superstar Blake Shelton's reign as the 'Sexiest Man Alive' has ended! Check out who holds the title now...
Country music star Blake Shelton's 'Sexiest Man Alive' title has been passed on to 46-year-old actor Idris Elba!
"I feel like sexy ends when I'm not Sexiest Man Alive anymore," Shelton joked while appearing on The Ellen DeGeneres Show on Monday. "I don't feel like it exists anymore, I feel like it's over."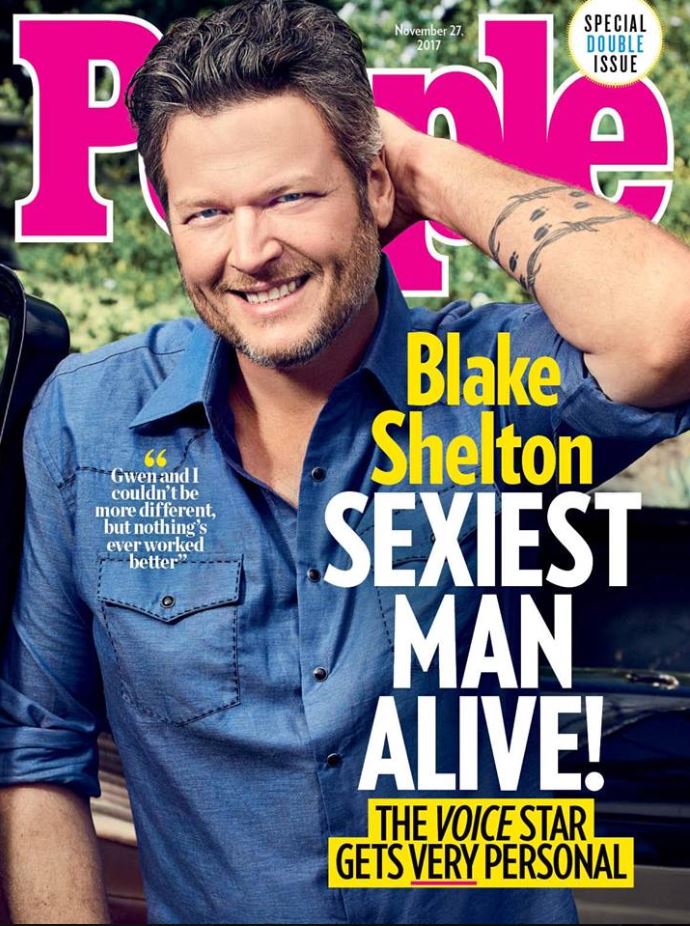 While his girlfriend Gwen Stefani helped him embrace his lofty title, the Oklahoman insisted that the honor didn't alter their relationship.
"It's supposed to be like a superpower, or whatever. I don't think she felt the power," Shelton playfully quipped to Ellen.
While on the show, Blake also talked about his Smithworks Vodka brand, his upcoming tour, and his embarrassing stage fall that he still blames on Pitbull…
By the way, Shelton and Stefani's romance was confirmed three years ago this month. Can you believe it's been that long already?
As mentioned during the interview, the star will be kicking off his Friends and Heroes 2019 Tour with the Bellamy Brothers, John Anderson, Trace Adkins, and Lauren Alaina on February 14th!
Friends and Heroes 2019 Tour Dates
Feb. 14 — Oklahoma City, Okla.
Feb. 15 — Kansas City, Mo.
Feb. 16 — Sioux Falls, S.D.
Feb. 21 — Indianapolis, Ind.
Feb. 22 — Buffalo, N.Y.
Feb. 23 — Pittsburgh, Pa.
Feb. 28 — Peoria, Ill.
March 1 — Louisville, Ky.
March 2 — Evansville, Ind.
March 7 — Jacksonville, Fla.
March 8 — Tampa, Fla.
March 9 — Sunrise, Fla.
March 14 — Des Moines, Iowa
March 15 — St. Paul, Minn.
March 16 — Green Bay, Wisc.
March 21-22 — Uncasville, Conn.
March 23 — Albany, N.Y.
Share this update with other Blake Shelton fans and be sure to catch him on Season 15 of NBC's The Voice! 
"Turnin' Me On" Lyrics
Her kisses taste like whiskey
Burnin' through my veins
She don't know how to miss me
She hits right where she aims
Baby's got my number and she's calling me up
Knows what she's doing with a single touch
She's turning me on, turning me on
Pushing my buttons like it ain't no thing
If I'm what she wants, she gets what she wants
The neon's buzzing when she pulls that string
Turning me on like it's her job
Sometimes I think she must get off on
Turning me on, turning me on
Knows how to set me on fire
She's always holding the match
And when my body's beside hers
There ain't no turning back
She's Revlon red in the blackest night
Lighting up the room in the world just like
She's turning me on, turning me on
Pushing my buttons like it ain't no thing
If I'm what she wants, she gets what she wants
The neon's buzzing when she pulls that string
Turning me on like it's her job
Sometimes I think she must get off on
Turning me on, turning me on
Once she gets it started
Man, it's all night long
She's the needle on the vinyl
Of a midnight song
She's turning me on, turning me on
She's turning me on, turning me on
Pushing my buttons like it ain't no thing
If I'm what she wants, she gets what she wants
The neon's buzzing when she pulls that string
Turning me on like it's her job
Sometimes I think she must get off on
Turning me on, turning me on, yeah
Turning me on, turning me on
Turning me on, turning me on
Turning me on, turning me on