Watch how Blake Shelton makes a great Father figure to Gwen Stefani's three boys as Blake teaches the kids many activities and experiences in the vast Oklahoma outdoors . . .
Blake Shelton makes a great father-figure to Gwen Stefani's three sons including Kingston (13), Zuma(11), and Apollo who recently turned 6 years old. The boys are from Gwen's marriage to rocker Gavin Rossdale, which ended in divorce in 2015.  In Blake and Gwen's nearly 5 year of dating, Blake has forged a close relationship with the three boys and truly serves as a father-figure in their lives.
Watch the video below to see the great range of outdoor activities that Blake has experienced with Gwen's three kids that all grew up in the suburbs of Los Angeles.
Blake Shelton as Father figure to Gwen's 3 Sons (Video)
Blake and Gwen's Relationship Journey
"He's been helping me out a lot," Gwen shared with TODAY about Blake's role as a 'bonus' parent. "I literally get to the point where I'm like, 'You gotta get home, I need help.'"
Shelton also opened up to People in November 2018 about how Apollo, Zuma, and Kingston have helped him grow as a person. It's evident that Blake loves having the boys around. "For a long time, it was awkward trying to figure out what my place is and in their mind too," Shelton admitted. "The best part for me, selfishly, is discovering a part of myself that I guess I never really knew was in there. It's definitely an instinct that kind of kicks in."
"When my marriage fell apart, and then trying to pick the pieces up from being at the rock bottom and trying to move forward, next thing you know, there's this person that I kind of knew, that I worked with on [The Voice]," Shelton said, "And then all of a sudden, to find out she's going through the same exact thing at the same time."
"And this is how my life turned around. And so quickly too, by the way. Like, all of this has to be meant to happen," he added. "So I made a record about it."
The Father Figure Role
The definition of "Father Figure" is – an older man who you treat like a father, especially by asking for his advice, help, or support.  For the three city boys, they now have a father figure that can teach them new things including:  fishing, outdoor cooking, camping, driving trucks, riding all terrain vehicles, planting trees and crops, using a chain with your truck to tow vehicles and remove debris, driving a boat, lighting outdoor fires, riding horses, and searching for buried treasure with a metal detector.  Gwen is not the biggest fan of hunting, so it will be interesting to see if Blake teaches the kids how to hunt as the trio of boys grows older.  Blake Shelton also makes a great father figure on The Voice TV show and serves as a great mentor to a diverse range of young singers.
Blake Shelton's Lake House (Lake Texoma in Oklahoma)
The backyard of Blake's Lake House is the center point of the property with a giant swimming pool and an attached swim-up tiki bar. There are also three hut-style guest quarters complete with grass roofs. The master bedroom features a balcony that overlooks the pool and lake.  The tropical-themed home has it's own private beach shoreline of  Lake Texoma as the largest lake in the state of Oklahoma.   Blake was born in Ada, Oklahoma that is not far from Lake Texoma.  Blake enjoys the tropical feel of vacationing, he decided to bring a bit of that to the heartland and added several palm trees on the property.  The all-white tropical home features aqua blue doors and shutters and a great view of the pool and lake.  The Lake House supports several activities with the boys including:  boating, jet skis, fishing, and swimming in the pool and the lake.
Blake Shelton's Home on Lake Texoma in Oklahoma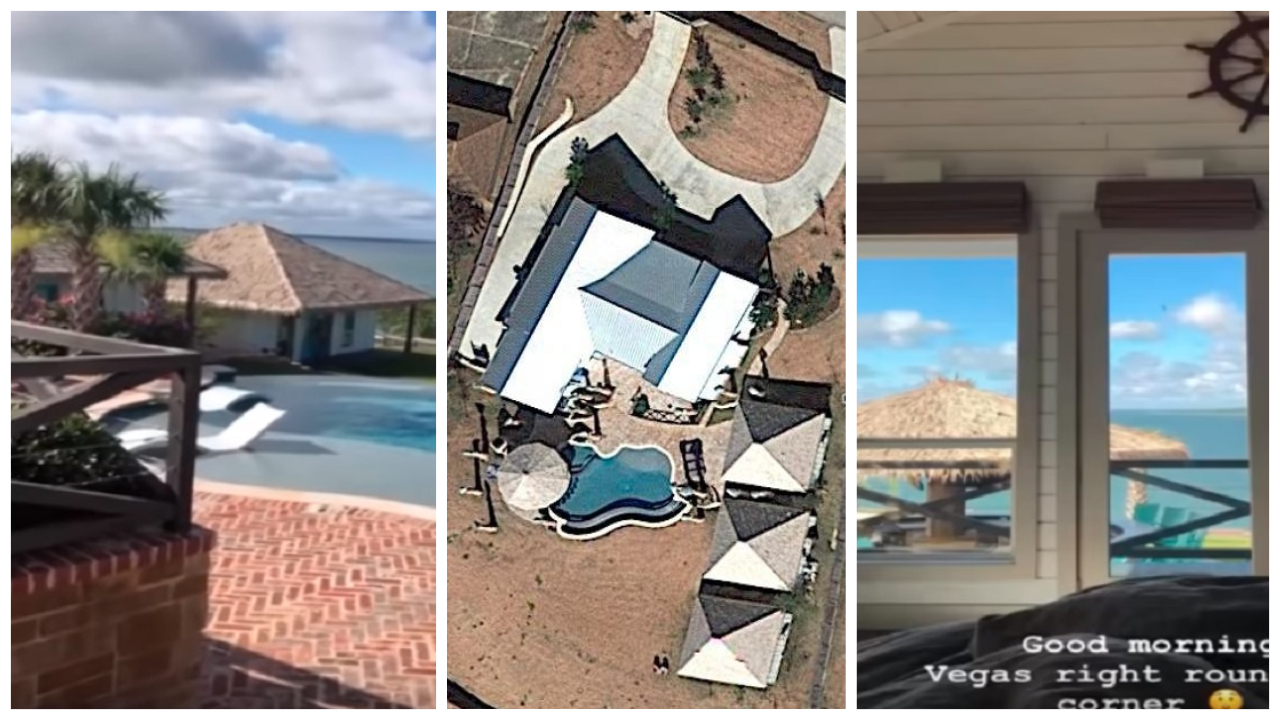 Next, we take a look at Blake's Oklahoma ranch property that is just a 1 hour drive from the Lake House and 5 minutes from Tishomingo, Oklahoma.
Blake's Ten Point Ranch
Blake's ranch is just outside of the small town of Tishomingo, Oklahoma with a reported population of less than 4,000 residents.  Blake has called Tishomingo his home for over a decade (after moving from Nashville), and his ranch is an impressive 1,382-acres acre property with a house, horse barn and large shed to store his tractor. The Ranch supports several activities with the boys including: cooking over the outdoor fire pit, treasure hunts, fishing, riding all terrain vehicles, hunting, planting trees, driving trucks, and camping.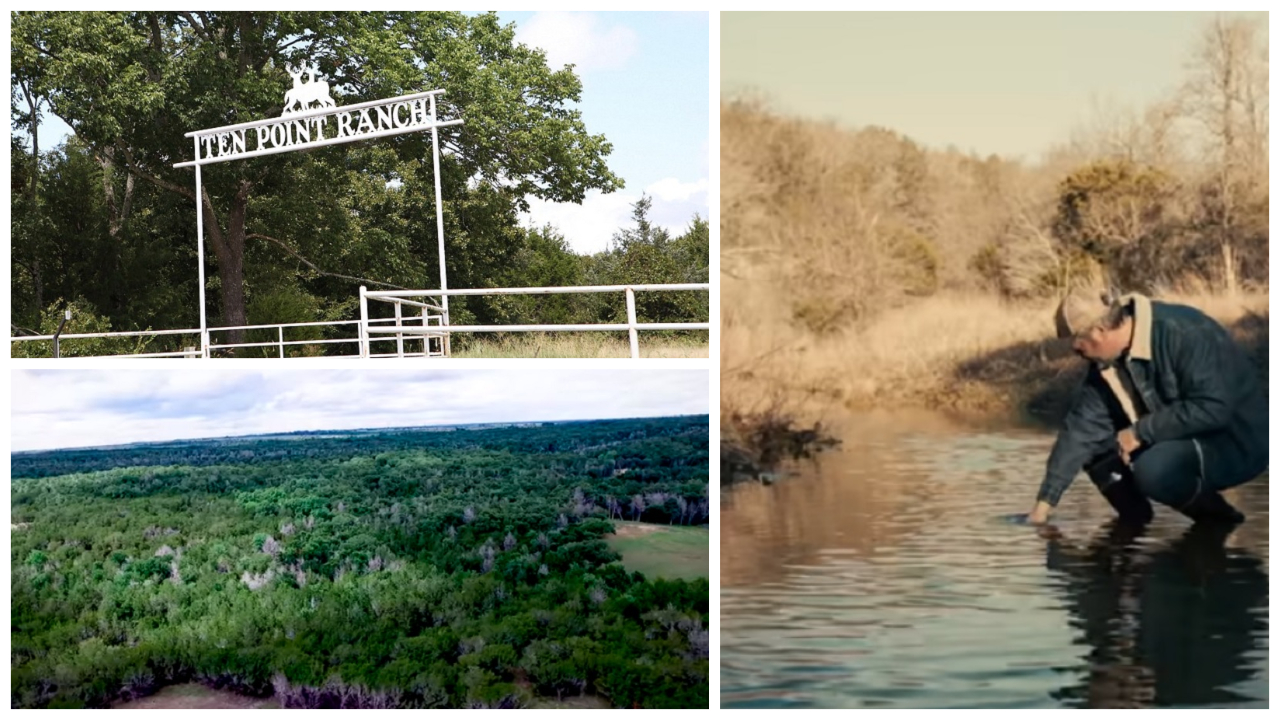 Blake is an avid outdoors-man and enjoys hunting, fishing, planting crops, and riding horses.  The ranch provides plenty of space do be outdoors and do everything he loves.  Gwen Stefani has grown to love the area and enjoys riding horses and escaping the Los Angeles Paparazzi.  Blake even planted Gwen her very own wildflower patch, which Shelton prepared for her with his tractor.
Blake's restaurant and attached "Dog House" music/dance venue is located  214 W. Main in Tishomingo, OK.  The small town is close to both the Lake House and the Ten Point Ranch.  The Ten Point ranch is currently listed for sale since around 2017, for $4.7M.  This appears to be a sign that Blake plans on spending more time at the Texoma shore Lake House.  The house on the ranch has 4 bedrooms and 2 baths and is more of a hunting property versus Blake's Texoma Shore lake property that has plenty of housing for over 20 guests.
Whether the couple decides to get married or just keeps on dating, we wish them the best.  Let us know if you think Blake Shelton makes a great father-figure for Gwen's three sons.
Remember to "share" why Blake Shelton makes a great Father-Figure video with other country music fans.