Anne Murray paved the way for other Canadian musical icons.
Canadian country music icon Anne Murray took the music world by storm from the late 1960's to the early 2000's. During her career, she has sold over 55 million copies of her albums worldwide. On top of that astounding achievement, she won "Album of the Year" at the 1984 Country Music Association awards, received 4 Grammys, 24 Junos, three Country Music Association awards, and three Canadian Country Music Association awards. She is also member of a whopping SEVEN different music Hall of Fames.
Murray is credited for blazing the trail for several other well-known Canadian artists— including Celine Dion, Shania Twain, k.d. lang, Alanis Morissette, and Sarah McLachlan.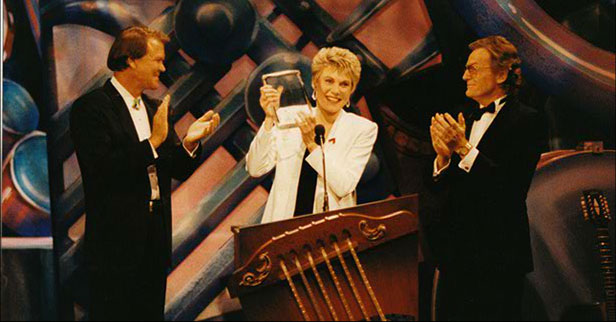 Murray was born on June 2, 1945 in Springhill, Nova Scotia and began singing at a very young age. Her unique voice and style made her a music icon for over 40 years.
"As far back as I can remember, I sang. The first time I became aware that I could sing maybe a little better than others, I was driving in a car. I was nine years old, and I was singing along to the radio. My aunt-to-be was in the front seat and she turned to my mother and said 'My, Marion, she has a beautiful voice.' I later found out that Aunt Kay was tone deaf, but I guess it doesn't mean she couldn't detect talent," Murray said in a quote for her website. "I often think that perhaps the reason I became a successful singer was that, as a kid, I could never do anything as well as my brothers. I wanted to do something better than they did."
Listen to Anne Murray sing "You Needed Me" live on Johnny Cash's 1979 Christmas Special:
Today, Murray has retired from her music career. She still takes time to advocate for charities important to her, like the Kid's Help Phone in Halifax, Nova Scotia and the Bobby Orr Benefit Golf Tournament for the Atlantic Cancer Research Institute in Moncton, New Brunswick.
Share this with other classic country music fans!