The legendary country music band Alabama will release an album of new music in September.
Alabama fans are marking their calendars for September 18th when the legendary band will release their new album Southern Drawl. The album will be the first new release for the band in 14 years, after their "retirement" in 2003. The band has been touring again since 2013.
It took tragedy to bring the guys back together and make them remember why they started playing music together in the first place.
Member Teddy Gentry told USA Today that he credits Brad Paisley for helping bring them back together for his 2011 single Old Alabama. Soon after, an outbreak of tornadoes hit the state of Alabama, which led the former band mates to assemble a benefit concert in Birmingham that raised more than $1 million.
"That's what really brought us out of retirement," Gentry says. "After being off the road for a few years, I guess getting together and playing brought back the element of why we got together to start with — because it was fun. It had gotten to the point where it wasn't as much fun."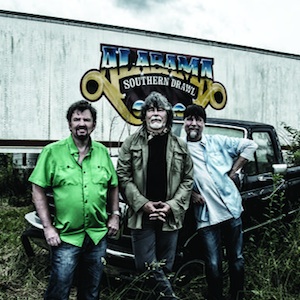 Even without new music, Alabama has stayed very active over the past few years. They released Alabama & Friends, a collaboration with artists including Jason Aldean, Luke Bryan and Florida Georgia Line. They also recorded a gospel album with Bill Gaither sold exclusively through Cracker Barrel.
"So many people are lining up to be supportive of Alabama," says BMG Chrysalis executive vice president Kos Weaver.
"I feel like they've made a competitive record on a lot of fronts, something that radio will play and something country music fans will get excited about."
Fans will have to be open-minded about the new album, the band admits that it is not "old" Alabama and they have allowed the current top country music artists to influence their music.
"For people who knew the original Alabama, it's going to be a little different to their ears," Cook says.
"Wasn't Through Lovin' You Yet" is the first single released from the forthcoming album. USA Today calls the song "a pulsing romantic ballad," and goes on to say the title track shows hints of current day country superstars such as Jason Aldean, Luke Bryan and Kenny Chesney.
Another cut off Southern Drawl features bluegrass singer Alison Krauss.
"She sang some harmony on the bridge with Randy and me and played fiddle, too," Gentry says. "I thought of her and thought it'd be neat to have her voice on there."
"I'm so thankful people care about the music we made," Owen says, adding, "They still come to the concerts, and they're very enthusiastic. Hopefully, this new music will be something they'll enjoy. I put everything I had in it."