Congrats to Maren Morris as the winner of the 2016 CMA Awards New Artist of the Year!
Here is the winner and nominees for the 2016 CMA Awards New Artist of the Year.  The judges picked Maren Morris for "New Artist of the Year" and here is the competition that Maren had to win over.
New Artist of the Year Nominees
Maren Morris (Winner)
Cole Swindell
Old Dominion
Brothers Osborne
Kelsea Ballerini
Maren Morris Wins "New Artist of the Year" award
Maren Morris had a stellar 2016 with her major hits "My Church" and "80s Mercedes".   Congrats to Maren for winning the "New Artist of the Year" award at the CMAs.
Watch Maren Morris perfrom "My Church"
Other nominees for this award included:
Cole Swindell
Old Dominion
Brothers Osborne
Kelsea Ballerini
Past winners of this award include Chris Stapleton, Zac Brown Band, Darius Rucker, Lady Antebellum, Taylor Swift, Carrie Underwood, Garth Brooks, Keith Urban, Randy Travis, and many more.   So Maren Morris appears to be on track for a great Country Music career.
The annual CMA Awards aired on ABC on November 2, 2016.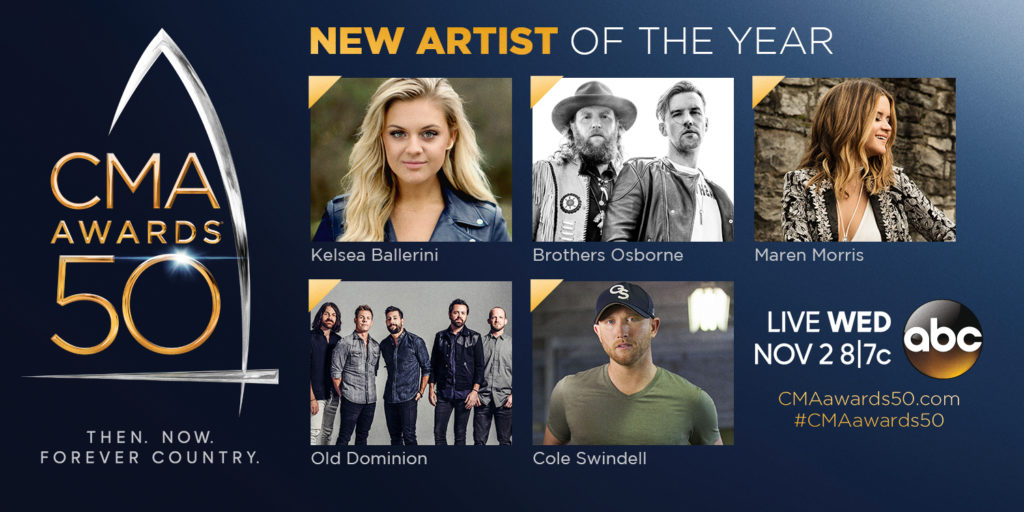 Here is coverage of the nominees and winner for each of the 2016 CMA Award categories:
A summary of all the 2016 CMA Winners is available here.
Country fans can also re-watch the entire CMA Awards on ABC.   Get the details here.
Remember to "share" this with other Country Music fans.