Here are the 5 nominees and the Winner for the 2016 CMA Awards Female Vocalist of the Year award.
The 2016 CMA Awards Female Vocalist of the Year was awarded the evening of November 2nd at the annual CMA Awards.   The nominees for Female Vocalist of the Year included 5 very touch choices with Carrie Underwood being announced as the 2016 winner.
Carrie Underwood (Winner)
Kacey Musgraves
Maren Morris
Miranda Lambert
Kelsea Ballerini
Check out the highlights for each female vocalist candidate and see who wins your vote for this award.
Carrie Underwood
Carrie Underwood has been on a roll for the past several years and 2016 is no exception.   Carrie has been busy with her Storyteller tour for much of 2016.  She became the RIAA's highest certified country album artist to debut this century with a wave of new RIAA album certifications across her entire studio catalog.   Her Storyteller album is now certified Platinum while each of her first four studio albums add Multi-Platinum certifications including Blown Away (now 2x Multi-Platinum), Play On (3x Multi-Platinum), Carnival Ride (4x Multi-Platinum), and Underwood's blockbuster debut, Some Hearts, now at 8x Multi-Platinum.  Carrie garnered her first nomination for the coveted CMA Entertainer of the Year award, as well as nominations for Female Vocalist of the Year, Album of the Year for Storyteller, and Musical Event of the Year with Keith Urban for "The Fighter."   She returns to co-host the award show and is a likely fan favorite for a few of the award categories.
Carrie had an amazing 2016 and is a well deserved winner of Female Vocalist of the Year.  Watch Carrie's latest music video for "Dirty Laundry".
Kacey Musgraves
Kacey has been busy in 2016 releasing her very first Christmas album, titled "A Very Kacy Christmas".  The album features eight traditional Christmas songs and four orginal songs byMusgraves.   Kacey also appeared in the epic "Forever Country" mash-up song for the CMA Awards providing her participation in her first #1 hit song.
Watch Kacey Musgraves performing "Are You Sure" featuring Willie Nelson.
Maren Morris
Maren Morris scored five nominations for the CMAs this year, which ties her with Deana Carter (1997), K.T. Oslin (1988), and Gretchen Wilson (2004) for five nods in a debut year by a female artist.  Kacey Musgraves set the record in 2013 with six nominations.   Morris received nominations for Female Vocalist; Album of the Year for Hero, Single of the Year for "My Church," Song of the Year for "My Church" and New Artist of the Year.  Morris only receives one nomination each for Album and Single of the Year, but can receive additional trophies as producer.
Watch Maren Morris perform 80s Mercedes from her debut album HERO that also featured her hit song "My Church".
Miranda Lambert
Miranda Lambert is the most awarded female in CMA Awards history with 12 wins and 39 nominations.   For 2016, she received a nomination for Female Vocalist of the Year and happens to be a six-time, consecutive winner for this category.
Watch Miranda's latest "Vice" music video to see one of her top 2016 music videos.
Kelsea Ballerini
Kelsea Ballerini received her first CMA Awards nominations in 2015.   For 2016, she received her second nods for both Female Vocalist and New Artist of the Year.   Kelsea is a rapidly rising new talent.
Watch Kelsea's latest music video for "Peter Pan".
The judges had some very tough choices to make for female vocalist of the year.  The 2016 CMA Awards aired on ABC on November 2, 2016.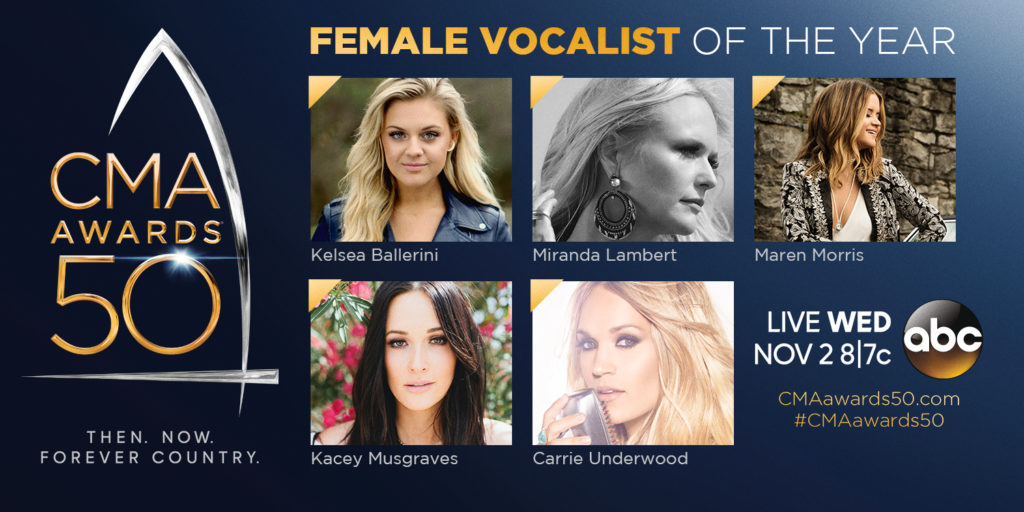 Here is coverage of the nominees and winner for each of the 2016 CMA Award categories:
A summary of all the 2016 CMA Winners is available here.  Country fans can also re-watch the entire CMA Awards on ABC.   Get the details here.
Remember to "share" this with other Country Music fans.